Gourmet & Healthy in Chapel Hill
---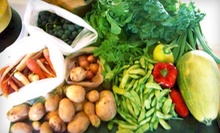 Sustainable, organic fruits of farmers' labors fill shelves at CSA market
---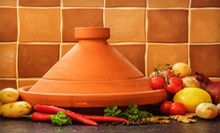 A professional chef teaches classes how to cook in a traditional Moroccan tagine using simple techniques easily reproduced at home
---
Recommended Gourmet & Healthy by Groupon Customers
---
Stainless-steel tanks preserve the delicate flavors of Green Gate Olive Oils' oils and vinegars until the moment owners Keith and Georganne McDaniel bottle and seal them to order. The tanks, called fusti, are a conspicuous sign of Green Gate's commitment to providing high-quality gourmet foods, kitchen items, and bath and body products.
With more than 40 oils and vinegars to pick from, Green Gate is a playground for both seasoned chefs and budding gourmands. Staffers provide free samples and can make recommendations based on each customer's taste, cooking style, and chewing technique. Additionally, they empower customers with recipe suggestions and even offer small-group cooking classes.
105 Cherokee Rd., Suite B-E
Pinehurst
North Carolina
910-986-0880
Edible Arrangements' fresh-fruit bouquets merge the beauty of a floral display with Mother Nature's most delicious candy. At more than 1,000 stores across the globe, fruit florists carve pineapples into flower forms, hand dip bananas into semisweet and white chocolate, and swathe Albion strawberries—sweeter and darker than regular strawberries—in coats of coconut and almonds. Then, they arrange the morsels into eye-catching displays to fill mugs and vases or line decorative gift boxes. Patrons can find an arrangement for nearly any occasion, whether they want to honor Mother's Day, sweeten an anniversary, or send condolences after the death of a friend's pet rock. Customers can shop online and opt for delivery or pick up finished displays at a storefront location.

410 Market St., Suite 345
Chapel Hill
North Carolina
919-338-2115
Through every step of its manufacturing process, the family-owned Wilkerson Farms goes the extra mile to produce flavorful, all-natural cuts of beef. Its Black Angus cattle lazily loll among grassy pastures and freely roam for grass, hay, and fresh water year-round, taking in the fields' creeping winter fogs, crisp spring rains, and symphonic summer cricket concerts. Cows are further fattened by a diet of animal-protein-free feed that includes zero additives, resulting in beef that's free of antibiotics, added growth hormones, steroids, or implants. Before processing, cows are fed grain as a finishing ration, which sculpts the beef with taste, texture, and marbling. Lastly, Wilkerson's butchers dry-age beef 14 days before trimming it, sealing in flavor and tenderness like a laminated Al Green record.
7630 Panther Lake Rd.
Willow Springs
North Carolina
919-552-8008
The Persian word "jahan" translates to "the world"—a fitting name for a market that imports its groceries and gift items from such far-flung locales as the Middle East, Europe, and Asia. Though the Persian-owned market specializes in fare from the owner's native land, its shelves are stocked with a multicultural array of pastries, organic wines and beers, halal meats, and skincare accessories. The principle factor that unites all of these is an emphasis on health and eco-friendliness.
Decorated with painted wall murals and ornate tapestries, the market's Persian tearoom exemplifies this focus on healthful living. Customers can take a break from their daily stresses while sipping blends of Persian cardamom, Earl Grey, and Turkish black teas. Smoky strings of incense compete for airspace with free WiFi signals, and backgammon and chess boards give customers a chance to experience the UN's principle method for solving border disputes.
630 Weaver Dairy Road
Chapel Hill
North Carolina
919-240-4462
---