Charleston Outdoor Activities
---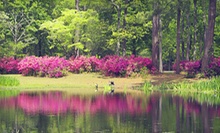 Seven-day admission to first U.S. sculpture garden replete with exhibits, films, and zoo
---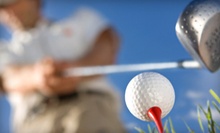 18-hole course winds through a densely forested patch of Lady's Island
---
Recommended Outdoor Activities by Groupon Customers
---
The warm summer sun beats down on the shops and restaurants in the island town of Folly Beach, where FB Watersports vessels careen across the waves of the surrounding Atlantic ocean and Folly River. Bottlenose dolphins and turtles inhabit the scenic waters, living harmoniously alongside the center's fleet of kayaks, boards, and jet skis. The staff conducts private lessons in a wide range of watersports throughout the week and also leads tours across the ecologically diverse shores in pursuit of fish, crabs, and the legendary shark who ate the mayor's toupee.
901 E Arctic
Folly Beach
South Carolina
US
843-345-3636
Olde Towne Carriage Company's licensed, knowledgeable tour guides have been escorting wide-eyed voyagers along Charleston's winding 250-year-old streets in horse-drawn carriages for more than 30 years. These carriages are towed by a herd of majestic horses—including doe-eyed beauties Chief, Jake, and Big John—who clip-clop down cobblestone streets as guides impart facts about Charleston's rich history. The changing seasons bring with them themed ghost tours, holiday sleigh rides, a Valentine's Day ride, and 15-round matches between tour guides in honor of Boxing Day. The carriage company also rents out its old-timey carriages and drivers to help ensure memorable corporate events, special events, and weddings.
20 Anson St.
Charleston
South Carolina
843-722-1315
For more than 20 years, the aquatic athletes at Trophy Lakes have set national and world records all the while maintaining a 100-acre water-sports and disc-golf complex that has been admired by WaterSki magazine. Disc golfers launch frisbees from 35 concrete tee pads, sinking their discs into 18 baskets. Along the way, water holes and a host of tee-and-pin locations challenge players' throwing skills. Alternatively, two private lakes boast three watersports cables, as well as a slalom course and ski jump. Knowledgeable staff members rent ropes, gloves, skis, wakeboards, and MasterCraft Boats from their well-stocked pro shop. Additionally, Trophy Lakes hosts disc-golf competitions, wakeboard festivals, water-ski tournaments, and lake-drinking contests each year.
3050 Marlin Rd.
Johns Island
South Carolina
843-559-2520
Eric Lavender is one of very few men in the world who can show up for work each day in a pirate costume and expect to keep his job. The licensed guide and professional storyteller, who has been featured on networks such as the Travel Channel and SCETV, also has an unconventional coworker—Captain Bob, a chatty blue and gold macaw who perches on his arm. Sometimes aided by other guides in pirate and colonial garb, he introduces visitors to lesser-known aspects of Charleston's more than 300-year history on walking tours to National Historic Landmark buildings.
During his signature pirate tour, Eric divulges stories of buccaneer revelry and crimes, such as Blackbeard's harbor blockade, or unveils local spooky legends and pieces of Gullah lore on his ghost and pirate tour. Eric also leads custom walking tours and teaches children about pirate lore and city history through his educational programs. And, on pub tours, guides show visitors to some of the city's historic taverns, where they reveal which colonial musicians got their start at open-mic nights.
79 Cumberland St.
Charleston
South Carolina
To assure fantastic seafaring on Charleston's waterways, Captains Source assembled a team of top-notch captains, each as unique and diverse as the tours they charter. Every captain boasts a U.S. Coast Guard 6-Pack license and is certified by USOBE or Clemson for the specific excursions they lead, assuring expertise piloting the ship and in the field of harbor history, fishing, or wildlife. Captains who are great with kids and families ferry them out onto the bay and estuaries for dolphin sightings and insight into the region's marine life, and harbor history tours reveal Charleston's close connections to the American Revolution and Civil War. Like the captains, the aquatic company's boats are also suited specifically for the tour, including sailboats, yachts, and offshore fishing boats. Wanting to make the glistening waterways available to the public for all occasions, they accommodate charters for business meetings, birthdays, reunions, and searches for runaway sea legs.
10 Wharfside St.
Charleston
South Carolina
843-767-4200
Anne Middleton Herron can trace her family's time in Charleston back 13 generations. In some ways, the city is like a family member itself, but fortunately for everyone else, she's more than willing to share its secrets through Colonial Walking Tours' history-filled excursions. On each two-hour tour, she leads groups through the walled city's historic streets, ambling past picturesque 300-year-old buildings that were really designed to impress time travelers. As they walk, she traces local history from colonial times to the present day with stories of political intrigue, bloody conflicts, triumphs, and the real people who made them possible. For a personal touch, she also discusses memories from her own childhood, and ends each tour in the private garden of her family home.
Colonial Walking Tours also explores the city's darker side with Ghost Hunt tours. By the flickering light of a candle-filled lantern, other experienced guides lead visitors through nighttime streets to locations such as the Provost Dungeon and St. Philip's Graveyard. There, they relate tales of untimely deaths tied to murders, suicides, duels, and executions, as well as voodoo curses that doomed many to spend eternity searching for their house keys.
200 E Bay St.
Charleston
South Carolina
843-813-5055
---