Massage in Charlotte
---
Recommended Massage by Groupon Customers
---
Stress can cause us to feel fatigued, perform poorly at work, and snap at the mail carriers we love. Gulp the easygoing air of sweet-scented back bliss with today's deal: $35 for an hour-long massage at Breathe Organic Massage, a serene, inviting studio in a beautifully restored home-turned-office in the Elizabeth neighborhood (a $75 value). Book an appointment online or call ahead (appointments are accepted Monday through Thursday from 9 a.m. to 9 p.m. and Friday through Saturday from 9 a.m. to 8 p.m.).Follow @Groupon_Says on Twitter.
360 N Caswell Rd.
Charlotte
North Carolina
US
Our Segway-plagued, Twitterfried, modern hyper-world has stress levels at an all-time scientific high. With today's Groupon, treat yourself to a relaxing two-course beauty menu of delicious pampering procedures. For $45, you'll rest cozily like a beauty burrito in an herbal wrap and then get kneaded like sugar-cookie dough with a custom massage of your choice at Essential Kneads Therapeutic Massage Center, a $90 value. You'll also receive 10% off any other service or gift certificate on the day of redemption.
4328 Triple Crown Dr SW
Concord
North Carolina
US
It's like your grandmother always said: you can't spell Space Invaders without spa. If you're ragged from saving the 8-bit world, today's deal sets you adrift in a sea of hands, aromas, and judo chops that will alleviate brain jams and un-crinkle kinks and cramps. For $42, you get $90 toward any massage at Elite Experience Day Spa. Entrust your mind, body, and first-born hamster baby to the trusted team of wellness practitioners, each with years of experience and a special ability that will only reveal itself when you rub his or her belly. You must call to schedule your appointment, and your Groupon will expire in three months, so don't procrastinate in scheduling.
1819 Charlotte Dr.
Charlotte
North Carolina
US
Lead licensed massage therapist Summer Plum will use her years of experience and superhero name to seek and destroy ailments of the muscle and mind. You'll receive a deliberate Swedish massage, a light- to medium-pressured technique, which also happens to be the most popular type of knead. It uses long, connected strokes and kneading to improve blood flow, stimulate the lymphatic system, relieve physical tension, and melt stress into a puddle of biodegradable papier-mâché.
501 East 15th St., Suite 11D
Charlotte
North Carolina
Healing Touch Charlotte offers seven modalities of massage therapy for Charlotte's rotten muscles and blown tissues. A Swedish massage relieves tension and stress throughout the body like the summer winds sweeping through Stora Sjöfallet National Park, while a deep-tissue massage attacks adhesions within muscles, tendons, and ligaments. The medical massage is a rehabilitative service tending to areas affected by accident or injury, while neuromuscular massage remedies posture problems and structural dissymmetry. Prenatal massage alleviates aches within expectant mothers, reflexology kneads at nexuses 'neath the knees with its focus on feet and concentration on calves, and myofascial release uses muscle contractions and light tissue stimulation to clear up tension.
325 Arlington Ave., Suite 510
Charlotte
North Carolina
April Ann Arigoni is an experienced muscle manipulator who supplies the magical hands behind Massage By AAA. April expertly coaxes stress from the backs and shoulders of professional athletes (she once worked for the WNBA's Charlotte Sting and ECHL's Charlotte Checkers) and amateur achers. The deep-tissue hot-stone massage is a hybrid technique, combining the strategic pressure and kneads of Swedish and deep-tissue therapies with the warmth and relaxing effects of heated stones. The application of hot stones to the back during massage causes tight muscles to relax, while the connective strokes of more traditional massage techniques help expel toxins and lactic acid from the body. If you opt for a 90-minute combination massage, you will be treated to a comforting stew of Swedish, deep-tissue, sports, movement therapy, and acupressure techniques, with the exact combination of treatments customized to suit your individual needs.
4832 Park Rd.
Charlotte
North Carolina
---
---
Massage Deals - Recently Expired
---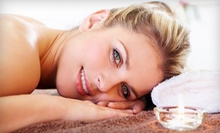 Derek Ramsey soothes muscles with gentle Swedish techniques before alleviating cranial tension with a soothing scalp massage
---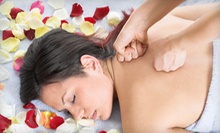 Experienced therapists glides hands across bodies to work out tension during Swedish or deep-tissue massages
---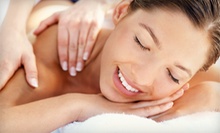 Licensed therapist soothes superficial and deeper aches with a customized massage that combines Swedish, deep-tissue, and sports techniques
---
---