Restaurants in Charlottesville
---
Recommended Restaurants by Groupon Customers
---
The chefs at Bull Branch marry local and international ingredients in a menu of salads, shareable tapas, and entrees that strikes a balance between succinct and eclectic. Served in a intimately lit Bohemian setting that The Washington Post describes as "that perfect blend of casual and sophisticated, elegant and honky-tonk," dishes such as hummus, curries, and pulled pork harness the flavors of the Mediterranean and Middle East, Southeast Asia, and down-home America. Occasional live music in the evenings complements the pan-continental cuisine, as does a serving staff of UN delegates who, upon request, sprinkle borders of salt and pepper to delineate your entree and sides.
109 11th St.
Lynchburg
Virginia
434-847-8477
Kimchi and bruschetta don't seem like a natural pairing, but the chefs at Rivermont Pizza regularly couple the two for an appetizer plate that also stars korean pulled pork. They take the same creative bent with their wood-fired pies, such as The Hutcherson, which arranges caramelized onions, cheddar, granny-smith slices, and virginia country ham over a layer of red sauce. Upscale ingredients such as pancetta, cremini mushrooms, and goat cheese regularly top crusts, and hoagies hug fillings of locally made tofu, cherry peppers, or thinly shaved roast beef. Committed to local harvesting, the basement-level eatery plucks nearby ingredients whenever possible, and though its wood-burning oven only holds five pizzas at a time, guests are invited to pass the time listening to live local bands, participating in trivia contests, or playing tiddlywinks with the roasted sweet-potato medallions on the wilted-spinach salad.
2496 Rivermont Ave.
Lynchburg
Virginia
434-846-2877
Each night at Jimmy's on the James, Jim Dudley flits from his kitchen labors to croon jazz standards in the dining room from behind a grand piano. Prior to performing, the culinary connoisseur toils over his from-scratch jerk rub upwards of four hours, infusing the savory elixir with oranges and onions. Along with his culinary showmanship, Dudley's piano-side manner has earned the restaurateur praise in Lynchburg Living, with a flattering profile in which Jimmy says, "I like things that I call 'funkified.'" He also cops to punctuating the dining experience with visual panache. Large, black-and-white caricatures of American entertainers hearken back to the Roaring Twenties, when nearly every American household contained a four-piece jazz band.
610 Commerce St.
Lynchburg
Virginia
434-845-1116
Not many businesses can say they survived two fires, but The Briar Patch can. Much like the Phoenix's mythical comeback after its frozen-banana stand burned down, the building weathered two disastrous incidents to return to business again—and business is booming. Each day, the kitchen doles out bounties of homestyle cuisine such as freshly caught salmon and Chesapeake crab cakes smothered in housemade gravy. Though primarily an eatery, the establishment also occasionally throws open its doors and hosts karaoke nights and special events.
883 S Main St.
Amherst
Virginia
434-946-2249
In a village, even a small business can be called upon to fill several different roles. To serve the area's demand for a casual lunch café, an upscale but still deeply southern dinner spot, and a kid-friendly family restaurant, Erin's decided to become all three. During weekdays, light streams into the snug brick house with a chimney at each end as families stop in for salads topped with seasonal fruit, sandwiches bearing Virginia bacon, and kids' meals that add healthy touches to hands-on favorites. Later in the week, evenings unlock a smaller menu of southern standards gussied up to suit any special occasion, surrounding pork chops and crab cake sandwiches with cheddar grits and fresh produce.
The restaurant is attuned to its community in other ways, too: "We take our menu cues by what's going on in the community like Movie Night, Farmer's Market, and the Festival of the Grape Wine Festival," manager Suzanne Cline told Powhatan Today, adding that they'll also scour farmers' markets for unusual heirloom tomatoes and even pick their own berries from Casselmonte Farm. When the weather's warm, guests enjoy this bounty from tables dotting a front patio, flanked by enormous shade trees and a leisurely gravel drive. Occasional live music drifts through the café while helping diners chew more rhythmically.
3844 Old Buckingham Rd.
Powhatan
Virginia
804-598-5999
---
---
Restaurant Deals - Recently Expired
---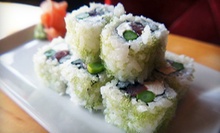 The pick-up-and-delivery version of popular sushi spot Sticky Rice serves Asian-inspired burgers and BBQ alongside noodle dishes and maki
---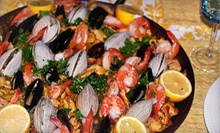 Chef Maximo Mozo references his grandmother's recipes to make more than 20 different tapas and his signature seafood paella
---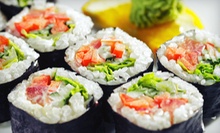 Chefs prepare tempura-fried & teriyaki-marinated beef, chicken, shrimp, salmon & tofu, as well as ramen, sushi & jampong noodle dishes
---
---