Charlton, MA Health and Fitness
---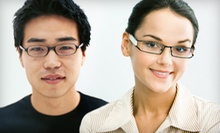 Ray-Ban Aviators, Tom Ford specs & other boutique frames from Gucci, Prada & Ralph Lauren
Use Saturday 10:00am - 3:00pm
---
Recommended Health & Fitness by Groupon Customers
---
The Cardio Corner's nine certified instructors propel exercisers toward fitness goals during classes teeming with kickboxing moves, Latin-inspired dance steps, and other dynamic methods of sculpting the physique. During cycling classes, they help up to 12 stationary riders envision the towering hills, freeing descents, and detours through enemies' flower gardens that are fundamental to an outdoor bicycle ride. Filled with deep breaths and slow, graceful poses, all-levels yoga classes provide a calming alternative to cardio classes' vigorous tempos.
173 Grove St.
Worcester
Massachusetts
Doctors and massage therapists join forces to address alignment issues, joint stiffness, and muscular tension all within the same visit to HealthSource Chiropractic & Progressive Rehab. Massage therapists correct muscular imbalances in shoulders and backs with hands licensed in therapeutic massage and shadow-puppet recital. Chiropractic consultations provide detailed assessments of the ailments behind each client's particular symptoms, as well as specific instructions for massage therapists and recommended courses of action. Specialists may also recommend supplemental forms of chiropractic care, including cold-laser therapy, nonsurgical spinal decompression, and patting oneself on the back. Nutritional and weight-loss counselors guide patients on the journey toward total health. Patients also get access to a gourmet coffee bar during visits.
196 Main St.
Shrewsbury
Massachusetts
US
Upon graduating from chiropractic school together in 1998, Doctors of Chiropractic Drew and Scottie Rae Lawrence pursued two very different professional paths. Drew, a preferred team chiropractor for the WNBA's Tulsa Shock and world-class MMA fighters, relied on his training in nine different chiropractic techniques to tend to spines. Scottie Rae used her focus in anatomy to head women's weight-loss and exercise facilities.
Today, the husband-and-wife duo oversees HealthSource of Tulsa, a clinic where Drew and Scottie Rae both perform chiropractic adjustments and weight-control treatments, including hCG injections and removing all the carbs from bread. Their cosmetic treatments include laser cellulite reduction, a process that uses laser light to contour bodies and shape curves, and in their spa, a licensed aesthetician performs body wraps and microdermabrasion.
196 Main St.
Shrewsbury
Massachusetts
US
The crack of a bat signals another powerful hit inside Extra Innings' spacious, 70-foot-long batting tunnels. Each cage's Iron Mike pitching machine emulates the power and speed of a cantaloupe tossed by Popeye, sending a feast of fastballs screeching toward homerun-hungry hitters. Extra Innings' 12,000-square-foot facility also divvies its plethora of space for private pitching, fielding, and batting lessons hosted by seasoned instructors, as well as a circuit training area furnished with soft-toss machines, tees, and stride boards that further perfect techniques. The onsite pro shop also equips players with all of the baseball essentials.:m]]
38 Southbridge St
Auburn
Massachusetts
US
508-459-2269
No matter the weather outside, the conditions are always right at Extra Innings, a 15,000 square foot indoor baseball and softball training facility. The facility includes four batting and pitching tunnels, each of which is 70 feet in length and equipped with an adjustable pitching machine, an L-screen for live batting practice, and a pitching mound. If players want more help, they can turn to Extra Innings' instructors, many of whom are former or current professional players and college all-stars. These experts use a uniform step-by-step teaching system to help students develop their swings, improve their fielding, and learn to only exclaim "I got it!" if they're about to catch a fly ball or have just been told a joke. For a break, players can visit an on-site pro-shop full of name-brand gear, or they can even arrange a shindig in the party area to celebrate birthdays and special victories.
38 Southbridge St
Auburn
Massachusetts
US
508-459-2269
Facilities at the more family-orientated Powerhouse Gym and Family Fitness enlist nurturing personal trainers to man their workout floors and group classes, which run the gamut from intense Les Mills routines to rhythm-fueled Zumba sessions. In line with the Powerhouse Gym credo, employees strive to foster each member's individual strength, whether they want to complete a single pull-up or do so while dangling from the tusk of an enraged mammoth. To make working out more enjoyable and convenient, amenities such as mounted TVs and childcare stations might complement the throngs of cardio and strength machinery at varying locations.
37 Sutton Rd.
Webster
Massachusetts
US
508-949-0100
---