Tours in Chaska
---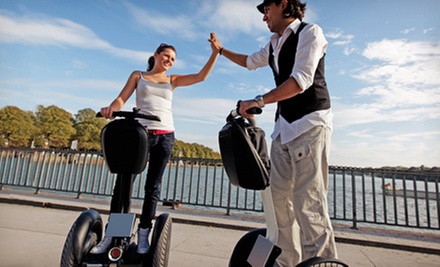 ---
Recommended Tours by Groupon Customers
---
For years, Bill Ahmann mastered the complex inner workings of piston and turbine aircraft as an aviation mechanic. In 1997, he finally achieved his dream by founding his own aviation company out of Anoka County-Blaine Airport. Initially a small venture with a staff that totaled three, Bill's penchant for providing aviation-related services with a personal touch led to rapid growth and a second Twin Cities Aviation location in Saint Paul. In 2008, Bill's veteran squad of flight instructors helped the company achieve Part 141 certification, distinguishing it as a reputable flight school. Today, TCA's staff numbers more than 20 industry professionals drawn from military, commercial-airline, and other aviation backgrounds. Flying a tiptop fleet, the team boasts varied expertise in charter flights, FAA-certified flight instruction, and aircraft sales. The staff's experienced mechanics also service pilots and plane owners with repairs that range from routine safety inspections to refueling propeller hats.
8891 Airport Rd., Suite A-2
Blaine
Minnesota
763-780-4375
Minnesota Helicopters' Robinson R22 hovers like a hummingbird high above the St. Croix River, an ideal vantage point for scouting the surrounding bluffs for bald eagles. The craft then swoops toward St. Paul, darting past skyscrapers and the state Capitol. Tours such as this spotlight Minnesota's natural and urban splendor from a singular perspective. In addition to the St. Croix River, pilots trace routes up the Mississippi and over Lake Minnetonka, and can even customize flight routes for passengers.
Those not content to cruise in the passenger seat can sign up for Minnesota Helicopters' flight school and eventually chart their own courses for friends or stowaway ostriches.
8891 Airport Rd. NE, Suite 13E
Blaine
Minnesota
Several years ago, Ken Smith and Chase Williams were typical door-to-door salesmen. In need of a gimmick to boost sales and a quicker mode of transport, the duo tried riding Segways and immediately fell in love. Eventually, they turned their love for the two-wheeled transporter into their current venture, All American Segway. Their company provides all manner of Segway engagement, including guided Segway tours that offer rolling educations in local history and wildlife. Customers can also discover the revolutionary devices on their own by renting out Segways for recreational use, private parties, or as a friend for a lonely office chair or shopping cart.
15609 Highview Dr.
Apple Valley
Minnesota
US
507-206-0988
In 1905, the Minnesota State Capitol building opened to the public; more than a century later, it continues to welcome more than 120,000 visitors each year to the home of the state government's three branches. Designed in the Beaux-Arts style by acclaimed architect Cass Gilbert, the building lays claim to world's second-largest self-supporting marble dome, a title the dome maintains by working a second job as the back-up roof of the Metrodome. Within the white Georgia marble and Saint Cloud–granite exterior of the edifice, 67 senators and 134 representatives wrangle with politics while striding through stately corridors and chambers decorated by murals, sculptures, and paintings carefully selected by Gilbert to complement the building's elegant style. Hand-painted arabesques and local flora swirl overhead on the vaulted ceilings, and the brushstrokes of John LaFarge depict legal concepts above the bench of Minnesota's supreme court. Visitors can drop into the rathskeller café, which evokes a German eating hall with restored murals, for a bite to eat and a toast to the health of the state's royal family.
75 Rev. Dr. Martin Luther King Drive
St. Paul
Minnesota
651-296-2881
---