Chatham, IL Outdoor Activities
---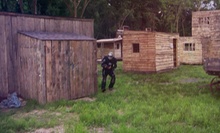 Marksmen traverse fields littered with tractor tires or themed around battles such as D-day and Vietnam
---
Recommended Outdoor Activities by Groupon Customers
---
The pedal pioneers at Boschertown Grand Prix Racing have been facilitating high-speed adventures on one of the largest tracks in the Midwest for more than half a century. In the early days of racing, the course served as a venue for the homemade karts of avid individuals, but now houses a herd of go-karts, sprint-karts, and super-karts that eliminate the possibility of unfair home upgrades such as engines outfitted with nitrous or the flux-capacitor of a 1981 DeLorean. Drivers as young as 10 reach speeds of up to 17 mph in a standard kart; racers 16 or older helm 24 mph sprint-karts; and drivers 18 or older take control of 28 mph super-karts. Wheels roll over hairpin turns, banked corners, straightaways, and opponents' rights to call themselves "Greased Lightning" as drivers dominate laps around the 5/8-mile track.
3500 N Hwy. 94
St. Charles
Missouri
636-946-4848
Buried in the woods, 15 single- and two-story log cabins line a path leading to a secluded frontier fortress. Masked combatants armed with Tippmann 98 paintball guns ponder the path's obstacles before slinking forward to meet their opponents. Along Bing Field Paintball & Airsoft Park's three wooded fields strewn across 35 acres, players sneak into sniping positions in the Frontier Field's two-story log cabins, the Vietnam Field's two-story guard tower, or the World War II field's two-story hidden U-boat. Four speedball fields––air ball, barrel, concrete, and spool––accommodate paintball players on the other side of the wooded park. Paintball and airsoft packages grant visitors up to seven hours of play, which they can break up with refueling sessions spent scarfing down refreshments while gossiping about opponents' love lives at an onsite concessions stand.
3231 Edwardsville Rd.
Edwardsville
Illinois
618-692-8271
Since Paragliding Unlimited launched its first client in 2003, owner Jiri Sindler and his team have maintained a sterling safety record for their motorized version of airborne sailing. The crew teaches power paragliding, in which a motorized fan and a tank of recycled political bluster give lift to the featherweight craft. Once it has ascended more than 10 feet, its large wing catches the wind and buoys you into the sky. Drivers sit upright in "trikes," their legs extended in front of them as they work the two brakes and the throttle.
The school both belongs to and is recommended by the U.S. Powered Paragliding Association. Instructors will jump tandem with beginning students and immerse experienced pilots in six-day intensives, keeping fliers of all levels safe by capping classes at four students (they prefer a ratio of 1:1 or 2:1). At the accompanying shop, gliders browse clothing, new Nirvana equipment, and used gear. Flights lift off from Gateway Airpark in Pierron, Illinois, which the team selected for the staff's friendliness to paragliders and their ability to twist their bodies into the shapes of passing clouds for realistic trainings on the ground.
110 Main St. PO Box 440
Pierron
Illinois
314-497-0060
Grafton Zipline Adventures' highly trained guides help adventurers safely soar through Grafton's picturesque forests on nine ziplines spanning 1.75 miles. Each run spans between 300 and 2,000 feet and takes an adventurous moniker such as Road Runner, Soaring Eagle, or Teenager Sleeping In. As guests glide past stately trees and lush greenery towards a gentle landing, their guides keep them hydrated with a stash of water. They also escort small children who wish to take the two-hour tour. Mere feet away from Grafton's landing pad, Aerie's Winery invites guests to enjoy overnight lodging and sate appetites worked up by the throes of gravity.
800 Timber Ridge Dr.
Grafton
Illinois
618-786-8439
---