Nightlife in Chatham-Kent
---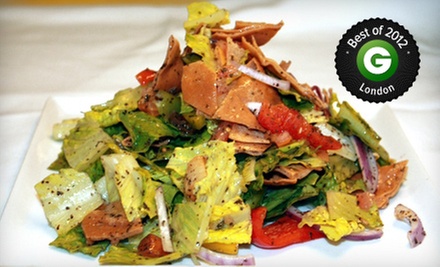 ---
Recommended Nightlife by Groupon Customers
---
Cleats possesses the official chicken wing of the Cleveland Indians, which is dipped in an extra-hot bronze sauce and guarded by multi-headed beasts. Despite the selection of more than 50 domestic and imported beers and more than enough sports fans to match each one, the establishment is family friendly and happy to serve patrons with progeny in tow. Cleats' menu is a cornucopia of casual American fare, with starters such as spinach artichoke dip ($6.99) and beer-batter-fried pickles ($4.99) at hand to combat raging appetites. Keep it light with a Greek salad ($9.99 large, $7.99 small), or tuck in for the night with a Texas hold 'em burger ($8.99), a beef slab fitted with a cowboy hat of bacon, cheddar, onion rings, and house-made barbecue sauce. If you prefer to keep your meat bites separate from your carb bites, choose from 22 signature wing sauces and order up a combo plate of eight wings and six soft pretzel sticks ($9.99).
8389 Mayfield Road
Chesterland
Ohio
The self-proclaimed home of the $1 draft, Dooleys Tavern keeps 20 beers cascading from their taps. Those suds complement the chefs' pub food, which includes American tavern classics such as half-pound burgers and up to 50 chicken wings doused in a choice of four sauces. The draft beer house also concocts American dishes with an Irish twist such as corned-beef sliders and a pizza filled with mashed potatoes and topped with bacon and red onions.
Seven nights a week, Dooleys' three locations keep guests entertained until 2 a.m. on an outdoor patio, in a room full of classic bar games, and with plenty of HDTVs showing the game. The trio of taverns also accommodates up to 100 guests for private parties. Additionally, the Mount Clemens location pairs feasts with sidesplitting routines from standup comics in Carmen's Showroom.
32500 Gratiot Ave.
Roseville
Michigan
586-296-2739
About an hour south of Windsor on the shore of Lake Erie, housed behind the bright red exterior and shaded porch of a historic 1880s home, chefs plate American-style pub cuisine. Servers create natural pairings of beef burgers and hearty entrees with local wines and craft brews, much like police chiefs pair good cops with even better cops. Upstairs, three guest rooms welcome visitors with feather duvet-topped queen beds, fireplaces, and Jacuzzi bathtubs.
31 Division St.S
Kingsville
Ontario
Paintings of dogs playing poker gaze down from the walls of Dawghouse Pub & Eatery, presiding over the plates and draft-beer pitchers that clatter onto tables. In the kitchen, chefs sculpt 8-ounce burger patties from fresh chuck and bathe tender chicken wings in eleven different sweet, savoury, and spicy sauces. Canine statues, figurines, and dolls of all shapes and sizes pepper the pub, and personal televisions on every booth assist numerous big-screens in broadcasting exciting athletic competitions and attempts to break the world record for pretending to be asleep. Bartenders distribute mugs of Molson draft beer, which fuel chatter on a newly renovated patio during the warmer months. The staccato clicks of caroming billiard balls drifts from the pool tables, and trivia games test the depth of patrons' knowledge. In lieu of parrots raised by commercial-jingle writers, the bar hosts live bands and karaoke every week.
699 Wilkins St.
London
Ontario
519-685-0640
It isn't hard to find something to do at Stroker's Billiards. The staff hands over slices of pizza and frosty mugs of beer to patrons and then lets them loose to test their skills at 1 of the 16 9-foot billiard tables. Stroker's also populates its floor with six snooker tables and eight bar-box tables, which give players the chance to adjust their angles to fit different table lengths, or quickly destroy miniature replicas of the Colosseum.
390 Springbank Dr.
London
Ontario
519-641-6067
The London Tap House's exposed brick walls absorb the nightly sound waves of DJ-spun tunes as revellers shake it across an expansive dance floor. Staffed by experienced party planners, the venue is frequently host to birthday parties, stag and stagette nights, and workplace gatherings. Their specialized party packages often include accoutrements such as food-and-drink bundles as well as elaborate entrances comprised of limousine arrivals followed by choreographed tango numbers with the chauffeur. Once inside, guests can raise a champagne or beer toast in black leather booths, request a DJ shout-out, or save the last slow dance for the in-house dance pole.
545.5 Richmond St.
London
Ontario
519-936-0268
---