Restaurants in Chatham-Kent
---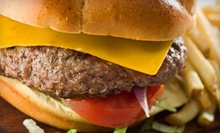 Use Today 11:00am - 11:45pm
---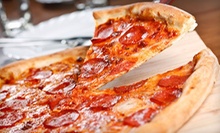 Chefs perform in open kitchen to churn out gourmet pizzas, shrimp scampi & baby back ribs in landmark building converted from boxing gym
Use Thursday 11:00am - 4:00pm
---
---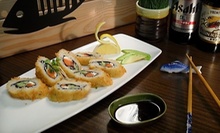 Salty edamame nestles in crisp coin purses as sushi & sticky rice combine forces to capture morsels of raw fish, crisp cucumber & veggies
Use Thursday 11:30am - 4:00pm
---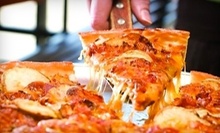 Pizza buffet strews from-scratch dough & cheese with Canadian bacon, Italian sausage & jalapeno peppers
Use Thursday 11:00am - 5:00pm
---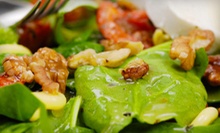 Raw juices wash down gourmet sandwiches layered into sesame-seed-decorated buns and accompanied by hand-cut fries
Use Sunday 12:00pm - 5:30pm
---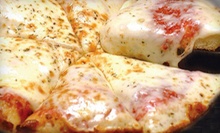 Use Thursday 11:00am - 5:00pm
---
Recommended Restaurants by Groupon Customers
---
Though many restaurants feature expansive wine lists, The Braywick Bistro's is essentially infinite. That's because its array of local and international wines is supplemented by a bring-your-own-wine policy—with a $15 corkage fee—that allows patrons to enjoy any varietal they desire. That flexibility is important, since the menu ranges from hearty, European-inspired dishes of chicken carbonara and gorgonzola-stuffed portobello mushrooms to the lighter tropical flavors of prawn-laced pad thai and mango-topped mahi-mahi. The cuisine's global aromas suffuse the bistro's dining room, where nature-themed photography and wheatgrass centerpieces evoke the same freshness that suffuses each dish's ingredients and each waiter's bonsai hairstyle.
244 Dundas St.
London
Ontario
519-645-6524
When diagnosed with a critical illness and given just two weeks to live, Myna Taylor rejected her doctor's prognosis. Declaring herself "divinely healed," she set out for England, where she proceeded to buy a wealth of Wedgewood bone china. Upon returning home, she opened Dishington's Tea Room, where she continued to defy the odds and celebrate life, family, food, and friends.
More than 30 years later, Richard and Tami DeJonge keep Myna's memory and traditions alive by serving house-made pastries and jams on the same Wedgewood plates she brought back from that first trip. "Consistency is so important," Richard claims, and the care he and Tami take in crafting each quiche or rhubarb pie speaks volumes of their dedication. Though the couple continues to brew the traditional teas that customers have come to demand over the years, they have also concocted entirely new blends of herbs, flowers, and finely shredded Jane Austen manuscripts.
Their recipes spring from a similar blend of tradition, inspiration, and whichever vegetables are in season at the farmer's market. Guests can enjoy the locally sourced fare within a cozy tearoom decorated with floral tablecloths and paintings by area artists. This coziness, Richard believes, is what keeps the tearoom's wealth of regulars coming back cup after cup.
2485 Main St.
London
Ontario
519-652-2818
After pleasant days spent perusing the cute boutiques and high-end shops of Richmond Row, visitors often stroll over to Wink's Eatery to wind down with juicy burgers and frosty brews. In the summer, they bask in the warm sun out on the front patio as servers bring forth pitchers and crispy wings. Others head inside—where fireplaces flicker in cold months—and perch along the wooden bar to watch sports games on the glimmering flat screens. Throughout the week, the casual space plays host to live music and karaoke nights.
As guests relax, chefs are hard at work in the kitchen, carving up steaks and grilling paninis. They fold premium toppings into a sweeping variety of specialty burgers, from a surf 'n' turf burger with lobster and hollandaise to the USA burger with barbecue sauce, bacon, and mushrooms that can be used interchangeably with US nickels. To whip up the signature Frito pie, they smother chips in cheese, ground beef, and guacamole. Come breakfast time, cooks turn their attention to breakfast pizzas and omelettes.
551 Richmond St.
London
Ontario
The scent of fish frying welcomes visitors to Robbie Walkers Fish 'n Chips. Once inside the shop, guests can sentence fresh halibut, haddock, cod, or pollock to the fryer, or order one of several burgers or sandwiches on the menu. Plates are rounded out with starters such as bacon poutine or mushy peas, a classic British supplement to fish-and-chips.
223 Wellington St.
London
Ontario
519-439-7921
As Felipe Gomes's new restaurant was being built, he happened across a boarded-up room downstairs. Though the 600-square-foot room, dusty with a half-century of disuse, contained only boxes of aged financial records, Felipe instantly saw the space's potential. The drywall and plaster were torn down to reveal yellow-brick walls and walnut beams, which became the foundation for Aroma Mediterranean Restaurant's wine cellar. Now the space is fully remodelled; beyond a doorway entangled with grapevines, a vault built into the floor displays 220 bottles of wine visible through heavy-tempered glass. Nearly 100 more bottles of wine shelved along the walls vie for tasters' attentions with flashy magic tricks and labels boasting various international origins.
Diners sift through a menu equally inspired by international flavours. Portuguese and Spanish recipes transform fresh seafood, duck, and steak into entrees steeped in inventive sauces, such as the chef's favourite—calamari stuffed with chorizo and breadcrumbs in an Andalusian-style sauce. Servers can deliver meals in a courtyard-esque dining room or a private room where video conferencing enables patrons to dine with family or etiquette instructors halfway around the world. Guests can also learn to re-create their meal at home by visiting the eatery's on-site cooking studio, whose classes demonstrate the art of the four-course meal.
717 Richmond St.
London
Ontario
519-435-0616
Chef Kevin Greaves spent years travelling the world studying the spices and cuisine unique to each region. Of all that he tasted, the foods that stood out in his mind and palate hailed from three distinct locales: Thailand, Louisiana, and the Caribbean. Rather than limit himself to a single favourite, the head chef of Jambalaya Restaurant incorporated flavours from all three regions into his eclectic menu.
The menu highlights traditional dishes from each region, including pad thai from Thailand, gumbo and jambalaya from the Louisiana bayou, and curried goat from the Caribbean. In addition, Chef Greaves prepares some dishes with a fusion twist, adding jerk spices to vegetable pad thai or moulding a plate of shrimp creole into the shape of Thailand. The chef flavours each dish with the restaurant's signature brand of spices and sauces.
119 Dundas St.
London
Ontario
519-858-2000
---