Shopping in Chatham-Kent
---
---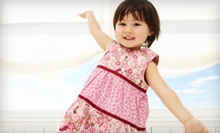 Gently used plush toys, counting & spelling games, & high chairs surround soft jumpers, lacy tutu dresses & everyday wear
Use Today 10:00am - 1:00pm
---
Recommended Shopping by Groupon Customers
---
This female-owned boutique started out eight years ago as an apparel-only outfit that clothed pregnant bellies and their subsequent newborns. Today, Tummies to Tots has grown to supply all manner of products necessary for raising a healthy baby. Parents put together cribs, soft bedding, and furniture that give new additions a comfortable transition to life outside the womb. Moisturizing creams and ointments protect tender skin, and plush toys and pacifiers distract infants while parents spend quality time with their own teddy bears. When caretakers take babies mobile, strollers and car seats secure a safe passage. Potty-training equipment gently eases wee ones into the brutal reality of a diaperless future that we all must one day accept. Tummies to Tots continues to outfit mommies-to-be in comfortable, ergonomic maternity wear, and engraves customized baby-tag jewelry with the name of each infant. An on-site consignment department gives parents the chance to snag equipment that has already proven its competence at childcare on another family.
2020 Hyde Park Rd., Suite 5
London
Ontario
Benjamin Moore Color & Design Centre coordinates living spaces with expert decoration advice and top-shelf paints, primers, and stains in an extensive palette. Specially trained design consultants are available in store and are equipped with up-and-coming home fashion trends and sophisticated spectrometers to prevent interior layouts from clashing and for attaching proper labels to naked crayons. Viscous sheets of paint from Benjamin Moore and Coronado by Benjamin Moore glide off of premium-quality brushes and rollers, making for consistent coverage of all household surfaces. As they clothe bare walls with coats of brilliant colour, designers and paint technicians at Benjamin Moore Color & Design Centre extend a helping hand to the world around them with annual fundraisers for Habitat for Humanity and by promoting sustainable product sourcing and recycling.
1815 Dundas St.
London
Ontario
519-455-6400
Since 1989, Play It Again Sports has been keeping sports green, recycling gently used athletic equipment into new-to-you gear. Products from brands such as Nike, Adidas, and Wilson make up each store's enormous selection of new and recycled gear, which is replenished daily with goods for a wide selection of sports that ranges from baseball and football to snowboarding, skis, and ice skates. Treadmills and exercise bikes equip bodies with muscular suits of armour, and pint-sized and adolescent equipment arms youngsters with protective padding until they eat enough bologna to grow muscles of their own. Knowledgeable staffers man each location, ready to answer questions, arrange gear deliveries or pickups, and even sharpen skates or wax snowboards. To ensure their stock remains robust, they also encourage athletes to collect their lightly used gear—including bicycles—and bring it into a local store to either sell or trade.
1314 Huron St.
London
Ontario
With shows customized to any occasion, Dotsy's Entertainment Company & Costume Shop's trained performers mesmerize crowds with magic tricks, comedy routines, songs, and oodles of audience participation. The company's balloon twisters can sculpt a new design every minute, and their roster of face painters covers up to 20 cheeks with stirring artworks in a single hour. To further enliven soirees, personnel can set up a nine-hole miniature-golf course, inflatable bouncers, and carnival-style games including a unicorn ring toss where players must lob a curled-up unicorn onto their partner's ring finger. Dotsy's singing telegrams and balloon bouquets bring good cheer to unsuspecting recipients, and their costume essentials—including hats, makeup, and wigs—let wearers embody the spirit of holidays and events such as Halloween and Renaissance fairs.
111 Ross St.
St. Thomas
Ontario
519-633-7767
For more than a quarter-century, Rob Moffatt and Wade Eggett have paired clients with eyeglass and sunglass frames that not only fit their prescriptions but also complement their facial features and personal style. They stock frames from various designers worldwide.
613 Richmond St.
London
Ontario
Mine 101 packs its sunny space with carefully screened, lightly used designer goods, donating the proceeds to the Women's Community House. Shoppers peruse the charmingly eclectic apparel, slipping toes into the embrace of pre-broken in shoes from Sorel, Coach, and Nine West. A selection of designer denim provides a blank wardrobe canvas that shoppers can accentuate with Mine 101's stock of locally handmade jewellery. Puffy jackets and sleek wool scarves coddle torsos during cold weather, and shoppers can stock up on colourful sundresses and strappy heels in anticipation of spring, summer, or vacations to Mercury.
900 Oxford St. E, Unit 3
London
Ontario
519-453-5550
---