Chattanooga Outdoor Activities
---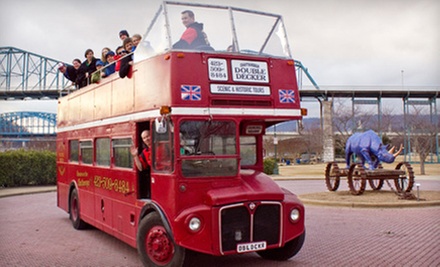 ---
Chattanooga Outdoor Activity Guide
Chattanooga is a city that is known for its scenic views, hiking trails, and outdoor events. There is no shortage of things to do, and people can attend Chattanooga concerts, visit parks, and take a tour of the many sights that the city has to offer. There is an abundance of music venues in Chattanooga from small dive bars to large stadiums with state-of-the-art sound equipment. Rhythm and Brews is a concert hall that hosts some of the most popular artists across all genres of music as well as smaller local acts. Customers can listen to their favorite bands and sip a cold domestic beer or try one of the award-winning brews from Big River Grill and Brewery. In addition, people from all over the world travel to visit the Sewanee Summer Music Festival that occurs every year. With more than 30 concerts taking place over the summer, it is an event that can't be missed. There are more than 4800 acres of Chattanooga parks in and around the city. This land area includes 70 public parks, two golf courses, three dog parks, and five swimming pools. With several public places to visit, there are many outdoor activities for residents and visitors to take part in and enjoy without having to pay high admission prices and cover charges. For those who are new to the city, they can participate in
Chattanooga Sidewalk Tours
to see all of the sights from around the city. In a 90-minute tour, people can learn about the history of the city, see some of the hottest spots in town, and view some of the most cherished landmarks around Chattanooga. No matter if a person is a resident or just visiting from out of town, there are many things to do in the great outdoors of Chattanooga.
In a 90-minute tour, people can learn about the history of the city, see some of the hottest spots in town, and view some of the most cherished landmarks around Chattanooga.
Recommended Outdoor Activities by Groupon Customers
---
The ATV has revolutionized off-roading, traversing terrain inaccessible to cars with more speed than a bicycle and more stability than a dirt bike. Four Wheelin' Expeditions' staff knows the advantages of an extreme off-roading vehicle, which is why carry a fleet of Yamaha, Kawasaki, Polaris, and Can-Am ATVs. Their single-seaters transport riders through rocky terrain with the agility of a mechanical cheetah. Four Wheelin' lets riders rent for a half or full day, with guided tours available at nearby parks.
101 Virginia Dr.
Tullahoma
Tennessee
931-434-6613
After paddling his way into the U.S. Olympic Team–trial finals twice, Jeff West, founder of Ace Kayaking School, began sharing his love of the sport with readers of popular publications and more than 5,000 eager students. Striving for a maximum 3:1 instructor to student ratio in all of his courses, Jeff and his team teach key skills to beginners and experienced rollers alike while gliding down the Ocoee River's famous Table Saw rapids. In addition to whitewater kayaking, Ace teaches stand-up paddleboarding and the advanced waterfall navigating techniques of creek boating and freefalling in a barrel.
2368 Old Federal Rd.
Ocoee
Tennessee
423-716-7666
Ocoee Zipz lifts its riders off the ground and transports them to new lands along seven lines named after beloved Wizard of Oz characters and featuring varying grades, distances, and terrain. Staff members, aptly nicknamed The Flying Monkeys of Oz, help adventure seekers soar above Ocoee's 40 acres of rustic scenery during two-hour zipline tours. Tours begin at the 30-foot-high Cowardly Lion launch tower, where fraidy cats find the courage they need to skim the tops of trees. The Dorothy line zooms along the Ocoee River to meet up with the Toto tower across a swinging bridge, where cushy crash pads wait with loving arms to catch especially enthusiastic zippers. Guests may try an upside-down dive off the Scarecrow tower, then test their speed on the Wicked Witch of the West line, which features a steep enough grade to get patrons up to 45 mph. Like Shakespearian arguments or family reunions, Ocoee Zipz's tours end with a duel on The Wizard's parallel lines, as participants race their way to the finish.
1985 Hwy. 64 Old Copper Rd.
Ocoee
Tennessee
877-794-7947
Launched in 2000 as a humble 20'x20' shop, Frontier Firearms has grown into an 11,000-square-foot facility that encompasses two 25-yard, five-bay indoor shooting ranges. Each gallery enhances visitors' comfort with technological touches, such as sound dampening and granulated-rubber-bullet traps that capture rounds mostly intact, thus minimizing particle dispersion into the air. By removing these potential distractions, the ranges let marksmen focus on following the Mancom Touch Plus Active Target Shooting system. Used by law-enforcement agencies such as the FBI, this computerized system can make targets turn, rush toward, and flee from the shooter. Frontier Firearm's team includes instructors who claim NRA and state certifications, which they apply to supervising the ranges and leading handgun classes that range from a ladies-only course to advanced defensive tactics and how to look tough in a saloon.
1218 Gallaher Rd.
Kingston
Tennessee
865-376-0793
Celebrated course architects Peter Jacobsen, Jim Hardy, and Jerry Lemons sculpted RiverWatch Golf Club's course through natural tributaries leading to the crystalline waters of Center Hill Lake. Wide zoysia fairways rise and fall through the densely forested terrain, creating natural doglegs that bend around large earthen swells and ponds. Water comes into play on seven holes, making accuracy more important than hitting long drives or unlocking the scorecard's treasure map to a lower handicap.
Course at a Glance:
18-hole, par 72 course
Total length of 6,850 yards from the back tees
Course rating of 73.3 from the back tees
Course slope of 131 from the back tees
Five sets of tees per hole
125 Harbour Greens Pl.
Sparta
Tennessee
931-761-8125
Shielded from the elements, customers at Glowgolf traverse the course's 18 holes of indoor miniature golf amid an extraterrestrial neon glow. Vivid murals of jungle and underwater scenes adorn the course's walls, with giraffes, zebras, and otherworldly creatures serenely coexisting. The course itself brims with potted plants and decorative treasure chests along with traditional mini-golf obstacles such as loop-the-loop ramps and water traps filled with live sharks.
1720 Old Fort Pkwy
Murfreesboro
Tennessee
615-962-8181
---