Shopping in Chattanooga
---
Recommended Shopping by Groupon Customers
---
Secret agents prowl the premises, peering through magnifying glasses at pop stars' fallen boa feathers and dusting pirates' treasures for fingerprints before reporting their findings to a headquarters fortified with cupcakes. Murfreesboro Toy Company invites children to take on these and other imaginary personas within all-inclusive party packages. A team of party planners lead soirees for up to 12 guests, with themes such as Secret Agent Spy—complete with fingerprinting and decoding secret messages—and Pop Star Diva, whose commemorative music video zooms in on children wielding inflatable guitars and wearing feather boas and glittering makeup. Tables swathed in colorful cloths and dotted with coordinating flatware host feasts of pizza, cupcakes, and punch, and each guest departs with party favors such as bath gel or temporary tattoos. Murfreesboro Toy Company's cheerful storefront teems with whimsical and educational toys by Madame Alexander, Playmobil, and other brands. Selections include bathtub basketball hoops for toddlers, Fancy Nancy dolls, and solar-system floor puzzles to test school-age tykes' spatial skills and allegiance to heliocentrism.
2615 Medical Center Pkwy., Suite 1520
Murfreesboro
Tennessee
The difference between buying a bike at a department store versus buying one at a specialty store is the staff members. Because they are well versed about riding mechanics and bike brands, they're able to pair clients with ergonomic bikes suited to their intended use. The staff of Cycle Sport Concepts guides customers through the industrial show room's rows of bikes, explaining which models are best suited for taking pleasure rides, racing, or for testing the speed of light by drag racing lampposts. Staff also put this knowledge to use when fixing bikes, usually repairing and returning rides within 24 hours.
516 E Main St.
Chattanooga
Tennessee
US
423-531-7623
Owner, buyer, and stylist Elizabeth Allen loves fashion, and she's not alone. The popularity of her Murfreesboro boutique spurred a new location in Gulch. At both shops, Elizabeth and her team of stylists select and share seasonal fashions from brands such as French Connection, Frye Company, and Whitney Eve. Though the shelves and hangers are replete with printed dresses and vintage Chanel accessories, the boutique's Denim Bar serves both women and men.
2615 Medical Center Pkwy., Suite 1765
Murfreesboro
Tennessee
Louis Priddy's love of pounding the pavement led him to found Running Factory II—the previous incarnation of Front Runner Athletics—in 1982. Over the next 15 years, the business blossomed until Louis changed its name and built a new 4,000-square-foot location to accommodate its expanded inventory of shoes and athletic apparel.
In 2001, Louis passed the reins to avid runner Chad Varga, who has carried on Priddy's legacy by ensuring that his customers' shoes not only fit on their feet but also accommodate runners' individual arches and manner of jogging. To achieve this, Chad and his staff conduct free comprehensive gait analyses, guiding guests—who are often referred by local orthopedists and podiatrists—toward shoes that match their foot shapes and habits of running on the sidewalk, on a track, or on hot coals. The store's wide range of men's and women's shoes from the likes of ASICS, Adidas, Mizuno, and New Balance help the experts find the ideal pair.
4251 Hixson Pike
Chattanooga
Tennessee
From stocking pink booties to supporting the pink ribbon cause, breast cancer, with a portion of their proceeds, the Thrift Warriors staff tends to a wide range of needs with low-cost resale apparel and merchandise. The selection at any given time might include Banana Republic jeans, Abercrombie T-shirts, sofas and loveseats, kitchen utensils, and a robot from the future that can tell you where the best sales will be in the year 2356.
3801 Ringgold Rd.
Chattanooga
Tennessee
Santa Richard Bonnington first stepped into the shoes and red suit of the holiday celebrity in a 2003 production of Miracle on 34th Street. Since then, it's been Santa all the way: he's appeared as Santa at corporate children's parties, accompanied gift donations to charities, and added holiday cheer to nursing homes. He's been the full-time mall-Santa for two different malls, is the official Santa of the local Toys-4-Tots program, and holds a degree in Santa Claus certification.
436 Frazier Ave.
Chattanooga
Tennessee
423-255-0024
---
---
Shopping Deals - Recently Expired
---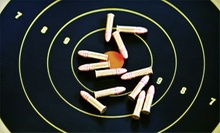 The eight-hour class covers handgun fundamentals in a one-day session or two evening sessions
---
---