Cheektowaga, NY Health and Fitness
---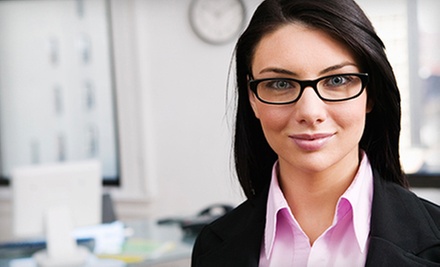 ---
Recommended Health & Fitness by Groupon Customers
---
Fusion is an amazing force. It sets stars ablaze, redefines cuisine, and has even produced a hybrid of a gym and spa at Platinum Fitness. There, certified personal trainers construct individualized workout regimens or lead small group classes, pumping up muscles with Zumba, Pilates, or yoga. Therapists work alongside them, relaxing bodies with massage treatments or chiropractic manipulations, which, like an argument in Bantu, commonly produce clicking noises. After a workout or knead, members can relax in an infrared sauna or educate themselves about healthy eating with a nutritional consultation.
9450 Transit Rd.
East Amherst
New York
Body & Soul Boot Camp whips bodies into shape with high-energy workouts tailored to trainees of all fitness levels. Each session begins with a myo-fascial release and dynamic range of motion and movement preparation sequence designed to open up muscles with corrective massage. Up to 24 trainees strengthen and tone together during metabolic resistance training designed to trim fat and keep workouts feeling fresh. The company's new and advanced Rapid-Fat-Loss small group personal training for 6–8 clients offer strength-busting exercises under the leadership of professional fitness instructors.
613 Oakwood Ave.
East Aurora
New York
716-572-1536
After spending hours on the faces of outdoor boulders and overhangs, the crew at Niagara Climbing Center brings back inspiration as a souvenir. With toughened fingers and memories of these natural rock formations, they return to their indoor facility to lay climbing routes on 6,000 square feet of vertical terrain. The gym's walls reach up to 20 feet above the ground and their features include bulges and slopes to help climbers prepare for real rocks or real trophy rooms of big-game rock hunters.
1333 Strad Ave.
North Tonawanda
New York
716-695-1248
Though Dr. Robert Grobelny holds advanced degrees in acupuncture and chiropractic medicine, his pursuit of knowledge is not limited to the classroom. In 2007, he traveled to Hang Zhou, China, where he assisted in rounds at a teaching hospital. Back home, Dr. Grobelny is one of only three Erie County doctors licensed to practice in both acupuncture and chiropractic medicine. Invoking the nearly 5,000-year-old holistic remedy of acupuncture, Dr. Grobelny treats ailments ranging from arthritis to addiction using tiny, minimally invasive needles. He also diagnoses and treats musculoskeletal-system distress with a discerning chiropractic eye and the deft touch of a neurosurgeon concert pianist.
856 Ridge Rd.
Lackawanna
New York
716-651-9011
Many fitness professionals spend years studying exercises but ignore how those movements impact the physical makeup of the body. The instructors at Fitness360 stand out from the crowd of exercise experts by each holding four-year degrees in physiology in addition to their training certifications. The team shares its copious knowledge as it leads individuals and small groups through private workout sessions. Instructors use nontraditional training gear such as heavy ropes, weight sleds, tractor tires, sledgehammers, and cartoon anvils to target each muscle group and keep things interesting for their clients. Each of routine is designed with fluid movements to encourage muscle definition all over the body while simultaneously increasing cardiovascular health. In addition to regular classes, the 360 team also hosts specialty workshops for distance runners.
While they take advantage of Fitness360's facilities, guests can also stop by the juice bar for a protein rich shake before heading home.
2625 Delaware Avenue
Buffalo
New York
US
716-874-2005
New Health Chiropractic & Vibration Studio's husband-and-wife team of experienced chiropractors work together to pinpoint the cause of chronic symptoms, marshaling holistic services to help the body heal itself. Chiropractic treatments aim to unblock frazzled nervous systems, improving holistic health and the ability to snake through rush-hour traffic. Other noninvasive therapies, including whole-body vibration and nutritional programs, can reduce cellulite and enhance weight-loss efforts by detoxifying cells and boosting metabolism. The studio's signature total health solution package combines all of the above for a powerful approach that is greater than the sum of its parts.
4154 McKinley Pkwy., Suite 900
Buffalo
New York
716-649-8200
---