Chelsea, MA Outdoor Activities
---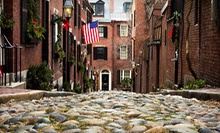 Tours follow in the footsteps of abolitionists and soldiers who fought for a more perfect union, visiting landmarks from their lifetimes
Use Thursday 11:30am - 2:30pm
---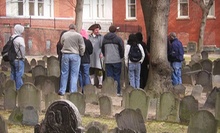 Follow a guide in a tricorn hat on a 90-minute exploration of colonial Boston through the uprisings that led to American independence.
Use Monday 8:30am - 11:30am
---
Recommended Outdoor Activities by Groupon Customers
---
While navigating segways around the Alamo during a spring vacation, Brad Biscornet and his brother-in-law, Jeff Langone, realized that their hometown of Salem, with its rich history and picturesque views, was ripe for just this sort of experience. And thus, Witch City Segway was born—allowing visitors and locals alike to explore the historic town on a thoroughly modern mode of transportation.
After briefly training up to six helmeted guests in segway piloting at the company's 2,000-square-foot indoor facility, two guides—one up front, one bringing up the rear—lead their flock onto the streets for one-hour jaunts. As the guides casually relay notable anecdotes about jail sites and cemeteries without the aid of megaphones or earpieces, guests obtain a deeper understanding of the 17th-century witch trials and the lesser-known black-cat mistrials.
283R Derby St.
Salem
Massachusetts
781-626-4000
Summertime breezes sneak through fork prongs and rustle across napkins at the 15th annual Taste of Allston, where community foodies unite under a banner splattered with international ingredients. Thirty restaurants introduce taste buds to some of the city's best eats, from the Far East fare of Korean Garden to the smoky brick-oven flavor of Regina Pizzeria's pies. In between bites, live music, beer samples, and raffle prizes plate up entertainment for adults, and kid-friendly attractions, such as face-painting stations, keep young'uns from trying to sneak away between oversize hoagie buns. All profits raised by the festival go straight to the Allston Village Main Streets, a nonprofit revitalization effort working to keep the community safe.
65 N Harvard St.
Allston
Massachusetts
617-254-7564
In the year of America's bicentennial, the fervor for American history was at an all-time high, and few cities are as full of patriotic landmarks as Boston. As floods of citizens came to see and experience America's roots, Polly Flansburgh decided to gather together experienced locals to educate visitors and newcomers on the stories in which the city is steeped. Nearly four decades later, her non-profit, Boston By Foot, Inc., still pairs curious patrons with enthusiastic volunteers schooled by the company in the city's lore and architecture.
This diverse selection of tours allows patrons to learn more about the aspects of Boston that interest them most. Specialized excursions might visit the scenes of the city's most infamous crimes and diseases, the buildings important in the revolution, the homes of Boston's greatest literary heroes, and places where somebody found an onion that looked sort of like Robert De Niro. The staff even lead one tour specifically designed for children, which helps illustrate lessons from history class without too much walking for little legs.
Embankment Road
Boston
Massachusetts
413-695-8536
Bobby Martin grew up with a sail line in his hand, touring the Delaware River and the waters surrounding Kent Island and St. Michael's in Maryland. He always knew sailing was in his blood, as he was raised in a family of boat builders and America's Cup competitors. He followed this passion throughout school and into a racing team at Boston University and earned a position as captain by his senior year. Now, as the executive director at the nonprofit Piers Park Sailing Center, he combines his passion for sailing with a love for community outreach, helping to train sailors of all ages and ability levels including underserved youth and disabled students.
95 Marginal St.
East Boston
Massachusetts
617-561-6677
Experienced captains guide passengers through the city's wide harbor avenues and more intimate waterways on a range of tours and themed cruises. Passengers can hop on or off each excursion at six designated docks such as Atlantic Wharf and Fairmont Battery Wharf. When disembarking, they may stop at waterside eateries such as the Barking Crab and Tavern on the Water to sip, dine, and heed Paul Revere's legendary warning about eating too many burgers. While most cruises beckon customers to board the Precious Time, Sadie, or White Pearl, captains also conduct mini cruises aboard unique vessels such as a turn-of-the-century fantail launch boat.
1 Pier 6, 8th St.
Boston
Massachusetts
617-922-8475
With 35 years of golf experience and as a shoo-in for Golf Digest's Best Teachers in the State list five years running, Rick DePamphilis brings a bounty of stroke-shaving wisdom to each lesson he conducts as a part of his player-development program, NexLevel Golf. Whether students are greenhorns or green-jacket holders, the PGA master professional tailors his instruction to the player's individual needs, ranging from small tweaks in course-management strategy to deciding which end of the club to grip.
Private lessons help a player improve his or her number of fairways hit in regulation, short-game play around the greens, and shot selection. V1 Pro cameras analyze the student's swing for later reflection on mechanics and tendencies, such as swing-plane angle or ending the follow-through with a pirouette. Rick also takes stock of the player's arsenal of equipment and makes recommendations based on their skills and style of play. Lessons take place at either Paradise Driving Range in Middleton or Groveland Fairways in Groveland.
427 Walnut St.
Lynnfield
Massachusetts
781-334-2877
---