Things to Do in Chelsea
---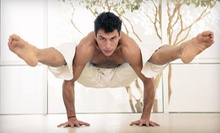 Yoga Instructor and personal trainer Robert Sidoti leads high-energy flows for students of all levels in a studio geared-toward guys
Use Saturday 7:00am - 10:00am
---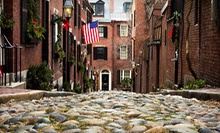 Tours follow in the footsteps of abolitionists and soldiers who fought for a more perfect union, visiting landmarks from their lifetimes
Use Thursday 11:30am - 2:30pm
---
Recommended Things to Do by Groupon Customers
---
Founded in 2007, A Far Cry is a self-conducted chamber orchestra made up of 17 young professional pluckers and bow-wielders, known as the Criers, who have played alongside cellist Yo-Yo Ma and rock band This Will Destroy You within the last month. The New York Times proclaims that the orchestra "brims with personality" that yields "performances of such passionate involvement," and the Boston Globe writes that "members of the conductor-less string orchestra love nothing more than to throw themselves into a musical phrase with vital conviction." The collective pushes the boundaries of orchestra repertoire, eschewing the tradition of smashing their instruments on a gong after each performance while favoring collaboration and rotating leadership. This particular program features Shostakovich's dark Eighth Quartet, John Adams's Shaker Loops, and the premiere of double concerto K2, with fiddler Kip Jones and bassist Karl Doty. Racking up more than 200 of those performances so far, the ensemble has also released three albums and is the chamber orchestra in residence at the Isabella Stewart Gardner Museum, which often entails serving as live statues to fill in for artwork that's being restored.
30 Gainsborough St.
Boston
Massachusetts
617-585-1260
Buckle into the transformative vests and prepare to be transported into another dimension. Laser tag is an affordable way to live out video-game dreams, work out tensions with your roommate, or live out your fantasy of starting a ragtag militia of space marines with Erik from accounting. Instead of cartoon re-runs, treat the kids you babysit or your actual kids to a more active adventure for the imagination. Get a small group together and make it a social excursion—laser tag is great for double dates, office outings, or post-dental cleaning parties.
330 N Main St.
Randolph
Massachusetts
Boston Bowl buffs and polishes 20 lanes to accommodate fat tenpins and 14 lanes for their thin, stern candlepin cousins, ensuring smooth trips for the spherical projectiles eager to greet them. While groups of two and clans of four frolic beneath a multicolored bowling mural, automated scoring screens dutifully account for every pin conquered, awarding extra points for any particularly stinging impression of another bowler's form.
820 Morrissey Blvd.
Dorchester
Massachusetts
617-825-3800
Strictly Sail Chicago, the largest indoor boat show in the United States, brings the sails to the stage for its 16th year at Navy Pier. With more than 250 global vendors, designers on-hand to answer questions, and a veritable storehouse of sailing gear, accessories, and hardware, watercraft enthusiasts will find everything they need to set aside their aquaphobic doubts and explore the beauty of sailing and the mysteries of sea legs. Sit in on one of the many seminars that are included with admission, such as Cruising the Bahamas, A Sailor Looks at Leadership, or Hey! Is That a Kraken!?—all of which are led by some of the world's leading sailors—then stop in at the sailing pond to re-create the Battle of Trafalgar with remote-control boats. Those who choose the membership option enjoy entry to the members-only lounge, which features a coat check, a cash bar, munchies, and Internet access.
415 Summer St.
Boston
Massachusetts
The Brattle Theatre's screens have been glowing with an eclectic slate of films since 1953, but its cultural legacy stretches back to 1890 when it first opened as a live theater. Its productions seemed destined to eventually intertwine with the burgeoning Hollywood industry, and today, the venue keeps its artistic roots alive by showing a full roster of classic, foreign, and independent movies. The cinema-savvy staff frequently bundles pictures into special repertory series—past programs have centered around a vast array of topics, ranging from tributes to Greta Garbo and Ingmar Bergman to a series of documentaries on Clark Gable's mustache. To bolster the cinematic experience, moviegoers snack on locally-made concessions including traditional box office candy as well as baked goods and beer.
40 Brattle St.
Cambridge
Massachusetts
US
617-876-6837
Pump It Up's indoor inflatable arenas launch socked striplings into the air with a plethora of kid-friendly bounce pads. Staffers supervise fun-filled visits, during which adult counterparts leap around with their kids through gargantuan bounce houses, skip down air-filled slides, and slither like snakes covered in bacon grease through an inflated obstacle course.
The colorful venue also hosts custom birthday parties and private team parties, each themed to please the partygoers in question. These soirees immerse children in a schedule of interactive activities befitting a pirate or a superhero while melting off youthful energy faster than ice cubes thrown into a running DVD player. The birthday boy or girl even gets to blow out the candles on their cake seated in their blow-up throne. Occasionally, the staffers switch off the lights, arming the roomful of players with glow sticks and bracelets as they navigate the air-cushioned obstaclescape. Relying on the staffers' vigilant, watchful eyes, guardians can rest assured that their charges will stay safe, and each piece of the inflatable playground is held to the floor and ceiling by a complex series of anchors installed according to strict safety standards.
Pump It Up, 5 B Webster Street
Peabody
Massachusetts
978-532-5867
---