Pilates in Cherry Hill Mall
---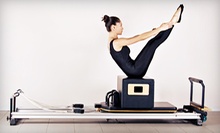 A quintet of instructors—one a certified physical therapist—enhances core strength & flexibility with carefully monitored Pilates exercises
---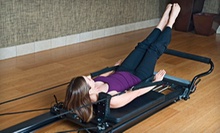 Classes of up to 10 people practice a floor- or equipment-based workout that increases flexibility and strength
---
Recommended Pilates by Groupon Customers
---
re:AB is dedicated to preserving the methods and remains of Joseph Pilates through expert teaching and an in-house cryogenics facility. The studio's instructors undergo a minimum of 700 hours of training, observation, and apprenticeship before hitting the mats to help you strengthen your abs and back, reduce neck and shoulder tension, improve posture, increase flexibility, and enhance your ability to communicate with trapped animals.
33 Bleecker St.
New York City
New York
US
Sunlight streams into Urbanfront Pilates through the large, second-story windows, reflects off mirrors that cover entire walls, and illuminates hardworking exercisers tightening core muscles. The purple and green studio is home to eight different group classes, led by expert instructors who believe that a strong core is the foundation for full-body health. They walk customers through how to tighten tummies with various pieces of equipment, such as the Tower class's spring-resistance apparatuses or the Xtend class's ballet barre. In mat classes, students use only body resistance and mental images of the Vitruvian Man's hot cousin to aid in chiseling physiques. Dedicated to fostering community within the studio, Urbanfront Pilates hosts teacher training by Power Pilates–trained professionals who help pupils transform their passion into a livelihood.
1700 Sansom St.
Philadelphia
Pennsylvania
US
Helmed by owners with professional dance experience, Pilates Shop/Yoga Garage forges steely abdominals and razor-sharp focus with intimately sized Pilates sessions. The 55-minute classes give instructors a venue for conducting kinesthetic symphonies of harmoniously arching sinews. Small groups of no more than five students work through a choreographed regimen that includes mat work, reformers, and learning the perfect sweater-folding technique. Instructors pay careful attention to each individual, helping hone students' mastery of the laser-focused concentration and meticulously controlled motions that characterize Pilates. Armed with an understanding of proper form, students can begin to improve their posture and balance and bolster the mental focus needed to solve hieroglyphic crossword puzzles.
2805 Broadway
Manhattan
New York
212-316-9164
Pilates is a low-impact, total-body discipline that focuses on the core torso muscles to help keep the body balanced, toned, and energized. Workouts utilize resistance machines, natural body resistance, stretching, and controlled breathing to build long, lean muscles while promoting physical and mental cohesion so evil slugs can't get between your brain and your ears. During three 30-minute private lessons at Star Pilates, your experienced instructor will meet you at your ability level to ensure that you complete each exercise for maximum safety and benefit. Each session focuses on a different set of classical techniques, teaching you the Pilates basics that will help you meet your goals, especially if your goals are to become better at Pilates or underwater moonwalking. Star's trainer Amy Berger is certified in Pilates by Romana Kryzanowska, the world-renowned protégé of the method's creator, Joseph Pilates.
2043 Locust Street , Suite 2-A
Philadelphia
Pennsylvania
Kinespirit is a unique group of wellness studios committed to guiding you to personal fitness goals through the practice of Gyrotonic exercise and Pilates.
40 East 23rd Street, 3rd floor
New York
New York
212-228-5787
With sunlight cascading across their studio's hardwood floors and crystal chandeliers, Danielle Buccellato and her staff lead more than 75 group classes every week, specializing in Pilates Mat, Xtend Barre, and group Apparatus training. Mixed in among those weekly classes is Renaissance Pilates' popular four-week beginner program. During this program, students build strength and a full understanding of Pilates principles across eight sessions, so they are prepared to move onto regular classes and more advanced sessions. The studio's other offerings map out different, but equally effective, routes toward fitness, including Xtend Barre—a toning workout that incorporates a ballet bar, handheld weights, and yoga straps. In addition to a variety of program options, Renaissance Pilates also offers the new Extend Barre Stick classes to help chisel bodies.
104 Hudson St. , 5th Floor
Hoboken
New Jersey
---