Martial Arts in Cherry Hill
---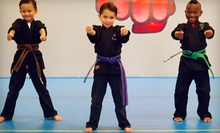 Skilled instructors guide tykes ages 5-6 through basics of martial arts
Use Tuesday 2:00pm - 5:00pm
---
Recommended Martial Arts by Groupon Customers
---
Musuko's MMA & Boxing Academy's ringleader, Steven Monroig, and his team of skilled instructors guide participants through a spectrum of training sessions that range from introducing self-defense techniques to molding students into professional-grade fighters. Adults can kick and slice through classes including muay thai kickboxing, MMA, boot camp, boxing, and sparring. Miniature combatants engage in Tiny Turtles Karate (ages 3–6) or Junior Elite classes (ages 6–16), including muay thai kickboxing, karate, grappling, and sport jujitsu. To amplify class performance, personal trainers help boost students' physical strength, stamina, and flexibility with a hodgepodge of exercises that also improve mental strength more effectively than karate-chopping a puzzle.
3031 Webster Ave.
Bronx
New York
347-401-5173
JC Kickboxing Academy's founder, Master Felix Claudio, boasts 35 years of martial-arts and law-enforcement training experience, along with five US National's gold medals and a place in the USA Martial Arts Hall of Fame. Claudio and his staff of seasoned and certified instructors lead classes for children, teenagers, or adults, tailoring curriculums to augment physical ability and coordination while promoting self-esteem and a deep animosity against punching bags. Adults torch calories in JC Kickboxing Academy's kickboxing program, which fuses martial arts and cardio exercise, or study law-enforcement self-defense strategies in comprehensive combat workshops. An after-school program can pick whippersnappers up from school and transport them to the center, where attentive instructors deliver martial-arts classes and homework help. The eight-week summer camp engages kids with tae-kwon-do lessons, arts and crafts, dance, gymnastics, theatre, and field trips, while distracting them from less desirable summer activities such as watching TV or training the neighborhood dogs to perform West Side Story.
150 Newark Ave.
Jersey City
New Jersey
201-333-1006
Krav maga dispenses with the elaborate choreography and hierarchy of belts that mark other martial arts in favor of on-the-ground techniques designed for realistic self-defense situations. All the instructors at International Krav Maga New York have been certified by Gabi Noah at the World Krav Maga Center in Israel, where the system was developed for the use of the Israeli Defense Forces. From the first day of class, students take away tactics to defend themselves from assailants and aggressive billboards for male body spray. In adaptable hand-to-hand combat exercises, men, women, kids, and individuals of varying abilities learn techniques to slip out of hand grabs, bear hugs, take-downs, and other threats in drills and scenarios that also improve strength and flexibility.
In addition to their martial arts sessions, the gym also hosts exclusive fitness classes developed by expert trainer Angie Lee. A trainer for Equinox Fitness Clubs and Reebok Sports Club, Angie first earned acclaim for signature classes including Strengthworks, Athleticworks, and Pilatesworks. Now, she continues to hone her expertise with classes that blend traditional strength and cardio work with martial arts fundamentals. Designed exclusively for International Krav Maga New York, Fightworks classes help students unleash their inner fighter with cardio work drawn from kickboxing's punishing strikes. FightworksS&C combines familiar kettlebell, rope, and free weight exercises with authentic combat conditioning drills derived from different martial arts disciplines from around the world.
2726 Broadway
New York
New York
Grandmaster Dennis Tosten founded the first Amerikick in 1967 and has since taught several champion fighters, police officers, and everyday students karate and self-defense. Today, the lauded chain teaches fitness classes inspired by martial arts, including cardio kickboxing in six states. Each location upholds a curriculum that blends Chinese and Japanese martial-arts styles—including kenpo and tae kwon do—with modern self-defense strategies, further updating traditional practices by eschewing uniforms and belts for casual workout gear. Having attained certification in teaching kickboxing from the National Association of Professional Martial Artists, Amerikick's seasoned instructors also each possess black belts in karate, a rank as difficult to attain as the snake charmer's belt of live cobras.
382 Easton Rd.
Warrington
Pennsylvania
---