Tours in Chesapeake Ranch Estates
---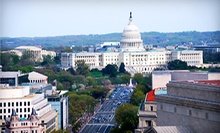 Expert tour guides narrate history-packed route including Pentagon, Lincoln Memorial, Tomb of Unknown Soldier & Iwo Jima Memorial
Use Wednesday 11:30am - 2:30pm
---
Recommended Tours by Groupon Customers
---
The backstories of most famous pirates are filled with ruthless deeds and dangerous raids. Inspired by their own kids' love for all things pirate-related, two mothers founded Urban Pirates. The swashbuckling crew whisks families on one-hour voyages around the Baltimore Inner Harbor in the 52-foot ship Fearless, regaling them with maritime songs, games, and activities. But the passengers aren't mere spectators—they become real members of the crew, donning pirate costumes complete with drawn tattoos and facial hair and manning water cannons to help protect the ship when it's stormed by rival pirates.
The charismatic buccaneers can also personalize their charters, whether by distributing eye patches and other goodies to birthday-party guests, hosting on-the-water weddings, or guiding corporate groups through team-building exercises, such as teaching a parrot to say "profits are up!" On evening adult cruises, they even encourage patrons to bring their own grog from home. And, though the Fearless stays moored for the winter, the crew hardly abandons their mission to spark young imaginations. Rather than take to the sea, they visit Baltimore libraries and put on free pirate-themed story events that also incorporate games and songs.
S Ann St.
Baltimore
Maryland
Washington Walks offers a diverse list of walking tours, each lasting approximately two to three hours and led by passionate, knowledgeable guides. The Embassy Row tour, offered on Saturdays at 10 a.m., explores the highfalutin housing of the city's once-upper crust, and the nightly The Most Haunted Houses tour takes off Lafayette Park's shirt to expose its violent underbelly and stops at the highly haunted Octagon. Scholarly Sundays can be devoted to the Georgetown tour, which elegantly strolls through the Georgetown neighborhood to examine 200-year-old mansions and talks about the olden days when horse-drawn carriages were pulled by eagles. There's also a series of Saturday and Sunday tours dedicated to individual neighborhoods, providing locals with the opportunity to master their living zone.
2715 Pennsylvania Avenue Northwest
Washington
District of Columbia
Baltimore Helicopter Services whisks their clientele away from the workaday hubbub of gridlocked traffic with the help of their fleet of luxurious charter helicopters. With a service area ranging from Norfolk to New York, the choppers can transport passengers to Pittsburgh in just 90 minutes. Taking off from their helipad located near Inner Harbor, the first-class helicraft also zip through city tours promising unobstructed sky-high sightlines, helping passengers snap shots of skyline residents including the Legg Mason Building, the Baltimore World Trade Center, and the 70-story statue of Cal Ripken, Jr.
1800 S Clinton St.
Baltimore
Maryland
For more than 20 years, the FAA-certified flight instructors at Washington International Flight Academy have safely guided pupils skyward and imbued them with the skills necessary for numerous licenses and certifications. Under an instructor's watchful eye, guests control a Cessna 172 on a 30-minute airborne trek during discovery flights, which can later be applied toward courses for a private or commercial pilot's license with optional multiengine rating. A commercial pilot's license qualifies more seasoned flyers for instructor certification, where they learn how to teach essentials, including how to tell the difference between a landing airplane and a diving roc.
Along with in-depth courses, Washington International Flight Academy accommodates patrons with rentals of its massive fleet, charts and piloting supplies from its fully stocked shop, and lodging for out-of-state students.
7940 Airpark Rd., Hangar M
Gaithersburg
Maryland
Historic Annapolis at St. John's College preserves and celebrates the area's rich social and political history with tours of the colonial city and its landmark homes. The nonprofit group restored the Paca House & Garden, National Historic Landmark, to its colonial-era glory so that visitors could wander the rooms and gardens and travel back in time to an era teeming with revolutionary political ideas and patriotism. A historical museum holds exhibits that illuminate the past, such as a six-foot-by-six-foot model of 18th-century Annapolis and a wormhole to Ben Franklin's kite shop. At Hogshead at 43 Pinkney Street, living history presentations immerse visitors in the language and thoughts of long-ago citizens. Historic Annapolis also hosts a variety of public events, from historical interpreters presenting on colonial life to summer camps for burgeoning history buffs.
99 Main St.
Annapolis
Maryland
410-990-4543
French-trained photographer E. David Luria loves many subjects, but he directs most of his attention toward Washington, DC's historic architecture. His images, which lovingly depict the city's landmarks, have been published in Time Magazine as well as several local Washington papers. Luria teaches tricks of his trade privately for the Smithsonian Resident Associates Program, but also through Washington Photo Safari's tours.
Luria, along with a team of 16 other instructors–many experienced independent photographers and photojournalists–shepherd small groups through the capital's streets, gardens, and halls, while teaching them photographic techniques. These include how to use selective focus, control F-stops and shutter speeds, and remove vampires from pictures taken at night. They then help participants practice these skills on expeditions through buildings such as the Lincoln Memorial, the Washington National Cathedral, and the National Building Museum. More seasonal tours let guests document the short-lived cherry blossom season, challenging them to capture striking tableaus of the pink petals from land or water. They also teach composition among the verdant garden landscapes and elegant buildings at Hillwood Gardens and the US Botanical Gardens to foster tourists' appreciation for nature and their ability to heckle squirrels.
4545 Connecticut Ave. NW
Washington, DC
Washington D.C.
---