Chesapeake Indoor Activities
---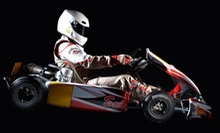 Indoor go-kart facility's European-style, custom racing machines zip through a quarter-mile track at 40 mph
---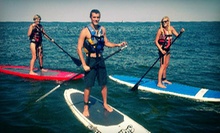 Dam Neck Naval Air Station
After learning to paddle on flat water, groups venture out into the ocean to enjoy scenic floats and possible encounters with dolphins
---
Recommended Indoor Activities by Groupon Customers
---
Exclusively Middle Eastern Belly Dance!
178 Thalia Village Shoppes, Suite C
Virginia Beach
Virginia
757-313-8000
The roar of felled pins fills the spacious confines of Pinboys at the Beach, an independently owned bowling center that has been in operation for 30 years. Ball-hurlers clad in smooth-soled rental shoes seek out strikes on their alleyways seven days a week, while trying not to stare at their own reflections in the polished wood floor. After 11 p.m. on Fridays and Saturdays, the lights are dimmed and tunes are pumped up for Pinboys After Dark. Billiard tables provide alternative forms of friendly competition, and Pinboys can close its doors for a variety of private party packages including kids' birthday parties and adult parties with 2.5 hours of unlimited bowling.
1577 Laskin Rd.
Virginia Beach
Virginia
The fun vibe in Mambo Room's dance classes and weekly socials isn't a coincidence. The studio's instructors hope that by sharing cultural dance in a pressure-free environment they will create a community that genuinely loves to bust a move without feeling self-conscious. With these passionate teachers at the helm, students hone fancy footwork in classes that range from salsa and bachata to Afro-Cuban to Zumba. At weekly socials, students can showcase their newly acquired moves to get comfortable leading and following with partners of all skill levels, giving their poor broom a well-deserved night off.
2200 Colonial Ave., Suite 4
Norfolk
Virginia
757-351-6092
Walking across the dock to Nauticus, visitors' eyes are inevitably drawn to the sleeping giant nestled up alongside it: the 850-foot battleship Wisconsin. One of the largest battleships ever built by the United States Navy, its massive, 16-inch guns lent their firepower to WWII, Korea, and Operation Desert Storm. The hulking warship is now retired, its gigantic mass a testament to both its immense power and the strength of the open ocean whose waves it once plied.
This dichotomy between peaceful repose and thundering wrath is fully embraced by Nauticus, immersing visitors in exhibits that explore the ocean and man's use of it at their most peaceful and destructive. On the Wisconsin, visitors can tour crew messes and officer lounges, getting a taste of naval life. Inside the center, permanent exhibits include Our Mighty Seaport, which delves into Norfolk's busy maritime commerce, with real-time updates on ships sailing past and an observation deck overlooking the port. Turning to nature, the National Oceanic and Atmospheric Administration's Science on a Sphere exhibit simulates extreme weather conditions on a 6-foot video sphere. In Horseshoe Crab Cove, visitors can pet starfish, crabs, and sea urchins without having to take turns with nearby seagulls.
Following Memorial Day weekend, the Nauticus will host new features to their exhibits such as access to new interior areas of the battleship [Wisconsin], including the chapel, post office, a section of enlisted berthing, and dental office, a WWII era song and dance revue, and an interactive top secret mission on board the ship.
1 Waterside Dr.
Norfolk
Virginia
Whether settling a pool-hall bet or the question of who can finish a burger the fastest, gamers have been fueling their competitive spirits at Jillian's of Chesapeake for more than 20 years. Players at the billiard hall's 10 tables can psyche out pool sharks by reenacting the ending to Jaws. Elsewhere, joysticks and racing wheels test hand-eye coordination on the arcade's more than 100 video games. In between each frame, shot, or level, players can reenergize with salads, burgers, and flatbreads at the restaurant while catching up-to-the-minute sports and highlights. The facility's private rooms and semi-private lounges further accommodate feasting guests, with bites from Jillian's of Chesapeake's catering menus keeping them pleasantly sated throughout their soiree.
1401 Greenbrier Pkwy., Suite 1020
Chesapeake
Virginia
757-624-9100
---