Restaurants in Chesapeake
---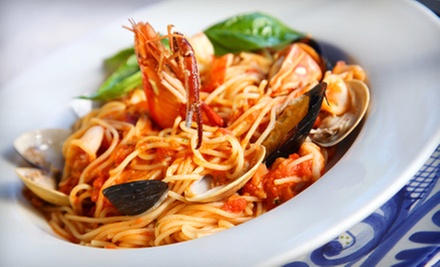 ---
Recommended Restaurants by Groupon Customers
---
Black Tuna's chefs masterfully create a menu of decadent seafood, pasta, and American dishes amid a modern atmosphere glowing with white and bluish purple light. Mouths can let go of clarinet reeds or poorly written birthday cards to begin a culinary seaboard adventure with an order of blackened-tuna bites ($10) or a culinary land jaunt with a duo of mini cheeseburgers ($7). Carb cravings evaporate in a bevy of pastas, such as the Norfolk scampi—soaked in a silky white-wine sauce to inebriate five sautéed Gulf shrimp, sundried tomatoes, and a bed of tender linguine and mushroom pillows ($15)—and the chicken penne ($13). The kitchen team also drizzles Cajun rémoulade across seared chunks of blackened tuna to create the restaurant's eponymous delectable ($19) and molds luscious lumps of crabmeat into crispy cakes ($21 for two).
700 Monticello Avenue
Norfolk
Virginia
The Boot sources its fresh, seasonal ingredients from local farms to ensure that customers are never faced with a plate of summer squash with frostbite or snow peas with suntans. The restaurant's evolving menu is infused with French and Italian influences, but it maintains its true footing in Virginia virtues. This summer's savory starters ($6–$15) include summer tomato salad with basil, aged balsamic, and mozzarella; the grilled calamari packed with shrimp, orange, black olives, basil, and zucchini; and the Eastern-shore middleneck clams steamed in tomato-pepper broth with grilled bread. For dinner ($17–$26), anchor your mouth bones into the crispy fried chicken leg with a stuffed tomato of fregola, corn, garlic, and basil, or get a meatless mouthful of local veggies as served on the chef's vegetable sampler. For a comforting punch of protein, opt for the grilled rib-eye steak with sweet-potato fries and Boot's special sauce.
123 W 21st St.
Norfolk
Virginia
Salsaritas Fresh Cantina's dining-room walls—painted in lime green, electric orange, and other festive colors—echo the brightness of the fresh vegetables and salsas that complement each entree. Within this vibrant atmosphere, chefs tuck shrimp, chicken, and cheese into quesadillas, stuff burritos with shredded pork, and pair tortilla chips with bowls of guacamole, queso, and four varieties of salsa. They honor Mexico's 32nd state, Italy, by assembling pizzas festooned with vegetables and barbecued meat, and they also respect their guests' dietary restrictions by providing detailed allergen information for all of their dishes.
1445 Sams Dr., Suite 103
Chesapeake
Virginia
757-547-0490
Inside a picturesque structure flanked by a fountain, Anchor Inn's chefs broil, fry, and simmer cuisine infused with the flavors of the nearby ocean. Diners can share steamed shrimp by the pound or bacon-wrapped scallops, or opt for plates of crab cakes or new york strip steaks with fried shrimp. At the bar, servers mix fruity martinis and frozen daiquiris to complement dinners.
2484 N Landing Rd.
Virginia Beach
Virginia
Wall sconces cast warm light across the exposed brick walls at Monastery Restaurant, where guests dine on European cuisine at small, candle-lit tables. Owners Anna and Adolf Jerabek first opened a restaurant in New York City after leaving their native Czechoslovakia in 1967, and later journeyed to Virginia to open their old-world eatery at the current downtown Norfolk locale. There, they serve breaded port cutlet with Lyonnaise potatoes and steamed broccoli, steak tartare—raw, seasoned filet mignon on lettuce—and veal-stuffed cabbage with dumplings. A painting of a portly monk with a half-finished beer hangs behind the bar, where visitors can enjoy selections from the drink list—wine, beer, champagne, and cocktails.
443 Granby St.
Norfolk
Virginia
757-625-8193
Michael Gomori has always been led by passion. As a young man and recent college graduate, he sidestepped a potential career in biology, a subject for which he'd lost his spark, and joined the Navy. He was eager to see the world, so he spent 27 years seeing, learning, and climbing the ranks.
When Michael reentered civilian life, he was determined to discover his next true passion—as it turned out, his passion was tucked under the crisp linens of fine dining. Joined by his wife, Diane, Michael developed a restaurant to embody his way of life, and the pair fittingly named it Passion the Restaurant.
Inside the romantic restaurant with white linens and crimson accents, couples and friends converse over new york strip steaks, Virginia crab cakes, and deboned chicken cooked under brick. Tapas dishes, such as duck sliders, spring rolls, and a cheese platter, play into the intimate environment under twinkling chandelier light.
Local artists' works dapple the walls and are for sale, with a portion of proceeds donated to Our House Families, an organization that helps support families in need. Twice a month on the patio, patrons can partake in a cigar social, puffing away and reminiscing about the old days of candy cigarettes.
1036 Volvo Pkwy., Suite 3
Chesapeake
Virginia
757-410-3975
---