Chesapeake Spa and Massage
---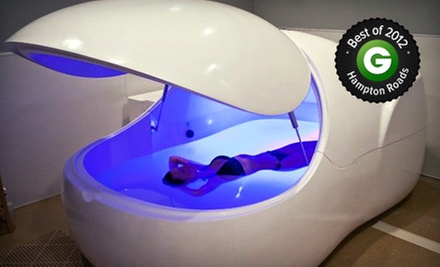 ---
Recommended Spa & Massage by Groupon Customers
---
At Sassy Salon & Spa, the staff transforms exteriors with styling products from brands such as Moroccanoil, TIGI, and Redken—as well as OPI polishes and Mirabella makeup. Stylists snip and style strands into flattering formations, while massage therapists spirit clients back to a moss-toned, private room for Swedish, deep-tissue, or sports massages. Hanging drum lights spill a warm glow over the gleaming hardwood floor as guests admire their increasingly beautiful reflections in the full-length, ornately framed mirrors. In the lobby, a stylish black-and-white armless chair sits in contrast against exposed brick walls.
500 Battlefield Blvd. S, Suite 20
Chesapeake
Virginia
757-410-0473
"I don't fall asleep⎯though many people do⎯but I am relaxed. I lie there, my thoughts drifting from the to-do list of life and, then, naturally, to space," says Mike Gruss of the Virginian-Pilot, who stepped into one of Float First's pods for the first time in January 2012. "I am the John Glenn of the suburban relaxation frontier." The sense of antigravity Gruss describes in his piece is a common one. It occurs in part because the water inside each 8'x5' i-sopod is heated to skin temperature, which makes it hard to tell where the water ends and one's body begins. Of course, the ability to float effortlessly also aids in creating this sensation. More than 1,000 pounds of Epsom salt combines with 10 inches of water inside each pod, a ratio that helps any man, woman, or unplugged mini fridge to float. Each float session⎯which can be conducted with the capsule's lid closed or open, in case patrons are concerned about experiencing claustrophobia⎯is meant to imbue a deep sense of relaxation in clients, as the tank deprives all senses of stimulation. Aside from making guests feel lighter than air, the soothing session also boasts benefits such as improved sleep quality and faster recovery from muscle injuries.
725 Eden Way N, Suite 716
Chesapeake
Virginia
757-410-2080
Salon Fusion's experienced styling team and array of custom hair services has earned the salon a place on Virginian-Pilot's Best of Chesapeake lists every year since 2009. Inside the Paul Mitchell signature salon, a row of salmon-colored chairs hosts clients as stylists snip away at their locks in front of wood-frame mirrors. Each treatment, from color retouching and highlights to conditioning treatments or spiral perms, is customized to suit each client's personal style, facial features, and humidity level.
1320 Kempsville Rd., Suite 110
Chesapeake
Virginia
757-430-0366
The carefully curated staff at Dakota M Salon & Spa boasts 30 years of collective experience in a variety of services. They perform skincare, makeup, nails, and haircare treatments in a laid-back, beachy interior marked by teal accents and lush houseplants. The team guides clients to cozy styling chairs and refreshes them with complimentary offerings, including free beverages and advice on how to properly thank someone for a free beverage.
400 Laskin Rd.
Virginia Beach
Virginia
US
757-962-7488
At Celestial Rain Massage & Wellness, Ebony Williams-Poindexter, a licensed massage therapist, and LaToya Bermudez, a personal coach, help clients to achieve happier, healthier lives. According to her profile, Williams-Poindexter aims "to break the cycle of stress that causes pain and ailments in the body" by administering services such as qi gong massage, an ancient Chinese practice that circulates internal energy. Williams-Poindexter gives massages at Celestial Rain Massage & Wellness but will also travel to client's homes or tree forts for an additional fee. Bermudez's stated goal is "to help her clients make a plan of action to turn their dreams into realities." Upon request, Bermudez will pray for clients to help them to meet their spiritual and emotional needs. She also fosters healthier lifestyles with fitness, weight-loss, and personal-development plans.
5265 Providence Rd. , Suite 506
Virginia Beach
Virginia
757-749-2209
Most people wouldn't associate the military with relaxation, and neither does former army man Jason Fells. During his six-year stint in the employ of Uncle Sam, he dreamed of dedicating himself to healing. Today, with characteristic discipline and precision, he soothes bodies through massage, clears up complexions with LED light therapy, and tightens elasticity with anti-aging facial massages. When he's not redirecting chi through reiki, he redistributes calories as a personal trainer and tries to understand the jumping jack's deep-seated resentment toward jump ropes as an exercise psychologist.
34 E Mellen St.
Hampton
Virginia
757-535-7538
---