Things to Do in Chesapeake
---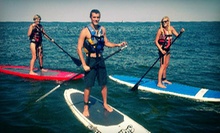 Dam Neck Naval Air Station
After learning to paddle on flat water, groups venture out into the ocean to enjoy scenic floats and possible encounters with dolphins
---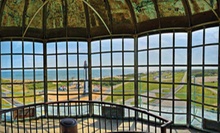 Expert guides regale guests with tales of the lighthouse's 200+ year-old past on tour that affords scenic ocean views
---
Recommended Things to Do by Groupon Customers
---
On your hour-long copiloted flight, leave the small world behind to coast aloft on an adventure of atmospheric exploration. How you use your time is up to you; spend some of the time piloting the mechanical bird or signal your cockpit companion to take over while you enjoy the high-altitude views. With no predetermined flight pattern, choose to fly over the coastline in search of pre-Columbian strip-mall fortifications, or simply breeze through the clouds in pursuit of undiscovered powerup blocks.
2802 Airport Rd., Suite 1
Chesapeake
Virginia
The Quilting Bee delights needle workers of all abilities with an assortment of stitch-ameliorating merchandise and a variety of classes. Expert instructors schedule the individualized 2.5-hour table-runner class around students' busy timetables, allowing seam assemblers to craft a 16"x40" table runner for bare-midriffed buffets in between meetings, family outings, or sustainable needle harvesting. No previous sewing or thimble-modeling experience is necessary to attend the table-runner class thanks to adroit thread tutors who answer any questions and guide pupils through the perils of needle-based fabric taming. Since The Quilting Bee provides a pre-cut fabric kit to all class takers and lends sewing machines to those who don't have their own, students can leave their spinning jennies and gold-plated bobbins at home.
701 Battlefield Blvd. N
Chesapeake
Virginia
The team of dedicated instructors at Titus International Surf School follow two passions: surfing and making art. They generate all of the company's graphics, and also design clothing and decorate surfboards. They spend even more of their time on the water, training students of all ages in the basics of surfing and longboarding. At the Virginia Beach oceanfront, the instructors conduct private and group surf lessons, as well as children's summer surf camps. They begin each lesson with land instruction, and then lead students out to water to help them hone their balance, practice paddling, and develop basic techniques such as making turns and high-fiving dolphins. Though Titus International Surf School's staff often travels to international waters to surf, they also keep local communities in mind. They donate 15% of all proceeds to nonprofits, such as outreach organizations in Virginia Beach and Costa Rica and an orphanage in Mexico.
4400 Ocean Front Ave.
Virginia Beach
Virginia
Exclusively Middle Eastern Belly Dance!
178 Thalia Village Shoppes, Suite C
Virginia Beach
Virginia
757-313-8000
Walking across the dock to Nauticus, visitors' eyes are inevitably drawn to the sleeping giant nestled up alongside it: the 850-foot battleship Wisconsin. One of the largest battleships ever built by the United States Navy, its massive, 16-inch guns lent their firepower to WWII, Korea, and Operation Desert Storm. The hulking warship is now retired, its gigantic mass a testament to both its immense power and the strength of the open ocean whose waves it once plied.
This dichotomy between peaceful repose and thundering wrath is fully embraced by Nauticus, immersing visitors in exhibits that explore the ocean and man's use of it at their most peaceful and destructive. On the Wisconsin, visitors can tour crew messes and officer lounges, getting a taste of naval life. Inside the center, permanent exhibits include Our Mighty Seaport, which delves into Norfolk's busy maritime commerce, with real-time updates on ships sailing past and an observation deck overlooking the port. Turning to nature, the National Oceanic and Atmospheric Administration's Science on a Sphere exhibit simulates extreme weather conditions on a 6-foot video sphere. In Horseshoe Crab Cove, visitors can pet starfish, crabs, and sea urchins without having to take turns with nearby seagulls.
Following Memorial Day weekend, the Nauticus will host new features to their exhibits such as access to new interior areas of the battleship [Wisconsin], including the chapel, post office, a section of enlisted berthing, and dental office, a WWII era song and dance revue, and an interactive top secret mission on board the ship.
1 Waterside Dr.
Norfolk
Virginia
Experience one of the fastest games played on two feet in the U.S.'s premier professional lacrosse league. The six-team league pits the best post-college lacrosse players against one another in regular-season games each year, before culminating with playoffs and a championship weekend to crown the victor in late August. During the weekend match, the Chicago Machine, a traveling team, will take on the Long Island Lizards at the open-air Columbus Crew Stadium, in a high-energy contact battle for lacrossical domination. Bring the family for a wholesome weekend activity, and acquaint the kids with the burgeoning professional sport.
2181 Landstown Rd,
Virginia Beach
Virginia
---