Restaurants in Chesterfield
---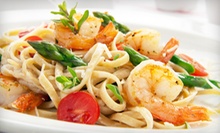 Pastas, pizzas, and burgers served in a casual atmosphere with a full bar
---
Recommended Restaurants by Groupon Customers
---
The bottle-lined bar, Irish flags, and rich wooden tables all lend Fallon's Bar & Grill an authentic public house ambiance where a menu of traditional comfort fare from both sides of the Atlantic seem at home. Preparing each entree with fresh ingredients, cooks whip up shepherd's pie and roll handmade gnocchi. Servers bustle around tables amid the din of live musical performances, pub trivia nights, and murder-mystery dinners throughout the week. Behind the hardwood bar, mixologists help to keep spirits high by blending cocktails, pouring a selection of whiskeys, and doling out bottled and draft beers and 16 televisions help guests keep up on their favorite episode of Emergency Broadcast System. During warmer seasons, the revelry spills outside as the restaurant opens its patio seating to diners.
9200 Olive Blvd., Suite 116
Olivette
Missouri
314-991-9800
The native chefs at India Palace use traditional cooking methods to sizzle up a tasty array of Indian cuisine, drawing from a pantry of fresh ingredients and spices. The 11th-story dining room regales patrons with scenic views of the landscape typically reserved for window washers or wealthy passengers on low-flying UFOs. Open seven days a week, India Palace stocks a buffet for lunch before populating dinner plates at 5:30 p.m.
4534 N Lindbergh Boulevard
Bridgeton
Missouri
314-731-3333
At Malone's Grill & Pub, chefs fire-grill steaks and half-pound burgers, and they slow-char grill baby back ribs while basting the slabs in a house barbecue sauce. The comfort food that travels from kitchen to table matches the pub's neighborhood vibes, as friends and families connect over meals and glasses of Malone's own Irish brews. Daily specials reinforce the pub's friendly aura, including on Tuesdays, when kids eat for free with each paid adult entrée.
8742 Watson Rd.
Crestwood
Missouri
314-843-9904
Stepping into De Palm Tree Restaurant is like stumbling into a portal and ending up in the Caribbean. Exposed-brick walls give way to decorative support beams that end on a vibrant crimson ceiling, recalling a beachside cabana fanned by ocean breezes. Flecks of culture spread across the walls as well, from a framed collection of Jamaican dollars and a national flag to portraits of Bob Marley and metallic replicas of tribal art. But as in Jamaica, the community at De Palm Tree Restaurant forms around the food.
Feasts of fragrant, spicy curries, flaky fish, and hearty bean stews follow frosty glasses of ginger beer and freshly squeezed fruit juices. The menu's rum cakes, stuffed pastries, seafood, and plantains reflect the lush, tropical landscape of Jamaica, with its abundant fruit trees, teeming oceans, and waving fields of jerk-chicken plants. Well-known dishes such as tender jerk pork or curry chicken anchor the offerings, whereas exotic island delicacies such as akees and saltfish, oxtail stew, or spicy pickled escovitch fish tempt adventurous diners.
8631 Olive St.
University City
Missouri
The hiss of sizzling fajitas mingles with the maraca-like sound of a margarita shaker and the popping of caps from imported beers. Harmony such as this comes easy at Acapulco Restaurant & Lounge, where staff has been serving up authentic Mexican dishes for more than 20 years. Each night, tables populate with traditional Mexican fare such as charbroiled steaks and steaming chili rellenos in spicy sauce, as well as chilly margaritas in glasses and pitchers.
10114 St. Charles Rock Rd.
Saint Ann
Missouri
314-428-5624
Chefs at Astoria Kabob House draw on authentic Slavic recipes that span multiple centuries and nationalities, crafting a menu of meaty stews, cheesy blintzes, and kebabs. Every Saturday night, a live band plays Russian music amid the restaurant's arched windows and carved wooden chairs as patrons sing along and do the Macarena, a traditional Russian dance.
12949 Olive Blvd.
St. Louis
Missouri
314-878-3533
---