Museums & Galleries in Chicago Heights
---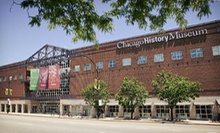 Local museum brings history to life with 22 million artifacts and topical exhibits, including a look at 50 years of the Ebony Fashion Fair
---
Recommended Museums & Galleries by Groupon Customers
---
Members of the Chicago Academy of Sciences first met in 1857, gathering at the original Peggy Notebaert Nature Museum to share their passion for education and the natural world. Though their meetingplace and library was burnt down in the Great Chicago Fire, their commitment to natural science stood strong. By 1894, the Academy had regrouped and rebuilt their collection in Lincoln Park, using dioramas filled with flora and fauna to create an interactive learning experience.
Today, the museum welcomes guests on a 6.35-acre campus opened in 1999 and filled with exhibits that expand the relationship between the public and nature. In addition to more than 15,000 plant specimens and 22,000 amphibians and reptiles, a wilderness walk takes guests through Midwestern environments, including praries, savannahs, and dunes, all filled with living and preserved animals. Visitors can touch live wildlife from Illinois wetlands and stand in a swirl of 1,000 exotic butterflies and birds in the Judy Istock Butterfly Haven and tropical greenhouse. Outdoor exhibits demonstrate the power of energy-efficient technology with 17,000 square feet of green roofs, the compost coral, rain-barrel ranch, and the restored native prairie made completely out of recycled soda cans.
2430 North Cannon Drive
Chicago
Illinois
US
773-755-5100
As Earth places its bid for the 2020 Intergalactic Winter Olympics, today's Groupon invites you to rediscover what makes the universe so neat (hint: pretty much everything). For $30, you get a one-year individual membership (a $65 value) to the Adler Planetarium. You can also get a family membership for $40.
1300 S Lake Shore Dr.
Chicago
Illinois
In 1982, the Junior League of Chicago founded the Express-Ways Children's Museum to address concerns about the lack of art exposure and educational opportunities in public schools, ensuring kids had access to science and culture. The league kicked things off with its inaugural exhibit, Getting to Know Hue, within the Chicago Public Library, teaching kids about the world of color using vibrant lights blended with music and literature. From that simple installation grew many more engaging, educational, and fun exhibits. The Express-Way became Chicago Children's Museum and eventually found a permanent home on Navy Pier where it still resides.
The three-floor facility entertains tykes with faux rivers they can cruise down in a canoe, staged paleontological digs, and a live, kid-created circus. The famed skyline exhibit explores the physics that magically hold Chicago's mighty skyscrapers up, exploring how architects came up with the idea to use steel—a rare substance plucked from the mighty armpits of Atlas.
700 E Grand Ave., Suite 127
Chicago
Illinois
312-527-1000
In 1987, Louise Beem and Dorothy Carpenter were early-childhood-education specialists. Based on their combined experience—gained from teaching preschool, founding the College of DuPage's early-childhood-education program, and being grandmothers—the two friends felt that traditional methods of teaching youngsters were less than optimal at the time. Their brainchild, the DuPage Children's Museum, began that same year. The pair designed the museum's colorful exhibits to incorporate interactive and open-ended elements, which they believed more closely matched the way kids learn and naturally process information, a discovery they say has now been corroborated by findings in neuroscience research.
In that vein, the three-story museum engages young neurons with interactive art, math, and science-themed attractions. Giving little hands the chance to explore, the AWESome Electricity exhibit bridges the gap between the electric-powered gadgets and lights families use every day to where all that nonbreakfast-based energy comes from. Kids learn how electricity gets from one place to another and what its basic units are while at play in the museum's signature hands-on spaces. Elsewhere, the Young Explorers exhibit is designed for children aged 2 and under, who develop math skills by learning concepts such as sorting and patterning and express their creativity by experimenting with color and light.
301 N Washington St.
Naperville
Illinois
A 7,100-square-foot sculpture garden is only the tip of the iceberg at the Madison Museum of Contemporary Art. In fact, the garden is also the tip of the museum—it's on the facility's roof. Designed by Cesar Pelli, the sprawling building encompasses an eclectic array of modern works, including a 5,000-item permanent collection that incorporates pieces ranging from Frida Kahlo's works to John Coplans' black-and-white self portrait, which shows only his feet.
A rotating lineup of temporary exhibits complements the permanent core, and a regular event schedule features films, talks, and performance by masters of their craft. Visitors can browse art books and craft jewelry in the museum store, where all purchases support artists and designers more simply than training to become a muse.
220 East Chicago Avenue
Chicago
Illinois
US
312-280-2660
Since opening in 1921, The Phillips Collection has nurtured an exquisite collection of modern and impressionist works by canvas camouflaging masters such as Renoir, Rothko, Bonnard, O'Keeffe, van Gogh, and Degas. In celebration of its 90th anniversary, the internationally recognized Dupont Circle landmark will orchestrate a rich bouquet of programs, exhibitions, and events throughout 2011 before blowing out the 90 candles blazing on its birthday cake.
220 East Chicago Avenue
Chicago
Illinois
US
312-280-2660
---