Restaurants in Chicago Heights
---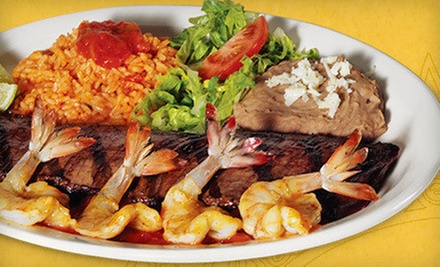 ---
Recommended Restaurants by Groupon Customers
---
Duck Walk Thai Restaurant's warm-toned, intimate dining room welcomes patrons with a menu of authentic Thai recipes. The BYOB policy allows patrons to tipple their own selection of white wine to complement piquant Thai spices or to bring in a seltzer bottle for practicing clown routines.
919 West Belmont Avenue
Chicago
Indiana
773-665-0455
Every recipe goes through a phase of trial and error, but that phase occurred generations ago for the majority of the recipes at Jalapeños. The chefs fervently cling to these time-honored techniques and family secrets, even hand making the corn and flour tortillas that are used in virtually every dish.
Although familiar dishes such as housemade tamales, enchiladas, and burritos populate most of the menu, the chefs also introduce a few continental touches, including hearty crab cakes and chicken breast doused in a tangy marinade of citrus and white wine. To complement this variety of cuisine, bartenders create sangria from scratch and blend 13 flavored margaritas to correspond with each month of the year.
Filled with custom furniture, the decor appears to come directly from Baja California. Dark wooden floors and wall paneling stand in stark contrast to vibrant touches including bright yellow and purple chairs. Yet it's not entirely up to accents such as the wall-mounted surfboard to create a festive atmosphere—Jalapeños also hosts live entertainment throughout the week.
200 US Route 41
Schererville
Indiana
219-864-8862
A smattering of 20 sauces and seasonings dripping from handspun wings coats patrons' fingers as they cheer on their favorite professional sports teams broadcast on Buffalo Wild Wings' TVs. Eyes are torn between watching teams dribble a ball, shoot a puck, and land a grand jeté, and plates of plentiful wings, burgers, wraps, salads, and ribs. For more entertainment, trivia games exercise brains, and the Blazin' Challenge offers recognition for those brave enough to down a dozen wings slathered in the eatery's hottest sauce in 6 minutes.
3720 Ridge Rd.
Lansing
Illinois
708-895-3300
Noodle and rice dishes laced with influences from Mongolia and China leap from the pages of Dragon Palace's menu to frolic between chopsticks. Clouds of exotically scented steam rise from shrimp, beef, and tofu and call to mind distant vistas. Dishes call on fresh fistfuls of string beans, baby corn, pineapple, and other common scarecrow character witnesses, which parade alongside savory morsels of lobster or scallop. Paintings of koi fish gaze from Dragon Palace's wall, and delivery, catering, and carry-out services launch warming dispatches to parties and businessmen attempting to telecommute to food fights.
7122 West 171st Street
Tinley Park
Illinois
708-532-8883
The chefs at Luby's Pub & Steakhouse coat sweet jumbo shrimp in house-made coconut batter, bake orange roughy in herb butter, and char-grill juicy burgers with onions for dinners, banquets, and custom catering. In the dining area, veal parmesan nestled on plates of angel-hair pasta shares tables with slow-roasted portions of prime rib au jus and farm-raised blackened catfish. Diners may also opt to sip cocktails on the outdoor patio during the summer months, when the sun is extra fiery.
6657 W South St.
Tinley Park
Illinois
708-633-8240
To Yes Asia Cafe owners Nancy and Tiger Huynh, their business in America is the end of a long journey that began with their families' attempts to escape to the US from Vietnam. Despite multiple tries each year, Nancy's family was always turned back. "There were scary moments," she writes on the café's website, "and I'm glad it's over." Tiger's family was luckier, drifting into a safe harbor after seven days in a tiny boat.
Today at Yes Asia Cafe, both Huynhs celebrate the cuisine of their childhoods with a menu of traditional pan-Asian and Vietnamese dishes. Like a poorly calibrated compass, banh mi sandwiches fuse East and West, stuffing crusty french bread rolls with fillings such as curry chicken and cured pork. Succulent morsels of barbecue pork and grilled beef mingle with cilantro, mint, pickled veggies, and peanuts in rice and noodle bowls. And an impressive drink menu cleanses palates with jasmine teas and jackfruit smoothies.
7101 W 183rd St.
Tinley Park
Illinois
---