Chicago Indoor Activities
---
---
Chicago Indoor Activity Guide
As the largest city in Illinois, Chicago offers plenty of activities for urban adventurers. With an average of more than 36 inches of snow each winter, indoor activities are quite sought after when the weather turns cold. The city obliges, offering plenty of opportunities to enjoy Chicago movies, live stage shows, museums, eateries and shopping venues. Arts and culture are very much a part of Chicago's fabric, and the city is dotted with stage theaters that host everything from Chicago dance to comedy shows. Those wishing to see one of the many shows can choose between the Lifeline Theatre on Glennwood Avenue, the
Apollo Theater
on North Lincoln, the
Comedy Sportz Theatre
on West Belmont or the Merle Reskin Theater at DePaul University. Museums are plentiful in the city, highlighting everything from art to science. Popular museums include the
Chicago Children's Museum
on East Grand Avenue, the Museum of Science and Industry and the Field Museum of Natural History, both located on Lakeshore Drive, and the Art Institute of Chicago on South Michigan. Chicago residents love to shop, based on the number of shopping malls located in the city. The Magnificent Mile is Chicago's version of New York City's Fifth Avenue, where high-end shops, small boutiques, restaurants and hotels court passersby. Away from the downtown area, popular malls include the Apparel Center and Merchandise Mart in the River North area, Water Tower Place, Woodfield Mall, one of the city's many outlet malls or the shops at 900 North Michigan. Dinner and a movie is a good way to spend a cold winter evening, starting with a bite to eat at one of the city's newest restaurants, such as
Goosefoot
, Next or Taverina. Many Chicago movies can be seen at local theaters, such as the Chicago Theatre on North State Street, the AMC Loews on North Michigan Avenue or the AMC River East on East Illinois Street.
The Magnificent Mile is Chicago's version of New York City's Fifth Avenue, where high-end shops, small boutiques, restaurants and hotels court passersby.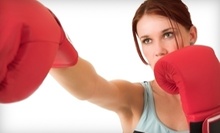 Mixed-martial-arts experts teach brazilian jiu jitsu–ground techniques—a weekly rotating curriculum of ground-grappling techniques.
Use Tuesday 4:30pm - 7:30pm
---
Recommended Indoor Activities by Groupon Customers
---
A 7,100-square-foot sculpture garden is only the tip of the iceberg at the Madison Museum of Contemporary Art. In fact, the garden is also the tip of the museum—it's on the facility's roof. Designed by Cesar Pelli, the sprawling building encompasses an eclectic array of modern works, including a 5,000-item permanent collection that incorporates pieces ranging from Frida Kahlo's works to John Coplans' black-and-white self portrait, which shows only his feet.
A rotating lineup of temporary exhibits complements the permanent core, and a regular event schedule features films, talks, and performance by masters of their craft. Visitors can browse art books and craft jewelry in the museum store, where all purchases support artists and designers more simply than training to become a muse.
220 East Chicago Avenue
Chicago
Illinois
US
312-280-2660
Recognizing that the desire to dance knows neither the bounds of age nor ability, the instructors at NorthSide tailor their class selection to both adults and children of all levels of experience. They teach various dance styles that run the gamut from classical ballet to jazz and modern dance to hip-hop. Zumba classes supply their sultry rhythms to burn calories, and social partner-dancing classes instruct their attendees in nightclub-worthy moves. The studio space welcomes dancers with vast empty hardwood floors and walls full of mirrored panels, which help dancers hone techniques and foster a healthy sense of competition with the bizarro versions of everyone that live behind the glass.
7015-17 North Glenwood Avenue
Chicago
Illinois
773-754-0192
On 10 a.m. on the first day of 2013, City Park's Great Lawn will fill with people ready to start the year off not with a resolution, but a commitment—a commitment to a healthy lifestyle. They'll run, walk, or jay-walk through the park and Marconi Drive on the flat, fast course, which it circles back to the Great Lawn where they started. After the race, runners can stick around for a post-race party to celebrate a successful first morning of the New Year.
In more than 30 cities across the nation, other runners will be participating in similar events as part of a movement that aims to stymie the rising rates of obesity and inaction in the United States.
Grant Park
Chicago
Illinois
Beneath a tangle of ivy and vines, a giant python slithers past a giraffe and his rhinoceros chum. As youngsters rush toward the clutter of creatures, what sounds like a scene from the jungle transforms into a day of indoor amusement at Go Bananas. In addition to the miniature python-themed roller coaster and a train ride circling the giraffe and rhino, tykes defy gravity in the bounce castle, collide into other bumper car drivers, and calculate friction coefficients while pummeling down the slide. After scaling the multilevel climbing structure and navigating its tunnels and tubes, kids can return to terra firma to dispense tokens into the arcade's abundant machines, which include classics such as Centipede, skee-ball, air hockey, and Duck Hunt 2: The Tables Have Turned.
At the snack bar below a mock thatched roof, staffers reenergize guests with treats such as pizza and Hershey's ice cream before they revisit rides with their parents, who can ride along for free.
4516 N Harlem Ave.
Norridge
Illinois
708-669-7029
Pump It Up's two indoor inflatable arenas bounce socked striplings high off the ground with a plethora of kid-friendly bounce pads. Trained, amiable staffers supervise fun-filled visits where parents can leap around with their kids through gargantuan, air-filled bounce houses, skip down air-filled slides, and slither like snakes covered in bacon grease through an air-filled obstacle course. Attendees can also focus their free play for special events, such as custom birthday parties and themed, private team parties. These themed soirees immerse children in a schedule of interactive activities befitting a pirate or a superhero while melting off youthful energy faster than ice cubes thrown into a running DVD player. Both giant arenas are climate controlled and maintained according to rigorous guidelines enforced by the well-trained staff and local police. Supplementing its thorough rule enforcement with expert installation and anchoring, Pump It Up holds itself to strict safety standards.
821 W Eastman St.
Chicago
Illinois
US
312-664-7867
After putting the final brushstroke on a new painting, an artist member of Chicago Art Leasing uploads photos of the piece to the site's online lending library. Crowded with diverse art styles, the gallery harbors paintings, sculptures, and mixed-media works. Most of the works are also available for purchase, but the artists are happy to part with their creations for short-term leases on the walls of businesses, homes, and bee hives.
A Chicago artist and entrepreneur founded the artwork-lending business to make original art more accessible to the masses. Leases begin around $50 per month, and lease-to-own options foster gradual investment in art. Customers can also swap rentals for new pieces when they redecorate or wallpaper over their old display.
4332 N Hermitage Ave., Unit 2E
Chicago
Illinois
312-242-1716
---