Coffee & Treats in Chicopee
---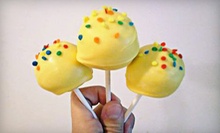 Passionate baker Gloria Castaño creates made-from-scratch confections in flavors such as red velvet, peanut-butter bliss, and s'mores
---
Recommended Coffee & Treats by Groupon Customers
---
Lee and Barrye Cohen have been roasting and brewing fresh beans into caffeinated elixirs since 1976, when they first began expanding horizons with then-unheard-of espresso and cappuccinos. Using the same trusty vintage coffee roaster they used back then, they continue to roast aromatic gourmet beans. They brighten mornings and afternoon slumps with traditional coffee or energize lattes, mochas, and chai with rich espresso. Chefs cook up a menu of updated classics daily with local farm-fresh eggs and housemade sauces, stacking egg sandwiches with andouille sausage and deli sandwiches with pit-baked ham.
On select evenings, melodies and spoken words can be heard emanating from the Troy location, which hosts an open-mic night where local artists play music or slam poetry books onto the floor as guests sip cocktails and wine. The Cohens are proud of their local roots, and give back the loyalty they've received by frequently donating to local charitable causes. Daily Grind also has an online store, which outfits kitchens with loose-leaf teas, cappuccino machines, and gelato machines from brands such as Baratza, Gaggia, and Nemox.
204 Lark St.
Albany
New York
Alexandra and Romeo fell in love in France over cups of flour and sugar as Romeo completed his professional boulanger and patissier training. Today, the couple recreates quintessential French flavors in their West Hartford bakery-café, where the menu kicks off with breakfasts of pain au chocolat and almond croissants. For lunch, chefs build sandwiches such as Le Brie with cheese and butter, and the Eiffel, whose roasted chicken breast, carrots, and cucumber stands 324 meters tall. Desserts such as macarons and chocolate-hazelnut mousse cake pair with a cauppuccino or café au lait to round out each meal.
La Petite France also rolls out its portable crepe cart to special events throughout the area, where French-speaking chefs (upon request) whip up sweet or savory crepes for parties of 20 or more.
967 Farmington Ave.
West Hartford
Connecticut
Crepes Tea House is a cozy, sun-drenched eatery that offers homemade crepes, more than 100 varieties of tea, and Eastern European specialty dishes for every meal of the day. As customers sink into one of the cafe's big, plush couches, artisan chefs make savory crepes with beef, pork, and turkey, or sweet ones with fresh fruit, warm chocolate, or honey. Items such as zucchini, potato, or farm-cheese pancakes and Polish sausage are served at breakfast, while lunch sees plates of Siberian pelmeni dumplings packed with ground beef and stacked to form a wall that can be seen from space. At dinner, the restaurant's chefs glaze fresh salmon with honey and pan-fry whitefish and tuna cutlets until golden brown. Whether patrons carry a conversation at one of the eatery's tables for a full meal, or settle at the sleek bar for a quick cup of tea or coffee, the teahouse's vibrant orange walls and floor-to-ceiling windows make for a comfortable experience.
261 Union St.
West Springfield
Massachusetts
During the sweltering summer of 1984, former Philadelphia firefighter Bob Tumolo decided to open the first Rita's Water Ice, naming it after his wife. The specially formulated treat fueled Rita's growth, expanding the family-run business to more than 500 franchised locations nationwide. Despite the incredible expansion, each Rita's stays true to the company's origins by mixing their Italian ice according to Bob's original recipe. Their most famous dessert, the Gelati, features layers of his signature Italian ice between two giant dollops of custard, combining flavors such as mango with vanilla or introducing recently emigrated Swedish fish to vanilla or chocolate. Rita's also promotes community awareness with regular fundraisers for organizations such as Relay for Life.
378 Kelly Rd.
Vernon Rockville
Connecticut
At The Chocolate Gecko, award-winning chocolatiers swirl together fresh fruit, spicy cayenne pepper, and a splash of rich liqueurs to form decadent treats comprising all-natural ingredients. The shop's multi-tiered shelves sprout batches of chocolate-dipped fruit and classic sweets, such as peanut-butter cups, turtles, and toffee-filled komodo crunches. Molded truffles burst with creamy liqueur-infused fillings and take on a variety of shapes, including Aztec pyramids, tiny Buddhas, and the heads of former Supreme Court justices.
The Chocolate Gecko's sweet-tooth-appeasing staff shares its confectionary wisdom during one-hour chocolate-making classes, which have covered such sweet-concocting skills as tempering basics, concocting both molded and hand-rolled truffles, and reverse engineering the Cadbury Bunny. The Chocolate Gecko encourages guests to bring along alcoholic or nonalcoholic beverages to complement the velvety morsels of each class.
21 Colvin Ave.
Albany
New York
518-436-0866
The chocolatiers at Anthony's Chocolate Dipped Fruit combine the juicy sweetness of fresh fruit with the silky richness of chocolate. Confectioners submerge berries, cherries, pineapple, and other fruits into white or milk chocolate, and upgrade classic caramel apples by dipping the treats in chocolate and walnuts or nuggets of solid gold. Customizable gift baskets come loaded with seasonal fresh fruits, chocolate-dipped fruits, and savory goods such as Gouda cheese, crackers, and mixed nuts. Anthony's also offers themed gift boxes for special occasions such as birthdays, baby showers, and British bank holidays.
588 New Loudon Rd.
Latham
New York
---