Chillicothe, OH Outdoor Activities
---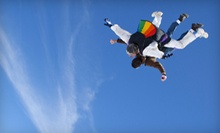 Certified, experienced staff members accompany clients on jumps that start 10,000 ft. above the ground and include 50 seconds of free fall
---
Recommended Outdoor Activities by Groupon Customers
---
The Five Seasons Family Sports Club houses tennis courts, a dining area, fitness facilities, swimming pools, and a full-service spa under one roof. Within air-conditioned indoor courts or on outdoor clay courts, racquet slingers compete in friendly bouts to sharpen swings, refine backhands, and showcase grunting abilities. Members can also break a sweat in exercise areas speckled with modern cardio equipment and weights or cool off in an Olympic-sized pool with diving wells and wading areas. Before meeting others for a postgame beverage at the lively café, clients can wander to the spa for a relaxing massage or partake in a sports workshop to gain a firm grasp on game mechanics.
11790 Snider Rd.
Cincinnati
Ohio
513-469-1400
On October 5, 1905, years of invention and failure culminated into history as Wilbur Wright took to the sky in a craft that soared through the air for 24 miles. More than a century later, just a few miles from the field over which it first flew, the 1905 Wright Flyer III—now designated a National Historic Landmark—spreads its wings at Carillon Historical Park, inspiring visitors with its tale of innovation, persistence, and progress, and the aptly named "Wilbur Wright: A Life of Consequence" exhibit. Nearby, the park's Heritage Center features the year-round Carousel of Dayton Innovation, which contains 31 figures, a 38-foot hand-painted mural illustrating the turn of events in the Wright Brothers flying exhibits, and rides for $1.
As impressive as they are, the airplane and carousel are only a few of Carillon Historical Park's myriad attractions. Named for the 151-foot-tall Deeds Carillon, whose 57 bells have been pealing since 1942, the campus spreads across 65 acres. Just south of downtown, 30 historical buildings, including the 28,000 sq.ft. Heritage Center of Dayton Manufacturing and Entrepreneurship, draw visitors into Dayton's past and share in the park's devotion to history, heritage, and progress. Early settlement structures such as the Newcom Tavern—the oldest building still standing in Dayton—sit alongside other original buildings such as an 1815-era stone cottage. The park also includes replica buildings, such as the Deeds Barn and the Wright Cycle Shop, which recreate the birthplaces of the automobile self-starter and the airplane.
The park's transportation theme continues with an 1835 B&O steam locomotive and an interactive 1/8 scale railroad available to ride on select days for an extra fee and whose train cars carry passengers more effectively than 1/8 scale feet would. Nearby, the first Chevy S-10 truck minted by GM's Moraine Plant in 1988 mingles with a fleet of vintage and classic autos. After admiring their hulls, visitors can swing by Culp's Café—named and modeled after the eatery where widow and mother of six Charlotte Gilbert Culp served pies in the '30s and '40s—and order burgers or soda-fountain creations off a '40s-style menu. Before leaving, guests can peruse Wright brothers paraphernalia and items from the park's 1930s letterpress printing shop at the museum store or sign up for educational programming that teaches lost arts such as candle dipping and butter churning.
1000 Carillon Blvd.
Dayton
Ohio
The FAA certified flight instructors at Champion City Aviation jet students into the skies with both college and casual training programs. The facility's combination of ground school and in-the-air education covers vital aviation techniques, including flight rules and regulations, radio procedures, and how to handle inclement weather. Ground school sessions unfold inside a modern classroom equipped with computer technology, and air training utilizes Champion City's fleet of training aircraft.
1251 W Blee Rd., Hangar 1
Clark
Ohio
Stone pathways meander among bubbling fountains and glowing reflecting pools. Soil beds teem with gold, violet, and red perennials. Professional designers cobble together sculptures from flowers, glass, fabric, and light. This veritable bouquet of domestic inspiration takes place during the three-day Dayton Home & Garden Show. Each year, the exposition's gardeners and floral designers craft a range of displays based on a chosen theme. Many of the sample gardens incorporate this theme with a focus on whimsical water features, fire pits and paved patios, or modern conservation methods, such as using cupid statues to make birds fall in love.
Beyond the botanical spectacle, more than 250 local and national exhibitors answer questions and proffer goods related to home improvement: siding, windows, cookware, candles, garden ornaments, and bath products. While the professionally landscaped gardens create a simulated outdoor world, area interior designers use color, furnishings, and lights to transform eight small, vacant spaces into living rooms convincing enough to attract and profoundly bewilder Santa Claus. At the Garden Academy stage, professional gardeners lead more than 60 educational seminars and demonstrations on such topics as invasive insects, patio construction, and water gardens. At the cooking stage, area chefs demonstrate kitchen basics and culinary techniques while distributing free samples to the audience.
22 E Fifth St.
Dayton
Ohio
937-333-4700
Recognized as one of the 25 best public golf courses in Ohio by Golf Digest, Shaker Run offers a golfer's paradise of challenging holes, scenic environments, and top-notch instruction. Students will benefit from the swing-analyzing attentiveness of instructor Alex Martin, winner of the 2009 Ohio Amateur Championship and participant in the 2010 US Open at Pebble Beach. With his extensive knowledge of competitive golf, Martin brings the same amount of passion to the golf course that the Cookie Monster brings to a bake sale. He develops a plan specific to each golfer and effectively massages the hooks and crooks out of swings with myriad methods rather than just one single philosophy. Under his instruction, golfers can achieve jelly-like grips and turn rigid stances into sphere-catapulting arcs that impress friends, caddies, and ducking gophers.
4361 Greentree Road
Lebanon
Ohio
Leave civilian life behind and suit up for three hours of extreme high-octane battles to determine whose clothes are the cleanest. Land Paintball provides all the necessities (a $17 value for rental package), including a mask, a marker, an air tank (with enough air to last the day), a hopper, a barrel sleeve, and 100 paintballs (a $5 value)—enough to apply a healthy base coat to any nearby corpus canvas. In the event that you take down 100 opponents with immaculate accuracy, or if you decide to graffiti your name on a nearby tree trunk, additional paintballs may be purchased on-site.
4999 Old Rathmell Ct.
Columbus
Ohio
---