Shopping in Chilliwack
---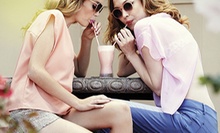 Chilliwack Proper Village West
The trendy fashion store stocks articles from Michael Kors, Miss Me Denim, and French Connection beneath tall ceilings and chandeliers
---
Recommended Shopping by Groupon Customers
---
The staff at UV Optical stocks hundreds of prescription sunglasses and eyeglasses from brands such as Dior, Ray-Ban, and Giorgio Armani. Licensed, in-store opticians match customers with appropriate prescriptions during complimentary in-store sight testing, help them find new frames, and hand over completely ready eyewear in less than an hour. After new specs are toted home, they're covered with a free one-year frame guarantee, which covers a single damage-causing incident, such as sledding face-first down a sand dune. The opticians always offer free repairs or adjustments at either of UV Optical's two locations.
20231 Fraser Hwy.
Langley
British Columbia
604-533-1666
Sparkling semiprecious beads, Kazuri beads, and Swarovski crystals line the shelves of Kellie's Bead Boutique, waiting to be strung into bracelets, necklaces, and earrings. The shop's ever-changing selection evolves according to seasonal fashions and nearly imperceptible shifts of dark matter. Similarly, jewellery-making classes regularly change so that teachers can help students craft new statement pieces. The class instructor and shop owner, Kellie Sutton, also crafts her own line of jewellery, which is sold internationally.
101-22714 Dewdney Trunk Road
Maple Ridge
British Columbia
604-477-1291
The team at Prep Sportswear can outfit any fan in the proper colours with its expansive arsenal of designs, which represents one million schools, universities, sports teams, Greek organizations, and branches of the military in Canada, the United States, the United Kingdom, and Australia. In addition to well-known university and professional teams, the shop prints gear for smaller universities as well as many elementary and high schools.
Customers begin by searching the site's database for their team of choice, then scroll through that team's web page to see available T-shirts, hoodies, and accessories. The results, available in both kids' and adult sizes, can keep fans stylish and comfortable with materials including lightweight cotton, warming sweats, or workout-friendly Dry-Excel polyester, ideal for games of underwater badminton. Items can also be personalized with names and graduation years.
3250 Mount Lehman Rd.
Abbotsford
British Columbia
It's difficult to feel like exercising when you see yourself in an unflattering old T-shirt and baggy sweatpants. That's why Silver Icing's owner Christina Marcano has created a line of high-fashion activewear that maintains the comfort level of sweatpants with breathable, exercise-friendly fabrics. Crafted abroad in factories adhering to International Labour Organization guidelines, the tank tops, zip-ups, and workout pants are cut to flatter body shapes. All of the line's pants eschew elastic waistbands in favour of nylon alternatives that don't cut into bodies or invite bullies at the gym to snap them. Many of the lines are crafted from eco-friendly bamboo fabric, which keeps clients dry and comfortable during long workouts.
19088 67th Ave.
Surrey
British Columbia
CA
778-574-7720
The winter-sports division of Mad Dog's Source For Sports began with a meagre stash of five skis, five bindings, and eight boots. Over the past 30 years, the superstore has expanded into all seasons and terrains, equipping athletes with name-brand gear and personalized services. Staff prep hockey players for the ice with custom skate fittings catered to each player's foot type, and keep preowned blades crisp with their Blademaster sharpening system. Baseball and softball players charge out into the dirt with new cleats, gloves, or slow-pitch aluminum bats, and lacrosse players glide over the grass with a newly strung STX Proton head. The multiskilled staff strings tennis racquets for hard-court play, and tests each hockey stick they vend to make sure their flavour pairs well with this season's stick tape.
2556 Montrose Ave.
Abbotsford
British Columbia
604-859-4112
Some years ago, Paul and Caroline heard rumblings about water hyacinths. Their inner horticulturalists were intrigued because these plants bloom early and combat algae, but water hyacinths were only imported from Singapore at the time and often carried invasive parasites. So, the couple resolved to grow the plants themselves and start Woodbridge Ponds, a local greenhouse specializing in safe, locally cultivated specimens.
Today, their two-pronged business consists of Echo Nurseries, a 27,000-square-foot wholesale nursery, and Woodbridge Ponds, a sprawling retail shop brimming with beautiful water lilies and pond plants, lively fish, and essential pond hardware and supplies. All of the shop's retail plants are grown at the adjacent nursery, ensuring that no seedlings get homesick while waiting for a new owner. Their friendly team of loyal local women helps visitors navigate hundreds of available plants, which gussy up large ponds and simple birdbaths alike.
3387 Tolmie Rd.
Abbotsford
British Columbia
---