Things to Do in Chilliwack
---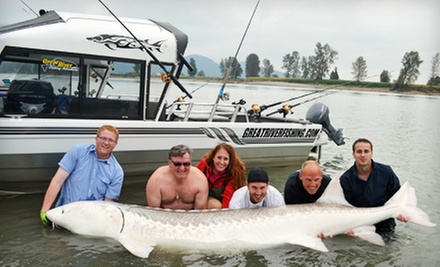 Chilliwack Proper Village West
---
Recommended Things to Do by Groupon Customers
---
On September 9, 1979, more than 100,000 Whitecaps fans lined Robson Street to salute their hometown club. That day, the Whitecaps returned home after becoming Vancouver's first professional sports team to win a major North American championship: they had just defeated the Tampa Bay Rowdies to claim the North American Soccer League title.
Since that first one, the franchise has won six additional titles–including four in a row from 1988–1991 while playing as the 86ers in the Canadian Soccer League. In fact, the club competed under that 86ers moniker until 2000. That year, spurred by public support and an unexplainable 'Caps logo beamed into the night sky, it re-emerged under its original Whitecaps identity. Today, the 21st-century incarnation of the club continues to battle for its first championship as part of Major League Soccer, where it began play in 2011.
2901 E Hastings St.
Vancouver
British Columbia
Since 2004, Snowbus's fleet of 56 comfortable passenger coaches has shepherded skiers and snowboarders back and forth between Vancouver and Whistler Blackcomb. The route schedule allows mountaineers to hitch a ride out of Vancouver, schuss and slalom to their heart's content at the world-renowned resort, and hop back aboard a bus for a movie and snack to accompanied their trip home. The service gives downhillers a way to circumvent the hassles of dealing with traffic and parking, and enables them to partake in après-ski revelry without fear of drinking and driving or drinking and cartwheeling back to Vancouver.
3945 Myrtle Street
Vancouver
British Columbia
CA
If there's a whale breaching on the protected waters of the San Juan Islands, there's a good chance a passenger on Mystic Sea Charters' 100-foot vessel will see the splashy spectacle. The company's five- to six-hour tours have an impressive track record when it comes to spotting the gargantuan mammals, introducing tour-goers to different species of whale up to 99% of the time. Onboard the ship, a naturalist divulges facts about ocean life as passengers watch for whales from the heated cabin or from the deck, which has 4-foot railings so guests can hold on if whales start singing and dancing to the hit song "Rock the Boat." The company promises that voyagers will see at least one gray, orca, humpback, or minke whale, depending on the season. If not, they'll receive a follow-up whale-watching tour for free.
710 Seafarers Way
Anacortes
Washington
360-588-8000
The top minor-league affiliate of the Calgary Flames, the Abbotsford Heat joined the American Hockey League in 2009, when the team made a valiant entrance by reaching the Calder Cup playoffs in its maiden season. Having fostered a number of players who went on to don the NHL's iconic tuxedos, the Heat reigns over the ice at the Entertainment & Sports Centre, where up to 7,000 fans cheer on every thundering slapshot and board-rattling check.
33800 King Rd.
Abbotsford
British Columbia
With the propeller of a Cessna 180 whirring just above its glassy surface, the Fraser River appears to tremble in anticipation of the floatplane's imminent takeoff. After launching off the aquatic runway, the roaring plane elevates above British Columbia's wilderness as passengers peer out at the lakes and glacier valleys below.
This is just another day at work for Fort Langley Air, Ltd.'s experienced pilots, who regularly soar above the mountains and glaciers of Garibaldi Provincial Park and Pitt River valley on sightseeing tours, charter flights, and seaplane training courses. While manning the plane's controls, pilots point out native wildlife, interesting rock formations, and ice sculptures carved by the mountains' reclusive yetis. Their charter services allow passengers to easily bypass less scenic forms of public transportation, and their seaplane rating courses train pilots to safely land on water with 50 hours of flight time.
24600 River Rd.
Langley
British Columbia
604-513-9886
When doctors told Joey and Darryl Simon that their son Jet's premature birth could result in learning disabilities, the couple immersed him in the world of art as a means of helping him overcome any educational obstacles. Their tutelage and care paid off, resulting in an impressive array of paintings from their child at a very young age. Jet's talent and creativity inspired his parents to establish 4Cats Arts Studio in hopes of unleashing the inner artists of other children as well as adults. The Simons accomplish this mission through hands-on sessions in mixed media, painting, and Artist Focus classes, which concentrate on the histories and styles of certain artists, such as Picasso's cubism and Andy Warhol's self-portraits of soup cans.
140 - 3388 Rosemary Heights Crescent
Surrey
British Columbia
---