Chillum, MD Outdoor Activities
---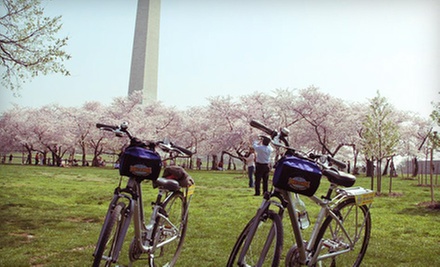 ---
Recommended Outdoor Activities by Groupon Customers
---
DC Cruises allows adventuring sightseers to witness the nation's capital on the water, as only the ducklings of democracy have done. During the 90-minute Fall Foliage cruise, passengers drift past the colorful foliage surrounding the city's protected park areas and monuments, such as Washington's popsicle-stick sculpture of Betsy Ross. A complimentary cup of hot apple cider with cinnamon combats river chills alongside light snacks and beverages available for purchase onboard. DC Cruises' boats carry only 90 passengers, ensuring that everyone enjoys an intimate sightseeing experience without the mass overcrowding and mosh pits of many boat tours.
1300 Maine Ave. SW
Washington
Washington D.C.
Recently celebrating 20 years of delighting passengers, the maritime crew at Capitol City Tours supplies a memorable yet speedy method of taking in Washington, DC's historical highlights. The crew whisks new passengers away from Washington Harbor every hour on afternoon boat tours that navigate the famous Potomac River. Two tour vessels—the Nightingale and his son, _Nightingale II_—house refreshments as guides supply historically astute narration. Their narration, combined with the unobstructed views granted by the Potomac, create an illuminating way to explore sites such as the Washington Monument, Lincoln Memorial, and US Capitol.
31st & K Sts NW
Washington
District of Columbia
800-405-5511
Already an award-winning photographer, Cindi Hobgood also spent 25 years scouting locations for Hollywood studios and TV programs. Her locations were showcased on The Amazing Race, used by Disney, HBO, and Columbia Pictures, and shot by Spike Lee and Sam Shepard. As a location scout, Hobgood recorded her finds with a camera, carefully composing each shot in order to convey each scene's mood, landscape, and lighting.
Today, she teaches others how to hone a similarly discerning eye during instructive photo expeditions. Magic Hour walking tour send participants snapping shots of the Korean War Veterans Memorial and the Potomac just as the sun comes up. Memorials by Moonlight takes walkers on a nocturnal jaunt past sites such as the Lincoln Memorial, and Intro to iPhoneography helps pupils get the most out of their iPhone cameras. There are even a few out-of-town trips for adventurous shutterbugs.
1010 Massachusetts Ave. NW, Unit 906
Washington
District of Columbia
Since founding Clay Hill Stables in 1964, British Horse Society–certified instructor Emmie Prettyman has passed her vast equine expertise on to legions of horses and their riders through a variety of services. Emmie captains a team of instructors certified to teach the English style of riding as well as administer first aid and CPR, ensuring safe and sound lessons for students as young as 6. Beginner classes work to establish fundamentals both on and off the saddle, including riding positions and basic grooming and tacking. Once riders have demonstrated proficiency at the paces of walk, trot, canter, and late-to-work, they may be eligible for the intermediate/advanced class, where they build on skills with more intricate flatwork and jumping exercises.
9911 Old Ardwick-Ardmore Rd.
Springdale
Maryland
301-773-0444
Frank Martz, Sr., started Gray Line DC, Martz Group in 1908 with a 1912 White bus and a route that took him through small mining towns in Pennsylvania. During the Great Depression, the economic collapse inspired Frank and other independent carriers to create the National Trailways Bus System. This system became part of a national network with Greyhound lines, setting schedules and fares for connecting service across the country.
Through the years, the company has passed down from father to son. Today, Frank's great grandson, Scott Henry, helms the company of more than 400 employees, 250 coaches, and one magic-pumpkin carriage. Additionally, Martz boasts a travel agency and repair operations in Pennsylvania, Virginia, Florida, and Washington, DC, and operates sightseeing tours in Washington, DC, such as DC After Dark, Monticello & Thomas Jefferson Country, and the Spy City Tour.
50 Massachusetts Ave. NE
Washington DC
District of Columbia
The combination of Capital Segway's high-quality apparatuses and expert local guides make the touring establishment a go-to adventure for visitors to the D.C. area. The Segway PTs, or personal transporters, come outfitted with features such as noiselessness and off-road capability in case participants want to explore the White House's backyard mud pit. Adding to the experience are the highly lauded guides, who fill the noggins of visitors with DC trivia on landmarks such as the FBI Building and the Air and Space Museum.
1350 I St. NW
Washington
District of Columbia
US
202-682-1980
---