Chino, CA Beauty and Salons
---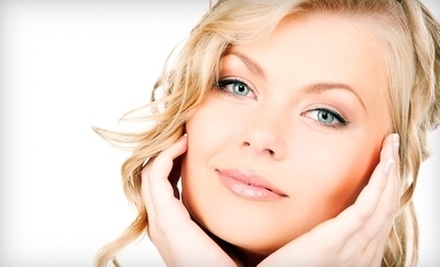 ---
Recommended Beauty by Groupon Customers
---
Jabez's staff of professional stylists studies at the Bumble and bumble University in New York City to equip themselves with the most artful and effective tress-taming techniques. The shaggy strands of men's manes surrender to unyielding, razor-edged scissors with a men's haircut, which mellows unruly mops or trims rebellious follicles into a well-kept whole. Clients possessing dual x chromosomes indulge in a women's haircut, relaxing in the high-ceilinged, naturally-lit salon while a professional hair sculptor shears, blow-dries, and shapes follicle sprouts into a face-framing curtain of pure glossiness. Both men and women celebrate the reformation of unruly locks with a scalp massage and a tension-relieving head rub to spoil the skull or ease residual soreness from the competitive ear-wiggling semifinals.
18513 Yorba Linda Blvd
Yorba Linda
California
US
714-970-5239
Wild Earth's sugaring treatment uses a soft, all-natural, sugar-based paste that adheres just to hair, and because this paste is gently patted onto the skin and peeled off in the direction of hair growth, it's substantially less uncomfortable than traditional waxing. It's also more effective because fewer hairs break in the process and are therefore removed completely from their follicle foxholes. Wild Earth's sugaring mix is body temperature—not scalding hot—and completely sanitary.
2336 D Street
La Verne
California
The beautiful spa environment at Orchard Nails, which features wood paneling, dusky blue and brown walls, and carefully arranged flowers, is immediately relaxing. Sit back and let a friendly technician equip your opposable knuckle sticks with shiny new finger helmets worthy of a Costanza hand model. Put your hands where a member of the skilled staff can see them, and you'll be rewarded with a neat nail trimming of finger and toenails. Perfectly symmetrical tips will take the place of former unruly edges. Cockney cuticles will be gently groomed like Eliza Doolittle until they appear perfectly civilized. All mani-pedis also include a reflexology massage, soothing hot-towel treatment, and polish.
2150 California Ave., #102
Corona
California
The Frame's pale-pink-and-teal walls paired with vintage furnishings craft a homey atmosphere, perfect for cozying up and relaxing while a skilled stylist transforms threadbare hair into silkier strands. A color-glossing treatment coats headsnakes in the coveted Redken Shades Crystal Clear serum to create whisper-soft tendrils with a healthy and glamorous sheen. In addition to conditioning coifs and dressing follicles in microscopic tiaras, Redken Shades also works diligently to seal hair cuticles in place. The artful snippers at The Frame will also tailor a haircut to their guests' highest aesthetic standards, shaping their moptops according to their requests and recent trends. For those interested in shifting the tonality of hair without having to dive into a pile of red pistachios, full color runs at $85, partial highlights chime in at $65, and full highlights at $95—all reduced by 30% if completed during the same appointment as your Groupon.
3560 Grand Ave., Suite A
Chino Hills
California
909-517-1015
Skin Suite Rx's microdermabrasion treatments are performed using a wand coated with diamonds rather than rough chemical crystals or ground-up Matchbox cars. During each 30- to 60-minute treatment, the diamond-tipped device gently sloughs off layers of dead skin, like peeling open a banana to reveal the creamy mashed potatoes inside. The face, neck, chest, arms, elbows, knees, and pancreas are just a few of the areas that people often treat to this deep exfoliation. Skin Suite Rx's staff of licensed medical professionals customizes the treatments by simultaneously infusing skin with a serum chosen to fight your specific skin's problems, be they large pores, uneven texture, or tendency to attract cheek-pinching aunts. At the conclusion of the first countenance cleansing, many clients report that their skin is soft and glowing; after the second treatment, skin shimmers like the surface of a lake at twilight, but without skinny-dipping lovebirds constantly frolicking in it. (Up to 12 treatments may be required to achieve desired results.)
4045 Grand Ave.
Chino
California
At Perfect Brows, skilled aestheticians use their expertise to help clients achieve shapely eyebrows and glowing skin. One of their specialties is threading, an ancient form of hair removal that originated in India. During a 10- to 15-minute eyebrow-threading session, the aesthetician wields twists of cotton thread to gently remove stray hairs at the root and make a miniature sweatshirt for each eye.
3130 E. Chapman Ave.
Orange
California
---