Beauty & Spas in Chino
---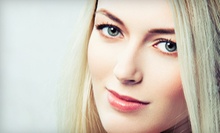 Gentle pulses of light and heat work beneath skin to stimulate collagen growth, improve elasticity and skin texture, and reduce fine lines
Use Thursday 10:00am - 2:45pm
---
Recommended Beauty & Spas by Groupon Customers
---
Jabez's staff of professional stylists studies at the Bumble and bumble University in New York City to equip themselves with the most artful and effective tress-taming techniques. The shaggy strands of men's manes surrender to unyielding, razor-edged scissors with a men's haircut, which mellows unruly mops or trims rebellious follicles into a well-kept whole. Clients possessing dual x chromosomes indulge in a women's haircut, relaxing in the high-ceilinged, naturally-lit salon while a professional hair sculptor shears, blow-dries, and shapes follicle sprouts into a face-framing curtain of pure glossiness. Both men and women celebrate the reformation of unruly locks with a scalp massage and a tension-relieving head rub to spoil the skull or ease residual soreness from the competitive ear-wiggling semifinals.
18513 Yorba Linda Blvd
Yorba Linda
California
US
714-970-5239
Some say not to judge a book by its cover, but others say a carefully covered romance novel is the ticket to a thrilling train or airplane travelsperience. Dust your cover's corners with today's deal: a European facial at Mi Medical Rejuvenation Center in Chino Hills. Mi's staff of highly trained aestheticians combine personalized care with the latest techniques and products to revive and restore skin.
4200 Chino Hills Parkway, Suite 910
Chino Hills
California
Wild Earth's sugaring treatment uses a soft, all-natural, sugar-based paste that adheres just to hair, and because this paste is gently patted onto the skin and peeled off in the direction of hair growth, it's substantially less uncomfortable than traditional waxing. It's also more effective because fewer hairs break in the process and are therefore removed completely from their follicle foxholes. Wild Earth's sugaring mix is body temperature—not scalding hot—and completely sanitary.
2336 D Street
La Verne
California
Skin Perfect's hair-despising laser was sent back through time to terminate unwanted hair quickly and safely using handcrafted photons that harmlessly pass through the skin to directly dissipate hair follicles. Technicians can evict pesky hair from the bodily zones of both men and women with high precision. They handle light lassos like hair-wrestling cowpokes, with each beam carefully calibrated for empathy and small talk. Laser hair removal often bequeaths a longer-lasting hairlessness than waxing or shaving, and while not completely painless, it's less painful than laser hair addition.
12225 Foothill Blvd , #120
Rancho Cucamonga
California
The experienced staff at Nova Vita Salon and Spa banishes hair from delicate epidermal regions with quick and effective waxing sessions. Clients recline as a skin-smoothing specialist paints skin with warm wax and uproots hair in a fluid motion reminiscent of a segway barreling down newly waxed floors. Post-waxing, smoothed skin can don skimpy bikinis without fear of stubble or straggling hairs making an appearance. Regular waxing can erode and damage hair follicles over time, dispiriting them until they've given up their dreams of future hair growth and admittance into '80s hair bands. Clients must redeem both waxing sessions within 60 days of activation, streamlining the benefits of satiny smoothness.
13011 Newport Avenue
Tustin
California
714-832-8900
The beautiful spa environment at Orchard Nails, which features wood paneling, dusky blue and brown walls, and carefully arranged flowers, is immediately relaxing. Sit back and let a friendly technician equip your opposable knuckle sticks with shiny new finger helmets worthy of a Costanza hand model. Put your hands where a member of the skilled staff can see them, and you'll be rewarded with a neat nail trimming of finger and toenails. Perfectly symmetrical tips will take the place of former unruly edges. Cockney cuticles will be gently groomed like Eliza Doolittle until they appear perfectly civilized. All mani-pedis also include a reflexology massage, soothing hot-towel treatment, and polish.
2150 California Ave., #102
Corona
California
---