Chino, CA Spa and Massage
---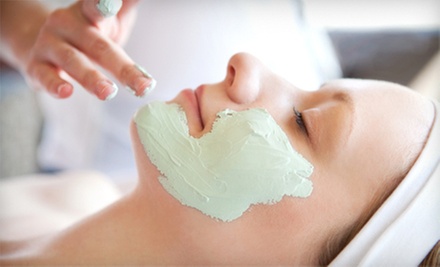 ---
Recommended Spa & Massage by Groupon Customers
---
Some say not to judge a book by its cover, but others say a carefully covered romance novel is the ticket to a thrilling train or airplane travelsperience. Dust your cover's corners with today's deal: a European facial at Mi Medical Rejuvenation Center in Chino Hills. Mi's staff of highly trained aestheticians combine personalized care with the latest techniques and products to revive and restore skin.
4200 Chino Hills Parkway, Suite 910
Chino Hills
California
Skin Perfect's hair-despising laser was sent back through time to terminate unwanted hair quickly and safely using handcrafted photons that harmlessly pass through the skin to directly dissipate hair follicles. Technicians can evict pesky hair from the bodily zones of both men and women with high precision. They handle light lassos like hair-wrestling cowpokes, with each beam carefully calibrated for empathy and small talk. Laser hair removal often bequeaths a longer-lasting hairlessness than waxing or shaving, and while not completely painless, it's less painful than laser hair addition.
12225 Foothill Blvd , #120
Rancho Cucamonga
California
The experienced staff at Nova Vita Salon and Spa banishes hair from delicate epidermal regions with quick and effective waxing sessions. Clients recline as a skin-smoothing specialist paints skin with warm wax and uproots hair in a fluid motion reminiscent of a segway barreling down newly waxed floors. Post-waxing, smoothed skin can don skimpy bikinis without fear of stubble or straggling hairs making an appearance. Regular waxing can erode and damage hair follicles over time, dispiriting them until they've given up their dreams of future hair growth and admittance into '80s hair bands. Clients must redeem both waxing sessions within 60 days of activation, streamlining the benefits of satiny smoothness.
13011 Newport Avenue
Tustin
California
714-832-8900
Latisse is an FDA-approved prescription drug that was developed to treat inadequate eyelash growth; be sure to carefully review the safety information on the Latisse website. If Celibre's experienced medical professionals and beauty wranglers decide after your initial consultation that the Latisse treatment is not suited for you, a full refund will be offered, or you can use the $99 you spent for the Groupon toward another service at the office. Celibre's eyelash consultants can spot a Latisse candidate from across the street—though they conduct a comprehensive exam attentive to your individual needs and eyelash dreams just for the fun of it.
431 S Batavia St., Suite 202
Orange
California
Eden's ion bath uses a field of non-invasive electromagnetic energy to draw out cellular-level toxins and pollutants. It neutralizes and eliminates harmful free radicals, increases immune function, and improves overall wellness. Each individual Ion Workers Union Local 78 Certified ion is personally trained by Eden's experienced staff to enter your body imperceptibly, knock on the door of each and every cell, ask if they've had any problems, kick down the door when they receive no reply, and drag out the bare-chested, noxious nasty. Though the treatment only lasts a half-hour, detoxification continues for up to 48 hours, so don't be surprised when you encounter jealous shoe soles and resentful rugs.
2276 Foothill Blvd.
La Verne
California
The team of licensed beauty mages at Maximum Image Salon & Day Spa conjures elegant countenances and easy confidence with a slew of skin-care services. Hour-long European facials focus on flooding arid skinscapes with moisture to deeply cleanse, gently exfoliate, and prevent the type of feature-sliding erosion that plagued so many Picasso models. Inside the warm, pumpkin-hued treatment rooms, clarifying steam, a cleanse, a mask, extractions, a gentle massage with skin-care products, and decollete work coax clogged pores to finally release grime hidden deep within the dermal layer, imbuing faces with a fresh, clean, trustworthy glow. An arm massage rounds out the treatment. Clients should plan to arrive 15 minutes early in order to have time to suit up in a fluffy robe, lounge on the lobby's leather couch with a complimentary cup of coffee or tea, and exchange hair-styling secrets with the waiting room's thick shag area rug.
8052 Limonite Ave., Suite 104
Riverside
California
951-361-1515
---