Museums & Galleries in Choctaw
---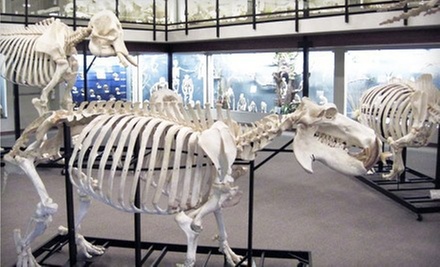 ---
Recommended Museums & Galleries by Groupon Customers
---
From his 1889 arrival in Oklahoma City until his death in 1915, Henry Overholser was an instrumental force in the city's growth. Beyond his involvement in the metropolis's first waterworks project and trolley-car system, he built more than 35 buildings, including the United States Courthouse, the state fairgrounds, and a giant catapult to protect it from invading Kansans.
In addition to civic pride, Overholser also took time to care for his own habitat. In 1903, he completed construction of his home, a gargantuan, three-story chateau measuring more than 11,000 square feet paired with a smaller but no less stately 4,000-square-foot carriage house. These days, guided tours of the Henry Overholser Mansion begin there before moving into the main house, whose original furnishings and antwerp oak interior remain intact. The meticulously maintained dwelling retains most of its signature fixtures, which were picked out by Overholser himself, treating guests to glimpses of elegance including its original hand-painted canvas walls and stained-glass windows.
405 NW 15th Street
Oklahoma City
Oklahoma
Originally home to Mr. William Fremont Harn, his wife Alice, and their sassy talking cow, the Harn Homestead was built in 1904 and has since become a first-rate museum that gives visitors a hands-on experience of Little House on the Prairie–time simplicities thanks to interactive exhibits and costumed re-creationists. Bring G-rated pioneer fantasies to life with an educational romp around the Homestead's seven historic buildings. Visit a one-room schoolhouse, tour the graceful Victorian dwelling, or pack a picnic to enjoy on the grassy promenade.
1721 North Lincoln Blvd.
Oklahoma City
Oklahoma
In the months after the bombing, then-Mayor Ron Norick commissioned a 350-person task force to explore ways to remember those who had died in the horrific terrorist act. Visitors will be taken on a powerful chronological tour of the complete story, including a background on terrorism, a history of the site, an audio recording of the blast, and a look at the chaos that ensued. As grim as the experience can be, the museum concludes with an uplifting showcase of hope that explores rebuilding efforts and the city coming together in support. The museum also includes a classroom and children's area for younger museumgoers.
620 North Harvey Ave.
Oklahoma City
Oklahoma
The Gaylord-Pickens Museum focuses on the history of Oklahoma and the people who have shaped it. Permanent exhibits offer interactive touch screens to explore the stories of Oklahomans who have contributed to the state's rich heritage. The ONEOK exhibit allows individuals or small groups to record their own memories and experiences in a glass box, which they can send to themselves as an electronic letter. Today's Groupon also gives access to the special exhibits, currently featuring The Passionate Lenses of Yousef Khanfar, which displays a collection of photography from Yousef Khanfar's 30-year career.
1400 Classen Drive
Oklahoma City
Oklahoma
Science Museum Oklahoma is an exploration oasis with interactive and rotating exhibits for mad scientists, curious children, or anyone who wants to know why astronauts eat cardboard in space. With a Silver 6 membership, you'll enjoy unlimited free entry for up to six people to permanent exhibits, Science Live, and the Planetarium, plus four one-time use guest tickets and discounts at the Science Shop, Pavlov's Cafe and on birthday party rates. Explore the museum's varied exhibits, such as Destination Space, which allows budding astronauts or curious earthlings to see the actual Apollo Command Module Mission Simulator and learn the history of the Sputnik vs. Explorer 1 space race. Enjoy the playful and kid-friendly simplicity of the GadgetTrees, a playground that demonstrates simple machines. Kidnap the zoo's most cuddlesome koala, and, when a detective is on your trail, take him for a full-fledged pursuit of would-be criminals at Whodunit: The Science of Solving Crimes, which creates a real-life mystery to solve using hands-on scientific methods.
2100 NE 52nd St.
Oklahoma City
Oklahoma
Starting in 1972, active firefighter Sam Oruch passionately introduced visitors to firefighter memorabilia and artifacts from Oklahoma City's blaze-battling past. He gave his museum tour for 33 years—a tradition carried on today by the museum's current staff. Today, guests can still admire a collection of more than 7,000 firefighter patches, explore a replica of a fire station from the early 1900s, and gaze upon the collection of fire trucks that includes one that dates back to 1910.
As guests enter, they pass the Murrah Memorial, which honors the bravery of rescue workers in the aftermath of the 1995 Oklahoma City bombing. The museum also boasts a collection of firefighting uniforms and The Last Alarm, a mural painted by Lynn Campbell that with images of the vehicles and industry-grade snowballs used to fight fires throughout American history.
2716 NE 50th St.
Oklahoma City
Oklahoma
405-424-1452
---