Beauty & Spas in Chowchilla
---
Recommended Beauty & Spas by Groupon Customers
---
The Aqua team hunger force starts by treating clients' digit-dialing digits to a peppermint-chocotini manicure ($15), wherein hands are soaked in a bath and then exfoliated with a chocolate-mint scrub before receiving a refreshing massage. After firmly securing your hands behind your back so that you're not tempted to eat your newly candified fingers, Aqua will treat your little piggies to a little wine with a Napa sparkling-lavender pedicure ($28), which soaks feet in a lavender effervescent fizz before treating them to a lavender aphrodisia salt-glow scrub. Toenails and cuticles will then be shaped and filed while a massage therapist trained in reflexology presses the healing heat of warm stones to your sneaker fillers and massages them with a soothing pressure.
2950 E. Nees Ave , Suite #109
Fresno
California
Hair, Nails, massage, facials and waxing
7895 N Blackstone Ave.
Fresno
California
559-431-4247
Thread and Sugar's all-natural, eco-friendly products are hand-blended using organic ingredients in the salon, ensuring iniquitous chemicals can't set up shop selling Chiclets in your pores. Say a sweetly spoken farewell to unwanted follicles and fuzz with a low-pain sugaring service ($6 for women's neck to $235 for men's full body), or maintain your wanted mane with a women's cut and style ($50–$65), men's cut and style ($25–$40), all-over color (starting at $85), highlights ($95–$140), conditioning treatment ($55), and more. One of the salon's hip, talented aestheticians will help bring your best pores to the fore with an organic facial ($90) or a natural glycolic peel ($100). Or make a manly dermis extra dapper with a gentleman's facial ($75). If you've been wanting a tattoo but are terrified Alfred Bulltop Stormalong will use a humungous needle, have your design inked with a temporary and natural henna tattoo (starting at $10). This Groupon cannot be used toward threading or nail services.
1055 E Herndon Ave. , Suite 106
Fresno
California
Great Escape Massage is dedicated to helping clients reach total wellness through the healing touch of massage. During 75 minutes of manual manipulation, Great Escape Massage's therapists will mingle the techniques of basic Swedish massage with elements of shiatsu, deep tissue, and chocolate sprinkles. Swedish massage, a light- to medium-pressured technique, is the most popular type of knead. It uses long, connective strokes and kneading to improve blood flow, stimulate the lymphatic system, relieve physical tension, and melt stress into a puddle of biodegradable papier-mâché. The deep-tissue strokes delve deep into your body's underlying muscle Kleenex where the Swedish massage fears to tread, while the pressure-point stimulation of shiatsu punctures pockets of resistance as well as any accidentally ingested balloons. Expect to escape Great Escape feeling healthy, happy, and harmonized in mind, body, and spirit like a one-person doo-wop group.
6702 North Cedar Avenue, Suite 104
Fresno
California
Spray-tanning imbues sunny glow without exposing skin to Sol's harmful UV rays or the beach's abundance of maniacs brandishing metal detectors. During your session, one of Endless Summer's trained technicians will hand-apply sprayable sunshine to your pallid profile with an airbrush, working conscientiously with your existing skin color and body's contours to achieve an even, natural effect that will last 7–14 days. This attention to detail prevents streakiness, a common occurrence with machine-applied color. Endless Summer's tanning formula is carefully balanced, with the active ingredient (DHA) kept at 9% to avoid any orange results. All tanning sessions happen in total privacy with a professional, and customers can dress or undress for the session according to their comfort level. Review this preparation list to ready your corpus for its bronzing session.
6051 N Figarden Dr.
Fresno
California
Skin Sanctuary offers a variety of one-hour facials aimed at combating pores polluted with dust, grime, and other micro-particulates. With this deal, Groupon users can choose one of those facials. Turn back the giant, flaming hands of time with an Arcel Med Anti-Aging Facial ($65), which stimulates cellular regeneration to leave skin looking more youthful, or exfoliate dead skin and smooth out fine lines with a glycolic-acid peel ($75). The Collection Caviar Facial ($65) uses caviar extract and pure seawater to strengthen the skin, whereas the Vitamin C Infusion Facial ($65) brings elasticity to the skeleton-sweater with its punch of vitamins C, E, and A. Men with faces can also take advantage of this offer—the Gentleman's Facial ($65) is specifically designed for male skin. All facials are tailored to clients' specific needs by Skin Sanctuary's licensed aesthetician, with a soothing massage of the décolleté, shoulders, neck, hands, and scalp also accompanying each treatment.
7075 N West Ave.
Fresno
California
---
---
Beauty & Spa Deals - Recently Expired
---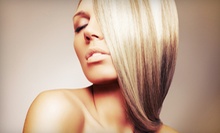 Haircut and conditioning treatment, highlights or single-process color, or full highlights with Joico products
---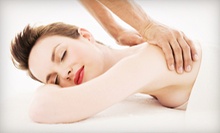 Trained massage therapist works with clients of all ages
---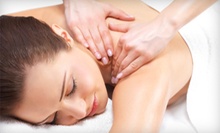 Certified Neuromuscular Massage Therapist uses sweeping motions and gliding strokes to relax guests' muscles and uplift their spirits
---
---