Hair Salons in Cibolo
---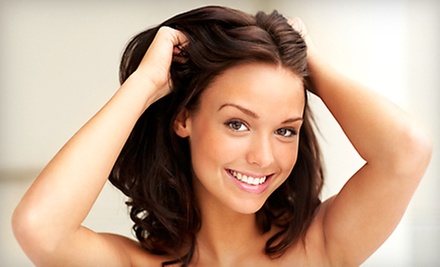 ---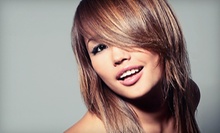 As the personal stylist for a number of local celebrities, Tracy Simons draws on more than 30 years of experience to cut and style new 'dos
Use Friday 4:00pm - 6:00pm
---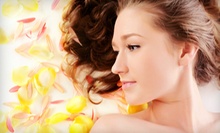 Stylists cut and style coifs, blending lighter and darker colors throughout hair to camouflage grays
Use Wednesday 10:00am - 6:00pm
---
Hair Salon Rewards Deals - Use Anytime
---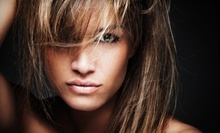 South Mays Commercial Park
Custom spray tan using Bronzed Envy products provides a faux sun-kissed glow that lasts up to 10 days
---
Recommended Hair Salon by Groupon Customers
---
The tragic truth facing metalheads is that they must cut their hair eventually. This prevents the hair from gaining sentience, insisting on playing in your band, and ultimately leaving to start a solo career. Keep your rockstar 'do in check with today's Groupon: $20 gets you $40 worth of services at Austin's hippest, friendliest little salon, Birds Barbershop. Hairstyles may have indelibly changed with the advent of rock, but that doesn't mean that post-Beatles rockers don't need a place to commiserate, discuss the news of the day, and unwind. Birds Barbershop bridges the generational hair gap, uniting the friendliness of a barbershop, stylists who understand the value of a rock mop, and sweet poster art all under one disco ball.
1107 E 6th St.
Austin
Texas
US
Mane modification is an easy way to appear taller, more like ousted French royalty, and more fun. Alter your appearance and the course of your life with today's Groupon: $25 for $55 worth of salon services at Salon by JC. Show your hair who's the boss with a stylish new cut, or put a sassy spin on evading law enforcement with hair coloring and a totally new zodiac sign.
11703 Huebner Rd., Suite 202
San Antonio
Texas
US
Once you have your Groupon, you can schedule an appointment with a master hair shamans Lisa Brooks, who will color and gloss your hair, and Beto Diaz, who will focus on cutting and charming Medusa head-snakes. Your hair wizards will sense your innermost hair-yearnings, then direct their careful scissors in tune with your thoughts and dreams, letting creative forces flow wildly onto your scalp for a haircut that revolutionizes the way you look in the mirror—inside and out. A partial highlight will bring your new look into spring, ensuring that your new hue complements your complexion. A luminous gloss will protect and brighten your color like dew fighting grasshoppers from a fledgling blade of grass. Afterward, in the streets, you might find that your magnificent mane busts the binds of its bowler hat and leaps into sunshine, dappling the dark alleyways of careless coiffeurs.
4101 Medical Pkwy., Suite 115
Austin
Texas
The stylists at Cost Cutters are surgically joined to their clippers, helpless but to practice gorgeous cuts on every nearby tree or lunchtime sandwich. From bangs and bobs to curls and layers, the head-shapers will deliver your fantasy haircut to your reality head. They'll get you in and out before you're even aware that you've been shorn and shined. With Cost Cutters' private label shampoos and conditioners, your lustrous locks will double as a traffic signal.
2339 Evans Rd.
San Antonio
Texas
Alamo Barber & Beauty is a salon and beauty-supply-store hybrid, one of the most gorgeous crossbreeds since the hammerhead shark. Alamo's salon, Oh Nine Hair Studio, is a full-service stop for head-shaping and styling, and the bountiful beauty store stocks one of the largest collections of professional products in San Antonio, catering to the needs of expert appearance authorities and recreational primpers alike.
6301 Broadway St.
San Antonio
Texas
Rearrange your hair for everyday style (women's cuts start at $37) or gussy up your do for a day requiring a little more oomph (special-occasion styling starts at $55). Color balance a mane ($20+), hit it with some highlights ($69+), treat it to a tall drink of relaxer ($75+), or go long with a deep-conditioning treatment ($23). Meanwhile, put your best skin forward with an age-repair facial ($73), a lip-softening treatment ($15), or an eyelash perm ($40).
22810 US Hwy. N, Suite 102
San Antonio
Texas
---