Cibolo, TX Outdoor Activities
---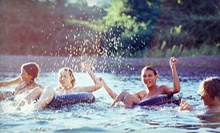 Tubes and coolers float down Comal River before an air-conditioned shuttle takes groups on unlimited trips back to launch point
---
Recommended Outdoor Activities by Groupon Customers
---
If you've always wanted to commandeer a boat to pass off as your own to friends, colleagues, and potential domestic partners, today's Groupon gives you the status and thrill you desire in a completely legal manner. For just $40, you get one hour of lake-skimming in a pontoon boat or dare-devilry on a WaveRunner at Just for Fun Watercraft Rental ($55–$70 value). Your rental includes safety equipment, instruction, and unlimited fuel. Combine multiple Groupons for a day-long lake dwelling or a thrilling escape to international waters at just $40 per hour. Whether you're searching for wild wakes or a pontoon picnic, today's deal is a unique way to celebrate birthdays, holidays, and escape-necessitating diamond heists.
5973 Hiline Rd.
Austin
Texas
US
Water trickles through a stone roof in the shape of a butterfly, flowing through a Roman-styled aqueduct to a cistern placed for harvesting rainwater. Thorn-crested agaves and evergreen succulents flourish beneath the eaves. The architecture of this rainwater harvesting system—itself a recreation of a South Texas mission garden—embodies the dual purpose of the Lady Bird Johnson Wildflower Center: to preserve native plant life and promote environmental and conservation research.
Although North American native plants thrive in this region when left to their own devices, urban development, agribusiness and the introduction of invasive species have slashed their numbers, reducing wildlife habitats and disrupting the fragile ecosystem. Lady Bird Johnson founded the Wildflower Center in 1982 to preserve these native plants and natural landscapes. Native Texas wildflowers and shrubs fill its 23 public gardens and trails, which form a natural habitat for cochineal insects and red-eared slider turtles. The center's Land Restoration Program restores damaged landscapes, and the Native Plant Information Network retains an online database of more than 7,200 native species.
4801 La Crosse Ave.
Austin
Texas
Floats last between one and four hours each, and the short, one-hour route can be repeated. Gather a team of water-drawn hooligans for a relaxing journey that takes you around the famous Horseshoe Loop. The river is flush with Momma Nature's finest currents and rushing at its highest level in three years, so there's no better time to propel yourself and your professional water Marco Polo team down a living waterslide. Choose the route that will satisfy your inner sundial and outer sunsoaker.
11860 FM 306
New Braunfels
Texas
For more than 14 years, paint-splattered players have duked it out on the varied terrain of Krossfire Paintball's well-kept outdoor fields. Under the watchful eye of fair-minded referees, participants duck for cover and take aim from behind blue inflatables, stacks of barrels, large wooden spools, and a fort surrounded by fencing. Over in the woods, meanwhile, players huddle in bunkers, plan ambushes from behind standing and downed trees, and crawl through overgrown grasses while avoiding opponents camouflaged as overgrown grasses. After private weekday or open weekend games, guests can update their gear by browsing the latest equipment in Krossfire Paintball's pro-shop, which stocks guns, loaders, goggles, and protective pads.
10780 Elmendorf Lavernia Road
San Antonio
Texas
A triangular form soars across blue skies and swoops over Texas's sprawling terrain. But the flying figure isn't a bird or a frustrated geometry student's homework—it's one of Thermalriders' gliders, which let novices master the art of flying under the guidance of U.S. Hang Gliding and Paragliding Association-certified instructors. During aerotow flights, instructors and students can then break free from gravity's tight grip as Dragonfly planes tow them to heights of up to 2,500 feet. Thermalriders' instructors also have the ability to capture each flight on video.
2953 N Magnolia, Hangar 6
Luling
Texas
210-381-5193
---