Things to Do in Cibolo
---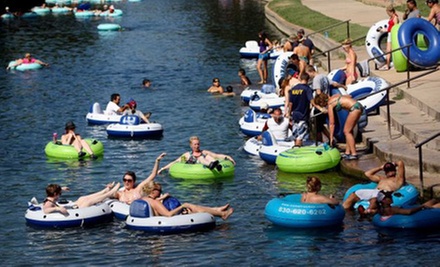 ---
Recommended Things to Do by Groupon Customers
---
When Prince Carl of Solms-Braunfels arrived in central Texas in 1845 to build an opulent home for his new fiancée, the German colonist could hardly have imagined that he would instead establish a town whose vibrant history carries on to this day. The Sophienburg Museum & Archives—named after the Princess of Salm-Salm who would never see her castle in person—now overflows with photographs, maps, and documents that chronicle the early days of New Braunfels and Comal County. The area's cultural heritage is on full display in museum exhibits that house artifacts ranging from an antique carriage to Price Carl's extensive collection of pickled lederhosen.
After exploring the intimate museum galleries, visitors can head to the archives to peruse one of the world's largest repositories of information about the wave of German migration that swept over central Texas in the 19th century. A veritable forest of family trees and county records take root in a 1,200-book reference library, where visitors can hack through the genealogical fauna to trace their ancestry back to famous explorers and exiled Prussian pop stars.
401 W Coll St.
New Braunfels
Texas
830-629-1572
As a San Antonio native, Shelly Reynolds has been exploring the city all her life. Luckily, she doesn't miss out on a global perspective: While sharing her lifetime of knowledge through Historic Texas Tours, she and her staff get to meet and befriend travelers from all over the world. The company's tours focus as much on forming new friendships as discovering the local sights as they expose visitors and locals alike to area wineries, restaurants, and landmarks at the direction of friendly guides. Food tours unearth local eateries with a tour itinerary that varies often to reward visitors who go on repeat trips, and journeys into the Texas Hill Country offer complex tastes of locally made wines. Mission Trail tours explore edifices that date back to the 1700s, including the oldest unrestored stone church in the United States and a used-horse dealership.
15800 Hwy. 10 W
San Antonio
Texas
Choose from the following seating options to see José Carreras at the Majestic Theatre on Thursday, June 17, at 7:30 p.m.:
909 NE Loop 410, Suite 636
San Antonio
Texas
Golf, long ridiculed as the easiest of sports, is so childishly simple that many casual players go home feeling angry and frustrated at how quickly one can master the game. Luckily, these golfers can still savor the thrilling velocity and parabolic motion of a well-struck ball, especially with today's Groupon. For $12, you get three large buckets of driving range golf balls (a $30 value) at Northeast Golf Center.
450 Ira Lee Road
San Antonio
Texas
Since sprouting into existence in 2006, Ideal Tennis Academy has fostered future stars by offering training programs throughout the year for all ages and skill levels. The toddler program, for instance, puts rackets in the hands of kids as young as aged two-and-a-half years and strives to develop important motor skills on miniature courts. The academy provides a junior-varsity program for adolescent players, which preps teens and preteens for higher levels of competition. Aside from offering programs at its facility, Ideal Tennis Academy hits the road with Tennis Delivery, a mobile program that teaches tennis by launching coaches from high-powered ball machines to locations across San Antonio.
23203 Bulverde Rd.
San Antonio
Texas
The five-hour, high-energy presentation will get you fired up about finance. New York Times best-selling author Dave Ramsey's tried-and-true methods demystify money, offering honest answers for digging out of debt. During the presentation, you'll learn how to create a plan, save, and confidently invest.
3201 E Houston St.
San Antonio
Texas
---