Restaurants in Cicero
---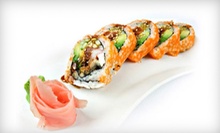 Noodles, curries, and maki rolls inspired by culinary cultures across Asia.
---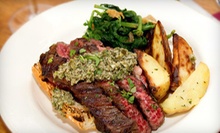 Menu populated by upscale, American bistro cuisine, 30 wines by the glass & extensive bottle list
Use Today 5:00pm - 8:00pm
---
---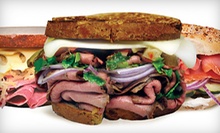 Sandwich chefs stack Boar's Head meats & cheeses on a choice of bagel or bread with a customizable array of fresh veggies & condiments.
Use Friday 6:00am - 12:00pm
---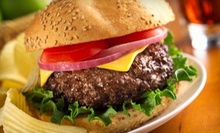 Brown-brick eatery harks back to the seedier side of Chicago's past with menu of pub fare named after notorious gangsters
Use Friday 12:00pm - 3:00pm
---
Recommended Restaurants by Groupon Customers
---
When entrepreneur Harold Pierce opened the first Harold's Chicken Shack on Chicago's South Side in 1950, his chefs fried chicken as it was ordered, filling customers' empty hands with baskets of fresh, piping-hot chicken in 12–15 minutes. Today, the chain of 62 restaurants peppered across the Midwest and Southwest continues the old tradition of rewarding patience with astonishingly delicious chicken. The long-standing shop specializes in a simple order—breaded chicken fried in a rich mix of vegetable oil and beef tallow for a home-cooked flavor. Chefs prep the chicken Chicago style by pouring a dash of sauce over the basket, which soaks into the white bread and crinkle fries that come with every order. Marked with the famed emblem of a cook chasing a chicken with a hatchet, the restaurant has saturated the city's consciousness, earning a mention in Tucker Max's I Hope They Serve Beer in Hell, an appearance in Kanye West's music video Through the Wire, and its own chicken hologram projected over the skyline. Serious Eats sums up citywide sentiment for the chain: "When the words 'fried chicken' are uttered in Chicago, it's a fair bet that the name Harold's Chicken Shack will usually follow."
804 West Washington Boulevard
Chicago
Illinois
312-226-9866
Rather than stay cooped up the kitchen, Brazzaz's gaucho chefs make forays into the dining area to carve portions of their 18 churrascaria-style, fire-roasted meats for guests. As customers lounge beneath geometric pendant lamps, they can take their pick of Brazilian bites, from succulent slices of tenderloin medallions wrapped in bacon to whole legs of lamb marinated in a secret blend of ingredients. In addition to devouring the all-you-can-eat meats, diners can pair their entrees with selections from the gourmet salad and sides bar, which stocks more than 60 items of seafood, imported cheese, cured meat, and fresh-cut vegetables. After dinner, sweet teeth sink into freshly crafted desserts, which run the gamut from Brazilian flan to chocolate mousse topped with homemade whipped cream. Throughout each feast, bartenders help wash down bites by whipping up cocktails or pouring selections from a sommelier-selected, 150-item wine list, which focuses on vineyards in the Americas from California to the Little California districts in major cities.
539 N Dearborn St.
Chicago
Illinois
312-595-9000
Chef Edward Kim is a restless soul. Born and raised in the north suburbs of Chicago, he left home to become a lawyer in New York but somehow found his way to the opposite coast, where he enrolled at the renowned Le Cordon Bleu in Los Angeles. After spending several years honing his craft in locales as far-flung as Seoul, South Korea, Kim returned to his native city to open a restaurant that would draw on his Asian heritage and penchant for gastronomical globetrotting.
Just like its chef, Ruxbin is the product of a hodgepodge of competing influences. To its credit, the BYOB bistro doesn't try to hide this fact—its 32-seat dining room is built entirely from salvaged and repurposed materials. Chef Kim's seasonal menu reflects his own restless nature, and dishes are liable to change as soon as they reach the height of their popularity. This willingness to take risks has attracted a host of devotees, including GQ , which named Ruxbin one of its Ten Best New Restaurants in America in 2012.
851 North Ashland Avenue
Chicago
Illinois
312-624-8509
At Ameer Kabob, chefs whip up artfully plated traditional Mediterranean cuisine. Aromas of grilled, marinated beef and chicken waft from sizzling kebab entrees, and a convoy of appetizers includes classic noshables such as hummus, tabouleh salad, and house-made lentil soup. The gastronomers also make their cuisine mobile, catering events for up to 1,000 diners or two hungry giants.
1050 North Milwaukee Avenue
Chicago
Illinois
773-489-8888
For more than 30 years, Quiznos has toasted its submarine sandwiches to bring out the hidden flavors found in butcher-quality meats, cheese, and artisan breads. Its classic and signature subs take on a variety of shapes, sizes, and styles ranging from the prime rib mushroom and swiss to the classic italian donning black olives, mozzarella, red-wine vinaigrette, and plentiful sliced meats. Those closely monitoring their waistlines can take unabashed bites of sandwiches that have fewer than 500 calories, such as the pork-cuban, Baja-chicken, and veggie-caprese subs. Quiznos' Toasty Bullets and Torpedoes offer slimmer versions of sub fare and flaunt supreme aerodynamics when shot out of T-shirt cannons and into mouths. A selection of Flatbread Sammies, soups, and salads round out Quiznos' varied menu.
4701 North Damen Avenue
Chicago
Illinois
773-728-4858
Beaded curtains and maroon tapestries drape Pars Cove's dining room in Old World charm, matching the Persian and Mediterranean influence on the restaurant's menu. The dishes incorporate "flavors both familiar and daring," according to CenterStage, covering land and sea more effectively than a seal trying to walk in combat boots. Caramelized onions, fresh basil, and plum-tomato-herb sauce simmer beneath the lamb arrabiata's tender-cut shank. A sweet-toned walnut-pomegranate sauce glazes veggie, chicken, or salmon fesenjan. Outside, green tendrils from potted plants reach through the patio's lattice fence, creating a garden-like vibe and sneaking tastes of hummus from unguarded plates.
435 W Diversey Pkwy.
Chicago
Illinois
773-549-1515
---