Coffee & Treats in Cimarron Hills
---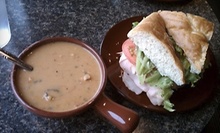 Amicable baristas craft sandwiches, lattes, French press coffees & gelato beneath exposed ceiling in spacious, modern spot with free WiFi
Use Sunday 1:00pm - 5:00pm
---
---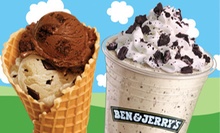 Waffle cones are piled with two scoops of Ben & Jerry's famous flavors, such as Cherry Garcia or Chubby Hubby
Use Tuesday 12:00pm - 5:00pm
---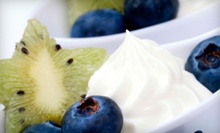 Sixty-nine flavors, including blueberry, pomegranate, and peanut brittle, burst from smooth frozen yogurt that has only 8 calories per ounce
Use Monday 11:00am - 4:00pm
---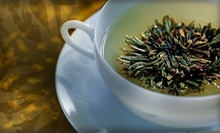 Use Monday 8:00am - 11:00am
---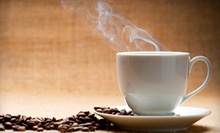 Use Saturday 11:00am - 7:30pm
---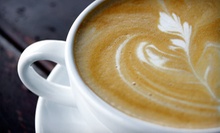 Organic shade-grown beans from local roasters are freshly brewed & served alongside breakfast pastries in fireplace-heated café
Use Saturday 3:00pm - 7:00pm
---
Recommended Coffee & Treats by Groupon Customers
---
In ancient China, the tea house was the traditional venue for apothecaries, Confucian scholars, and spice merchants to do business and engage in kung-fu negotiations that involved a lot of wire work. Today's Groupon gives you a taste of that tradition with $10 worth of tea and sweets at Seven Cups Denver Tea House for $5. Voted a Best Tea House in Denver by CityVoters and Best Store on Old South Pearl Street by Westword, Seven Cups is Denver's first and only traditional Chinese tea house.
1882 S Pearl St
Denver
Colorado
US
Coffee is often called a miracle drug, not only because it cures numerous diseases including ataxia and ear splints, but also because it has the amazing power to either wake you up or help you relax. Wake up or unwind with today's Groupon, offering $10 worth of buzzy beverages at Rooster & Moon Coffee Pub for $5.
955 Bannock St., Suite 100
Denver
Colorado
Cold Stone's ice cream, made fresh in stores every day, inhabits a quantum flux between soft-serve and traditional ice cream, with a rich, creamy texture that whispers tales of its super-premium quality as it glides over taste buds. The ice cream generously welcomes dozens of toppings, as traditional as crumbled cookies and chopped nuts or as quirky as granola and black licorice. Choose your favorite ice cream from among dozens of silky flavors, such as irish cream and butter pecan. Then make certain no one will try and steal a taste by topping it protectively with brownies, gumballs, and cherry-pie filling. Whatever Frankencream you create, it'll be scooped cold off the grill into a freshly made waffle cone or bowl. Cold Stone's ice cream and toppings vary between seasons and location, and they also offer sorbet and an array of lighter toppings such as fruit and honey. Ice-cream creations run between $4 and $6, depending on size.
8441 S Yosemite
Lone Tree
Colorado
The menu offers a white mocha ($3.25 for 12 ounces), latte ($2.60), cappuccino ($2.60), hot chocolate ($2.50), steamers ($2.10), blended drinks such as the Frozen Hotty ($3.85) and more. Coffee comes in A, B, and C-sized perky cups. An A-cup of house blend costs $1.75, so this Groupon could caffeinate your mornings for an entire workweek. Add a $.40 flavor shot or a $.50 soy shot for an extra boost. Freshly baked pastries are available daily to complement the coffee. Cold drinks include an iced latte ($2.60 for 12 ounces), mocha ($3), and coffee ($1.55) as well as an Italian soda ($2.75) and an Arnold Palmer ($2).
12101 E Iliff Ave. Suite A
Aurora
Colorado
At English Tealeaves, you can throw a tea party ($15–$27.50 per guest) for yourself and up to 26 guests or stuffed-animal friends. Or throw caution to the wind and ride into the café as a lone, crumpet-craving desperado to sate a solo palate. Pots of hot tea come in more than 125 varieties ($4.35) or as a tea latte ($4.75), or ice any brew for $3.25. Teatime isn't complete without a scone ($5.65), British meat pie (including Cornish pasties, Scotch pie, and English favorite steak and kidney, $8.65), or crumpet and jam ($4.50). If gluten makes you feel all funny inside or itch uncontrollably, English Tealeaves offers traditional gluten-free offerings such as scones ($4.25–$6.25), brownies ($2.95), and cucumber sandwiches on GF bread ($6 half-sandwich, $7.50 whole). For the home brewer, all the teas on the menu are available for loose-leaf purchase. Bags range from 2 to 4 ounces and typically cost $11.25, although prices vary with specialties such as Japanese Sencha ($11, 3 oz.) and Darjeeling First Flush ($15.75, 3 oz.).
18551 E Main St.
Parker
Colorado
A modern-day soda fountain. AKA: The castle of cool. The fortress of fun. The Stadium of sweet. The fountain of youth. We offer: 70+ flavors of custom, hand-crafted soda, Homemade ice cream, Candy, Sandwiches, Shaved Ice, Cotton Candy, Popcorn, & Squeak gear.
812 Village Center Dr.
Colorado Springs
Colorado
---