Dance Lessons in Cinnaminson
---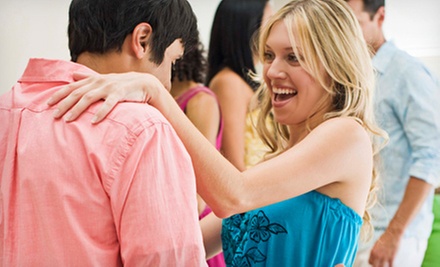 ---
Recommended Dance Lessons by Groupon Customers
---
Seven days a week, First Position Dance Arts offers a Swan Lake's worth of dance classes for agility-seeking adults. Under the tutelage of the studio's graceful guides, students will take on the fearsome foes of rhythm, balance, and poise through a well-coordinated attack of box steps, chassés, and pops/locks. Class options include ballet, modern/jazz, and hip-hop, all of which can improve cardiovascular systems, aid in weight loss, and provide a good icebreaker should you happen to meet the ghost of Martha Graham.
10 E Athens Ave., Suite 204
Ardmore
Pennsylvania
Ornate railings flank the steps to one of BlueBallRoom Dance Studio's two spacious dance floors, whose hardwood-maple surfaces mask springy, joint-cushioning subfloors. The studio's team of talented teachers leads classes in a monthly rotation of social dances ranging from Argentine tango and various ballroom styles to intermediate touchdown dancing. Group classes encompass these styles as well as cardio-centric Zumba, famed for its easy-to-follow steps and driving Latin beats. Private-lesson subscribers, meanwhile, get closer attention and a chance to hone their footwork at regularly held free dance parties.
1601 Concord Pike
Wilmington
Delaware
Dance Times Square's founders and professional Latin ballroom dancers, Tony Meredith and Melanie LaPatin, corral expert dance instructors into their studio space to teach students of all levels high-energy dance routines. With an impressive roster of celebrity clientele, such as Vanessa Williams, Pierce Brosnan, and Betty Boop, along with decades of experience in the dance and choreography world, Tony and Melanie remain leaders in competitive Latin ballroom dance. The nimble-footed instructors rolls out dynamic group and private lessons, leading participants in shimmying through a wedding dance class or mastering skills for such dances as the salsa, tango, cha-cha, or swing.
156 West 44th Street
New York
New York
212-994-9500
Professional dancer Francis Teri knows how to celebrate. He's danced at Ziegfeld Theater for the party in honor of Dirty Dancing's 20th anniversary and at the 30th anniversary shindig for the iconic Saturday Night Fever. At Dance Fever Studios, he and a team of experienced dance instructors party down everyday, helping students hone specific footwork skills or nail the basics in beginner and intermediate classes. Attendees learn good timing and partner connection in beginner salsa, or how to pull off the waltz and foxtrot in ballroom dancing. During beginner and intermediate hustle classes, students learn how to do the basic dance step without disturbing the goldfish in their shoes.
3009 Avenue J
Brooklyn
New York
718-253-0939
Starting in 1998 in the Philadelphia suburbs, the women behind The Art of Exotic Dancing have strutted and hip-rolled their way to the forefront of a surge of interest in fun, sensual movement. At the foundation of heart-pounding routines drawn from floor work, belly dancing, and burlesque traditions is a philosophy of helping women of all ages and sizes shake hands with their inner siren. Dedicated to fostering a comfortable space where all participants feel safe, the certified instructors proffer encouragement and reassurance as they teach dances that emphasize self-expression, personal power, and natural movement. Pupils learn to dance to a full song during the 90-minute CoreMoves class, while the Signature Workshop fortifies confidence via flirtatious techniques such as sensual walking and slow-motion winking.
555 E Lancaster Ave.
Wayne
Pennsylvania
Owner, instructor, and professional dancer Jannelle Cortes dedicates Groovefit Belly Dance Classes' schedule to empowering dance techniques that also ensure an invigorating workout. Originally from the Dominican Republic, Jannelle began exploring ballet in Washington, D.C., at the age of 4 before studying at professional studios in New York and learning about Egyptian cabaret and folkloric dance while in Egypt. Jannelle's experiences living in the cultural mélange of New York inspired her to embrace such nontraditional styles as belly dance, samba, and mambo. Zumba sessions keep tempos high and pulses racing by synchronizing dance-based exercises with Latin-inspired melodies, and belly-dancing classes teach students the abdominal control they need to unbutton a shirt without using their hands.
500 8th Avenue
New York
New York
917-386-8303
---