Massage in Cinnaminson
---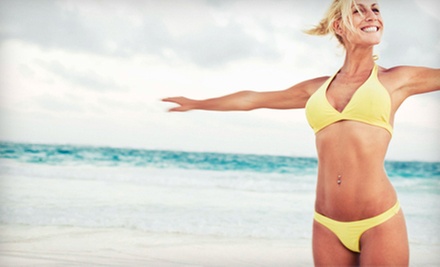 ---
Recommended Massage by Groupon Customers
---
Ursula's About PHace's sugaring shaman, Elina Safin, combines an all-natural formula with expert training, efficiently ousting unwanted hair. Unlike the uncomfortable temperature of wax, the sugar-and-lemon-juice concoction gently warms to body heat, sticking to superfluous strands without disturbing the surrounding tissue to calm skin and sate its cravings for crème brûlée. The botanical-boosted sugar paste swiftly removes fuzz from the roots in the direction of growth for a more comfortable hair-removal treatment than waxing. Women can pare down hair on the lip and chin or banish sideburns ($25+), and men can smooth out backs, chests, and shoulders ($45+). After treatment, bristle-busted zones remain sleek and hair-free for up to six weeks.
1700 Sansom Street
Philadelphia
Pennsylvania
215-557-1562
Massage therapist Melissa Clevenger knows the worth of a good massage. "I know how much I love getting massages," she says on her website, and she appreciates how important it is "to offer that same gift to others." In this spirit of healing and generosity, Melissa started her business with mobile chair massages and sofa shiatsu sessions, taking her gift to people wherever they were. Now, Melissa takes clients into her care at her permanent location, where Swedish and deep-tissue table massages pair with soothing music and aromatherapy. Her combination of intuitive strokes and firm pressure helps detoxify muscles and banish tension when clients need it most, even during after-hours weekday or weekend appointments.
8618 Germantown Ave.
Philadelphia
Pennsylvania
610-392-0581
Nestled inside Concord Health, EZZ Bodyworks offers a quiet respite where clients can expect individualized attention during personally tailored massages that work to relieve stress and physical pain. The studio's trained massage therapists work with their clients to ensure that each massage addresses their individual needs, whether the client needs to increase circulation, relax knotted muscles, or ease the pain of a sports injury incurred while challenging oneself to an arm-wrestling match.
107 West Maple Avenue, Ste 003
Merchantville
New Jersey
856-910-0495
Zenergy Massage Studio's owner and massage therapist works in tandem with an experienced team to perform skilled massage and energy therapies. Swedish and deep-tissue massages are administered at a new location with private treatment rooms and tranquil music.
26 Rock Hill Rd.
Cherry Hill
New Jersey
856-375-2536
Donna Kimmel fostered her passion for healing at both Penn State's Professional School of Massage and the Frankford School of Nursing. Now, in the comfort of a cozy, private treatment room, she draws upon her training as well as 12 years of massage-therapy experience to slacken achy muscles with Swedish strokes or the firm pressure of deep-tissue bodywork. A heated massage table aids Donna's attempts to make tension melt from sore shoulders and backs, and glowing candles help soothe stressed minds and draw out any moths that may be hiding in connective tissues.
221 West Street Road
Feasterville
Pennsylvania
215-322-6880
While studying physical therapy at Florida A&M University, James C. Thomas Conway noticed how the emotional resonance of human touch often helped to fuel physical healing. Inspired, he delved into massage-therapy research and training, developing expertise in neuromuscular methods for addressing chronic health conditions. His studio, Restore Massage, sprang from his desire to help others ease pain without relying on invasive methods or habit-forming medications. Today, clients from nine states, four countries, and at least two dimensions flock to his studio, where he and his staff use bodywork modalities such as deep-tissue massage, warm-stone therapy, and accelerated sports healing to target the stress and discomfort that stems from conditions including diabetes, fibromyalgia, and insomnia.
Therapists tailor each stroke to individual preferences to create massages that cater to long-term health goals or simply focus on the particular stresses of the day. In addition to quelling immediate aches, they aim to prevent future pain by locating and treating problems at their source, and also taut massage as a great way to boost energy and enhance mobility, helping clients run faster, jump higher, and break dance with greater spontaneity.:m]]
1420 Walnut St., Suite 1105
Philadelphia
Pennsylvania
215-600-4321
---