Tours in Citrus Heights
---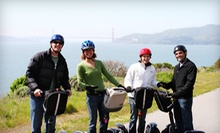 Two-hour tours roam Oakland and pause at landmarks after video overview of Segway handling and Segway rentals allow self-guided exploration
---
Recommended Tours by Groupon Customers
---
Now that eating on an ordinary table or atop a stack of Chinese acrobats seem horribly passé, adventurous foodies are seeking the next unconventional dining experience. Today's Groupon puts a little motion under your meal with two gourmet dinners on the Napa Valley Wine Train for $99 (a $198 value for dinner, $188 value for lunch). Treat yourself and a loved one to a three-hour ride through Napa Valley on an antique locomotive engine, accompanied by a delicious gourmet meal in lieu of the traditional mysterious murder.
1275 Mc Kinstry St
Napa
California
US
The many stigmas surrounding the sluggishness and spitball susceptibility of school buses and public transit are rendered inane by the sleek comforts of Blue Groundways' buses. Each Blue Groundways bus is an indulgence-vessel on six wheels, offering the musicality of Sirius satellite radio, the connection of on-board WiFi, five-star service from friendly attendants, beverages to hydrate your journey, and the most recent movie releases played on a slick video system. Scheduled routes include a Friday ride that starts in Santa Rosa and travels along Route 42 to Petaluma and Sacramento before arriving in Lake Tahoe and then later in Reno, returning back home on Sundays. The San Francisco to Reno route leaves on Fridays and Sundays with return trips on Saturdays and Sundays, making stops in both Lake Tahoe and Sacramento. Check out the route map for pick-up locations.
1121 15th St.
Sacramento
California
We are an innovative touring company with electric bikes. We have over 35 different partners offering you discounts and freebies around Napa Valley!
3425 Solano Ave
Napa
California
707-596-0499
Although it hasn't quite reached the level of Napa Valley's 400-plus wineries, the East Bay's wine scene has experienced a rebirth—and East Bay Winery Bike Tours intends to ride right alongside as it continues to grow. Led by owner Jon Zalon, the company takes to the streets on two wheels to explore the area's ever-expanding collection of urban wineries and the faces behind the bottles at each stop.
In 2012, Diablo magazine plopped East Bay Winery Bike Tours at No. 10 on its "50 Things You Gotta do This Summer" list. No matter the season, EBWBT's rides present safe, scenic routes that include everything from a trip to an Oakland estuary to a pleasant cruise down Alameda's palm-lined streets—all without having to rent a car or a horse to drive that car. Every tour also makes sure to set aside plenty of time to soak in the surroundings, including picnics packed with homemade food.
Ferry Terminal
Oakland
California
Crepes in San Franciso. Butter chicken in Toronto. The organizers behind Dishcrawl connect people with the local dining scenes of cities across the United States and Canada. They do this in two ways—first, through Dishcrawls, which are self-guided tours to an array of restaurants. As guests saunter between establishments, special performers—from interpretive dancers to improv comics—enliven the journey. Dishcrawl's second method highlights single restaurants through special dinners, giving chefs a chance to dazzle visits with their favorite dishes.
815 11th St.
Sacramento
California
The resident guides at Uncle Sam's New York Tours masterfully navigate the city to give sightseers a smattering of historic sights, hip bars, and chic shopping locales. Leisurely strolls allow tourists to savor the sights of each stop, as opposed to whizzing by on a tour bus or being launched past from a trebuchet. Engaging guides steer guests down Wall Street and dive headfirst into the Greenwich Village digs that have been frequented by creative geniuses for decades. After dark, pub crawls traverse the entrances of some of New York's most hallowed watering holes, and nightclub tours lend tastes of the New York nightlife, along with glimpses of reticent celebrities in rare chicken-dance performances. Uncle Sam's sightseeing sages also conduct private luxury tours, ferrying guests about town in private SUVs and stretch limos.
1022 K STREET
Sacramento
California
US
---