Citrus Ridge Gyms and Fitness
---
Gym, Exercise, Weightloss Deals
---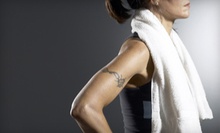 Beginner-level CrossFit classes blend aspects of weightlifting, gymnastics, and track to bolster strength, agility, and balance
Use Tuesday 1:00pm - 4:00pm
---
Recommended Gym, Exercise, Weightloss by Groupon Customers
---
A division of the Orlando Rowing Club, the instructors of Orlando Dragon Boat Club train clients in an ancient Chinese sport dating back nearly 2,500 years to the invention of the first ocean. The club's instructors maintain a twofold goal—to foster the sport's celebratory, social atmosphere, and acquaint paddlers with the traditions of another culture. To do so, they lead clinics where students learn how to row in sync in order to balance and propel the narrow, 40-foot canoe-like boat named after the Chinese symbol for protection. They also maintain two club teams—Warriors on Water and ScORCh—as well as oversee several corporate and community squads. Orlando Dragon Boat Club's philanthropically minded leaders have partnered with organizations such as Women Playing for T.I.M.E., and regularly raise funds for the MD Anderson Cancer Center.
2200 Lee Rd.
Orlando
Florida
JoAnne, or "JoJo," discovered her love of dance at the age of 5 through ballet, jazz, and gymnastics training. She founded Allure Dance Studio—which she considers to be a women-only club rather than a fitness center—to empower women with confidence while helping them make strides toward healthier lifestyles and toned physiques. She and her team of instructors, which is made up of gymnasts, professional dancers, and aerial-silks performers, teach women to unleash their inner vixens while carving long and lean muscles with a diverse roster of pole-dance, sultry dance, and inventive fitness classes. Taught amid stage-like lighting and ambiance, gals boost their self-confidence and upper-body strength through seductive spins, choreography, and climbs. To prepare for class, ladies should don a tank top, shorts, and high heels with an ankle strap in lieu of steel-toe boots. Instructors can help clients further hone their skills and overall fitness through customized workouts in one-on-one personal-training sessions and private lessons. Allure Dance Studio captures ladies at their most glamorous with boudoir photography and flirty party packages that teach women to strut their stuff with burlesque moves, classic striptease, belly dancing, and parakeet mating calls.
1313 Edgewater Dr.
Orlando
Florida
US
Diva Doll Fitness and Pole's professionally trained dancers aim to boost students' self-confidence during relaxed, all-women classes that combine sensual boogying with body-shaping fitness. Introductory classes such as Pole Babes introduce students to basic handgrips, transitions, and pole tricks, and advanced classes further cultivate pole-dancing skills with lessons in advanced choreography and inversions. Chair-dance classes spice up the art of sitting still in a cubicle with struts, teases, and furniture-based maneuvers, and belly-dance lessons appropriate the ancient technique to improve flexibility and tone abdominal muscles. Within the confines of Diva Doll Fitness and Pole's pink-walled, mirrored studio, blossoming burlesque performers may also don stockings and garter belts to perfect the moves of the sensual genre.
1101 S Clarke Rd.
Ocoee
Florida
US
407-297-7653
Dr. Richard Bragg's first patient after founding Svelte Medical Weight Management was Dr. Richard Bragg himself. Determined to lose weight for good, Dr. Bragg built a weight-loss plan around the concept of lowering insulin levels, as well as supplementing a diet plan with vitamin injections, appetite suppressants, and forks that taste like inspiration.
7009 Dr. Phillips Blvd., Suite 240
Orlando
Florida
407-804-5200
---