Nightlife in Claremont
---
---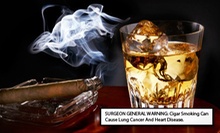 A facility fusing elements of a cigar lounge, pool hall, and sports bar mixes tasty cocktails and pours craft beers such as Blue Moon
Use Tuesday 12:00am - 1:00am
---
Recommended Nightlife by Groupon Customers
---
When barbecue-chicken sandwiches, teriyaki burgers, and a bunch of beef tacos washed up on Margarita Beach, the clouds began hurling large beerdrops earthward and the breeze blew away the sand to reveal a dance floor. Soon, DJs and bartenders flocked to the site, bringing with them stories of '80s-themed parties, beer pong, more beer pong, and Fist-Pumpin' Fridays that quickly attracted crowds of people hungry for food and entertainment. TVs eventually got wind of all the excitement. So, they packed their vacuum tubes and flew in with visions of UFC fights and college sports. To this day, partiers still take in the open air on a patio that a nameless sailor left behind, feeling the delicious weight of turkey hoagies in their hands, thanking heaven for quesadillas, buying cocktails for pictures of bikini-clad models, and then watching the stars sputter out when Margarita Beach's clock strikes 2 a.m.
1987 S Diners Ct.
San Bernardino
California
Johnny's Tacos & Sports assumes multiple identities. At once a sports bar, arcade, and restaurant, the lively interior is lit by blazing neon signs and 15 high-definition TVs. The kitchen whips up dishes from an extensive of bar food classics—ranging from chicken wings to burgers to pizzas—and bartenders draw from 21 beer taps. Next door, the newly upgraded game room boasts a variety of arcade-style joystick games, shuffleboard and pool tables, and a prize counter complete with iconic bouncy balls that bounce higher than an astronaut on a moon trampoline.
1756 E Lugonia Ave., Suite 108
Redlands
California
Seeing nothing but kippers and meat pies when you look at the edible clouds in the sky is a sure-fire signal that your belly craves some British grub. Today's Groupon sends your appetite across the Atlantic for $25 worth of grub and libations at The Royal Falconer for $9. Journey to either of two locations, Riverside or Redlands, for genuine English fare, crisp brews, and the company of hearty pub goers.
4281 Main Street
Riverside
California
Gone are the days of lazy bar burgers built on beer-soaked buns and soups infested with over-salted peanuts. The cooks at 6740 hand-build custom creations for the people who nest in the place's cozily swiveling bar stools or seek shelter in the pub's sturdy red and gold wall seats below a soothing incandescent glow of booming jukebox tunery. Because any swimming pool needs pool toys, you can fill your stomach pool with fresh fare like garlic, thyme, and rosemary-marinated grilled herb potatoes ($5.95); signature Buffalo wings in spicy, regular, teriyaki, or barbeque sauce ($6.95 for a dozen); and 8 oz. Flatiron steak sandwiches ($10.95).
6740 Greenleaf Ave.
Whittier
California
---