Restaurants in Clarence-Rockland
---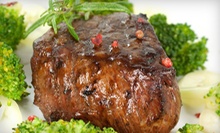 Artfully plated dishes made from local ingredients and rare meats—such as pan-seared rack of boar—served in elegant renovated church
---
Recommended Restaurants by Groupon Customers
---
Executive Chef Amos Jarbeau and Sous Chef Ian Sunstrum wonder what to serve for tonight's special. Instead of looking in the cooler, they walk across the street to the local butcher and check out the available whole cuts of meat. Afterward, the duo heads toward the street corner, where a Roots and Shoots farm stand displays freshly picked organic produce. It's a typical day for the chefs, who continually tailor Main Street Cellar Wine Bar's menu to what's in season and what's local.
To enhance the nuances of the changing dishes, Main Street's four sommeliers—who include owners Paul Paton and Kim Burns—recommend vintages from a continually evolving wine list that spans regions from France to British Columbia. Paton and Burns play upon guests' senses within a home built in the 1880s, where a varying decor of exposed brick walls, gleaming wood accents, and cushy black leather chairs with tufted backs creates different feels in each room. But Main Street's most popular space is its casual back courtyard, where diners enjoy seclusion from the main road and Ottawa's cutthroat paparazzi.
5561 Manotick Main St.
Ottawa
Ontario
613-692-2675
Among the Roman sculptures and surrealist paintings that pepper Zola Restaurant's walls, diners sit at granite tables isolated by gauzy red curtains. Wafting aromas of fresh-baked bread emanate from an open-concept kitchen, where guests watch as chefs combine handmade pastas with savoury sauces and blanket gourmet pizzas with smoked cheeses and cured meats. Just like wrestlers training for a match on a lifeboat, guests can enjoy a light lunch or brunch, or delve into hearty plates of housemade sausage or slow-roasted porchetta––local pork shoulder spiced with Italian truffle, sage, rosemary, and thyme and hiding beneath a layer of hot pancetta.
On Wednesdays, Thursdays, and Saturdays, live jazz enhances the atmosphere, mingling with the sounds of cooking and tinkling glasses raised in celebration. Sommeliers and bartenders pair the dishes with local and imported wines, beers, and cocktails, though patrons can also bring their own wine or steal sips from their child's juice box. In an effort to outsmart dietary restrictions and expose all palates to Italy's culinary traditions, chefs can make their dough or pasta gluten-free upon request.
194 Robertson Rd.
Nepean
Ontario
613-721-0227
Head chef Pablo Robaina is out to change minds. "Many people think Latin American food is just beans and rice," he said in a 2008 interview with the Ottawa City Guide, "but there are so many other ingredients that can blow your mind with flavour." Though the restaurant's small plates, such as rollos de pollos, tacos del norte, and chorizo tostado, stay true to the chef's Mexican and Venezuelan roots, Robaina also looks to other continents for culinary inspiration in such dishes as the Spanish-style tapas and the curried rack of lamb. Since being opened by the creators of Kinki Asian Fusion in 2007, Mambo Restaurante Nuevo Latino has embodied a multicultural culinary tradition as if it were built on the international date line.
77 Clarence St.
Ottawa
Ontario
613-562-2500
Piccolino translates from Italian as "very little one." In this case, piccolino refers to the quaint vintage villa that houses the rustic Il Piccolino Ristorante. Grape vines wind around the sun-drenched patio framed by trellises that leads to an interior of stucco-textured walls offsetting leather chairs and paisley-print tablecloths. This homespun, Old-World ambiance reinforces a menu of made-to-order Italian comfort food. Chefs stuff manicotti with ricotta and blanket gnocchi in gorgonzola cream sauce. They also adorn pizzas with ingredients such as tiger shrimp, italian sausage, and chili-marinated eggplant for a take on Italian that is both familiar and surprising.
449 Preston St.
Ottawa
Ontario
Chefs Dominic and Mohamed draw their culinary inspiration from the Old World, crafting a menu of predominantly French cuisine with occasional Italian influences. Garlic-cream sauce lends a flavourful richness to orders of escargot, and tender filet mignon emerges from the kitchen decorated with sauce aux poivres and a latticework of freshly tattooed grill marks. The chefs embrace Mediterranean flavours by baking rustic pizzas and glazing penne and linguini pasta with bolognese or carbonara sauces. On Friday and Saturday evening, the dining room echoes with the live piano performances of Yvon Farmer, who effortlessly transitions between iconic standards and contemporary compositions.
392 Montée Paiement
Gatineau
Quebec
819-669-0251
Instead hefting flatware-laden platters, servers at Ekko de Brasil emerge from the kitchen with skewers of flame-kissed meats straight from the kitchen's grill tops. They slice these succulent cuts, which include bacon-wrapped chicken breast, top sirloin, and leg of lamb, directly onto diners plates, continuing until the guests either signal them to stop by flipping a color-coded coaster or stump them with a riddle. A veggie-filled salad bar of hot and cold sides incorporates as many fresh, seasonal ingredients as possible. The spacious dining room brightens up its dark-wood ambience with cherry-red curtains along the windows and lively Brazilian dance performances on Friday and Saturday evenings. Bartenders also help to keep morale high by uncorking Brazilian-vinted wines and mixing cocktails with cachaça, the favoured spirit of Brazil.
1170 Aylmer Rd.
Gatineau
Quebec
819-776-7969
---