Things to Do in Clarence-Rockland
---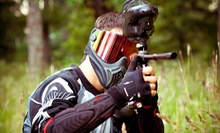 23 paintball parks open their fields for 3 hours of prismatic warfare for PaintballTickets.ca pass holders, with all gear included
---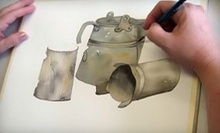 During group art classes, kids and teens learn illustration in a variety of media, and adults pick what medium they'd like to use
---
Recommended Things to Do by Groupon Customers
---
Operating on the trails that hosted the 2010 Bristol Dryland dog-racing championship, Timberland Tours employs experienced guides and 40 canines to propel adventure-seekers on year-round excursions of Pontiac county. Guides operate from a rustic wooden cabin headquarters, huddled in a circle of tall evergreens, which hosts revellers inside or on an open porch. An adjacent barbecue grill and bonfire pits often blaze with friendly flames, and trophy and photo displays inside the cabin chronicle sledding victories and awards for particularly memorable ghost stories from sleepovers. In winter months, two-person sleds carry riders down wooded trails, and in warm weather lightweight wagons send them soaring along on dog carting trips. Timberland Tours fuels its sleds using highly trained teams of Alaskan pointer, husky, and greyhound mixes.
36 Ragged Chute
Bristol
Quebec
819-647-3185
A fleet of muscular vehicles from Ferrari, Porsche, and Chevrolet's Corvette series powers Ottawa ECR Inc. Its staffers can drop off and pick up the luxurious rides at customer's doorsteps for rentals, ideal for special events such as a wedding or baby's first doctor's visit. Alternatively, drivers looking to polish precision driving skills can buckle their seatbelts for an instructor-accompanied test ride in a red Ferrari 360 Spider, complete with insurance coverage and gas.
:m]]
11 Aviation Pkwy.
Ottawa
Ontario
613-601-6327
Modelled after the world-renowned Le Circuit Mont-Tremblant, Le Circuit Quyon Karting is a destination for serious and committed karting fans. Guests pilot high-powered karts over 550-metres of asphalt, chasing the checkered flag in single 8-minute races or longer 15- and 30-minute group sessions. An active participant in the NCKC competitive kart-racing club, Le Circuit Quyon hosts championship series races and outfits their own team of speedsters in Corsa or CRG karts or mostly empty soap boxes.
1254 Proven Rd.
Quyon
Quebec
613-229-5397
Big Rideau Lake Boat Rental's owner, Heather Heins, has boating in her blood. Hundreds of years ago, her ancestor William Davidson was the first European to settle in New Brunswick, where he built and launched the region's first sailing vessel—the Miramichi.
Today, Heather continues in her forefather's footsteps, managing a fleet of watercrafts alongside her husband, Robert. Their kayaks and canoes skim across the lake's crystal clear waters, and their motorized pontoons and Sea-Doos roar past shores lined with pine trees, cottages, and sunbathing cacti on vacation. The Heinses also oversee an armada of seven houseboats that are outfitted with sleeping quarters, barbecue grills, and air conditioning, ideal for day trips or voyages down the Rideau Canal that last weeks at a time. For Heather, the pride of the fleet is a simple 23-foot houseboat, which she named Miramichi in honour of her ancestor's historic vessel.
15 Water St.
Portland
Ontario
613-812-7653
For more than 30 years, the guides at Irish Creek Outfitters have explored Ottawa's local waterways and woods in search of trophy fish and game birds. During guided fishing trips along the Ottawa River, Golden Lake, or Muskrat Lake, trip leaders equip anglers with necessary equipment and hard-earned techniques for catching wall-worthy catches. In addition to using digital maps and Aqua-Vu underwater video cameras, fishing experts select lures that resemble seasonal food sources such as bugs, minnows, or limited-edition rib sandwiches. During the winter, they duck the chill wind inside portable shelters with propane heaters while wrestling and winning finned fighters such as walleye, northern pike, and lake trout.
2014 Thompson Rd.
Renfrew
Ontario
613-284-6603
Familiar places such as Gatineau, the Ottawa River, and the Hull Casino shrink as the R44 helicopter speeds up to 180 km/h above the Ottawa area. Pilots and their headset-clad passengers peer out the aircraft's large, panoramic windows during such year-round flights that range from 10 minutes to an hour. Héli-Tremblant's personalized tours whisk passengers away to special events, and aerial photography and filming sessions accommodate homeowners and real estate agents craving overhead shots of their backyard polar bear tank. In addition to sightseers, pilots escort jetsetters on chartered flights anywhere in Canada and offer transfer flights between Ottawa and Montreal.
11Aviation Pkwy.
Ottawa
Ontario
613-447-5662
---