Professional Services in Clarksville
---
Recommended Professional Services by Groupon Customers
---
VIP Cleaners restores threads with water-free solutions in the comfort of a small, independent shop. Pants, ties, comforters, and other everyday threads find themselves rejuvenated and ready to strut the closet red carpet, while the laundering of shirts leaves sleeves crisp and ready to embrace waiting arms. Bridal-gown-preservation services see the VIP staff carefully purifying dresses and placing them in specialized packaging that preserves them for future generations. The stain specialists also regularly refresh the theatrical costumes of the Kentucky Center for the Performing Arts, and make sure to provide commensurate care when cleansing the fanciful disguises of their everyday customers.
126 Breckenridge Ln.
Louisville
Kentucky
502-891-8811
Click Portrait Studio's professional lens charmers preserve images of families, couples, pets, and graduates through artful in-studio or on-location photo sessions. In addition to capturing natural emotion, the studio hosts a graphic-design team capable of retouching images to remove blemishes, red eyes, and ugly sweaters woven from wombat fur before delivering prints on the same day as an in-studio shoot. This combination of expressive portraiture and lightning-fast turnaround has earned the studio the Rising Star Award in the 2011 Southern Indiana Business Awards.
373 Professional Ct.
New Albany
Indiana
812-945-8888
Seven days a week, the partner laundromats hum with the whirring of high-efficiency washers and dryers. Boasting more than 30 years of business, the Chevy Chase location fields a skilled staff that erases blights from duds with 46 single, double, and triple-load washers and 28 dryers, and enables patrons to convert bills into coins with convenient onsite change machines. The laundromat purveys soap, bleach, and fabric softeners. The staff augments this shopping-while-washing experience by entertaining waiting guests with video games, complimentary WiFi, and—remarkably—a standup tanning bed, inside of which, naturally, is a comedian. Alternatively, the Suds 'N Duds location boasts advanced credit-card-operated machinery that washes loads of up to 90 pounds at a time in as little as 40 minutes and treats freshly bathed garments to a complimentary dry. The laundromats also grant customers a free dry with every wash and offer reward points, which—when saved up—can be exchanged for money to use on washing machines and drying machines.
In addition to self-service laundry, both locations offer same-day drop-off services. Their professional staff sorts, washes, and dries clothing using premium detergent and softeners before folding them into neat piles or intricate seersucker airplanes.
315 S Ashland Ave.
Lexington
Kentucky
859-266-5721
Since opening her graphic-design studio in 2011, photographer Ann Marie Nipp has been using her Cannon DSLR to capture casual compositions unrestrained by formal convention, focusing instead on the easy smiles that result from her patient, ebullient personality. Her portfolio of work reveals joyous newlyweds, confident professionals, and relaxed families, but gives special celebration to children, who beam exuberantly as they play in front of her lens. Though occasionally contracted for work in the fourth-dimension, Nipp primarily shoots on-location throughout Lexington, carrying her portable studio to places that hold special meaning to her clients. Her eye for design works in tandem with her passion for photography, allowing her to easily edit photos and turn them into everything from business logos and fliers to greeting cards of her own creation.
3855 Lochdale Terrace
Lexington
Kentucky
859-983-5501
---
---
Professional Service Deals - Recently Expired
---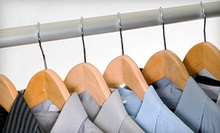 Dry-cleaning specialists keep blouses, slacks, and winter coats in mint condition
---
---