Restaurants in Clarksville
---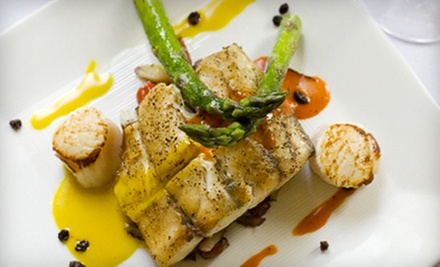 Central Business District
---
Recommended Restaurants by Groupon Customers
---
The menu at Funmi's Café swims with the names of West African dishes, tangles of unfamiliar syllables. Kachumbari, asaro, and kelewele may sound intimidating initially, but they conceal a cuisine characterized by warmth and gentle spice. Kachumbari is an African spin on coleslaw, asaro is a goldenrod-hued yam porridge, and kelewele is a snack of fried plantains.
In the kitchen, chefs stir pots of stew and sauce, often eschewing meat and dairy to fill Funmi's menu with vegan options. Beneath murals of circular huts on a colorful savannah, fair-trade organic coffee imported from Africa pours forth steam like a robot trying to understand the end of Of Mice and Men.
1043 Bardstown Rd.
Louisville
Kentucky
Chef Ramiro Gandaras literally attached his name to Ramiro's Cantina, and he figuratively posts his family recipes all over the walls of his restaurant's kitchen. Referencing these recipes, his team dishes up a string of Mexican cuisine staples, such as burritos, tacos, and quesadillas, alongside a few Tex-Mex hybrids, such as guacamole burgers, enchilada casseroles, and homemade chili. In the cantina—which is Spanish for "proof that gravity exists"—bartenders pour tequila into margaritas and draft beer into tall glasses.
2350 Frankfort Ave.
Louisville
Kentucky
502-895-3333
At Zen Garden, many of the Asian dishes sound familiar, with adjectives like "orange," "sweet 'n' sour," and "kung pao." However, rather than tossing chicken or beef in with these classic flavors, the kitchen has adopted a meat-free credo. Chefs mix masterfully seasoned bites of tofu and other meat alternatives with fresh veggies, creating entrees such as green beans stir-fried with mock duck and the barbecued-soy sandwich. Noodles tangle around shiitake mushrooms in both the udon-noodle soup and the shiitake mushroom lo mein, and curry sauce imbues eggplant and shredded tofu with a spicy kick. Guests can pair their meal with a cup of green tea, prepped hot, iced, or in its purest form: emeralds that have not yet been juiced.
2240 Frankfort Ave.
Louisville
Kentucky
Cubana Restaurant owner and head chef Mariolis Mora draws on the culinary skills she cultivated in Santiago de Cuba to craft a menu of traditional Cuban cuisine. She grills shredded beef and tosses it with garlic and lime juice to forge her ever-popular vaca frita, and she presses roasted pork, spanish chorizo, and serrano ham between hot bread to build classic cuban sandwiches. For dessert, a cup of cuban espresso offsets the sweetness of housemade flan or bread pudding.
Lauded by the Courier-Journal as a "beach paradise," Cubana Restaurant's interior complements the authentic island cuisine. Palm trees pop against vibrant orange and turquoise walls, and the sound of Cuban music inspires impassioned air-bongo solos.
2206 Frankfort Ave.
Louisville
Kentucky
US
502-409-4828
Succulent aromas and a symphony of sizzling meat emerge from Cast Iron Steak House's kitchen, where sirloin, rib eyes, and T-bone steaks sear inside of cast-iron skillets. For each of these steakhouse favorites, the staff personally ages, cuts, and rubs slabs of USDA beef in house. Though it's their specialty, the chefs expertise extends beyond just steaks and steak-related mythology.
6325 River Rd.
Prospect
Kentucky
US
502-384-7466
Dedicated to combining the pleasures of tea and "good, wholesome food," according to co-owner Karter Louis in the Louisville Eccentric Observer, Hillbilly Tea invites patrons to sip at organic whole leaf teas and feast on mountain-inspired fare made from locally sourced ingredients. Like in a lavish dollhouse sauna, steam rises from mugs filled with black, green, herbal, and rare teas, from the sweet, full-bodied Swamp Tea to the aromatic Darling. Ingredients from local enterprises such as Duncan Farms and Stone Cross Farms combine for contemporary fare based on traditional Appalachian recipes, and vegetarian options such as barbecue tofu burgers slay hunger more effectively than a medieval knight in a chain-mail apron. Praised for its "old-fashioned country cooking" by the Courier Journal, Hillbilly Tea complements its brunch, lunch, and dinner dishes with savory additions such as chai butter and tomato jam.
120 S 1st St.
Louisville
Kentucky
502-587-7350
---