Restaurants in Clarksville
---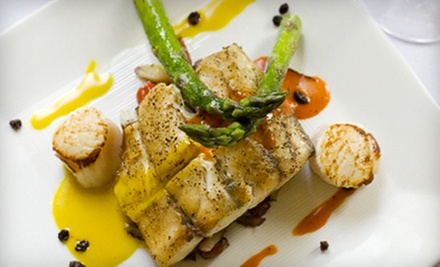 Central Business District
---
Recommended Restaurants by Groupon Customers
---
Atop the restaurant, four spotlights illuminate the Highland Morning sign like a painting in a museum. Inside, black-and-white photographs speckle the walls like the dollops of whipped cream that festoon the shop's waffles. Diners wander in, lured by the front windows, where etched glass spells out "breakfast done right," even when lightly fogged by the steam from biscuits and gravy and pepper jack–stuffed omelets. Stacked pancakes and waffles lounge in toppings such as Nutella, cinnamon, and maple syrup. After two-handing a half-pound burger, diners retreat to an outdoor table for organic coffee, ready to take on hectic days at the office or chaperone bulls touring fire-truck factories.
1416 Bardstown Rd.
Louisville
Kentucky
502-365-3900
Named one of the Top 100 Places to Drink in the South by Imbibe, Bourbons Bistro fills glasses with more than 130 varieties of rare bourbons including Heaven Hill, Ancient Age, and Old Rip Van Winkle. In the restaurant, located within a 1877 building, diners feast upon bourbon-inspired meals seated at one of many cozy tables lining a brick wall decorated with pictures of the past and midnight blue curtains. The bone-in pork chop exudes the sweetness of bourbon with a topping trio of caramelized apples, country ham, and bourbon glaze, while the Maple-leaf Farms duck breast is paired with roasted fingerlings, caramelized brussels sprouts, bacon lardons, and aged balsamic.
2255 Frankfort Ave.
Louisville
Kentucky
502-894-8838
When Zoë Cassimus would appear at a party with a bowl of her homemade chicken salad, everyone's face would light up. In between mouthfuls of creamy chicken, her friends and relatives often urged her to open up her own restaurant. Encouraged, Zoë gathered her family's time-honored Mediterranean recipes and opened the first Zoës Kitchen in Homewood, Alabama. Hungry diners flock to her restaurant in search of her chicken salad, pita bread, and pasta.
Today, Zoë's family-run eatery has branched out into more than 50 locations across the country. Within each kitchen, chefs continue to adhere to Zoë's original recipes, folding fresh ingredients into wholesome Mediterranean-inspired roll ups, sandwiches, and kabobs each day. Out on sunny patios, diners clink glasses of beer and mop up last dollops of hummus with fresh pita. Others opt to take meals to go, carrying out still-steaming four-person dinners of chicken kabobs and steak roll-ups to enjoy at home with their family or with the band of outlaws they call their family.
4126 Summet Plaza Dr.
Louisville
Kentucky
502-329-8963
The menu at Funmi's Café swims with the names of West African dishes, tangles of unfamiliar syllables. Kachumbari, asaro, and kelewele may sound intimidating initially, but they conceal a cuisine characterized by warmth and gentle spice. Kachumbari is an African spin on coleslaw, asaro is a goldenrod-hued yam porridge, and kelewele is a snack of fried plantains.
In the kitchen, chefs stir pots of stew and sauce, often eschewing meat and dairy to fill Funmi's menu with vegan options. Beneath murals of circular huts on a colorful savannah, fair-trade organic coffee imported from Africa pours forth steam like a robot trying to understand the end of Of Mice and Men.
1043 Bardstown Rd.
Louisville
Kentucky
Chef Ramiro Gandaras literally attached his name to Ramiro's Cantina, and he figuratively posts his family recipes all over the walls of his restaurant's kitchen. Referencing these recipes, his team dishes up a string of Mexican cuisine staples, such as burritos, tacos, and quesadillas, alongside a few Tex-Mex hybrids, such as guacamole burgers, enchilada casseroles, and homemade chili. In the cantina—which is Spanish for "proof that gravity exists"—bartenders pour tequila into margaritas and draft beer into tall glasses.
2350 Frankfort Ave.
Louisville
Kentucky
502-895-3333
At Zen Garden, many of the Asian dishes sound familiar, with adjectives like "orange," "sweet 'n' sour," and "kung pao." However, rather than tossing chicken or beef in with these classic flavors, the kitchen has adopted a meat-free credo. Chefs mix masterfully seasoned bites of tofu and other meat alternatives with fresh veggies, creating entrees such as green beans stir-fried with mock duck and the barbecued-soy sandwich. Noodles tangle around shiitake mushrooms in both the udon-noodle soup and the shiitake mushroom lo mein, and curry sauce imbues eggplant and shredded tofu with a spicy kick. Guests can pair their meal with a cup of green tea, prepped hot, iced, or in its purest form: emeralds that have not yet been juiced.
2240 Frankfort Ave.
Louisville
Kentucky
---